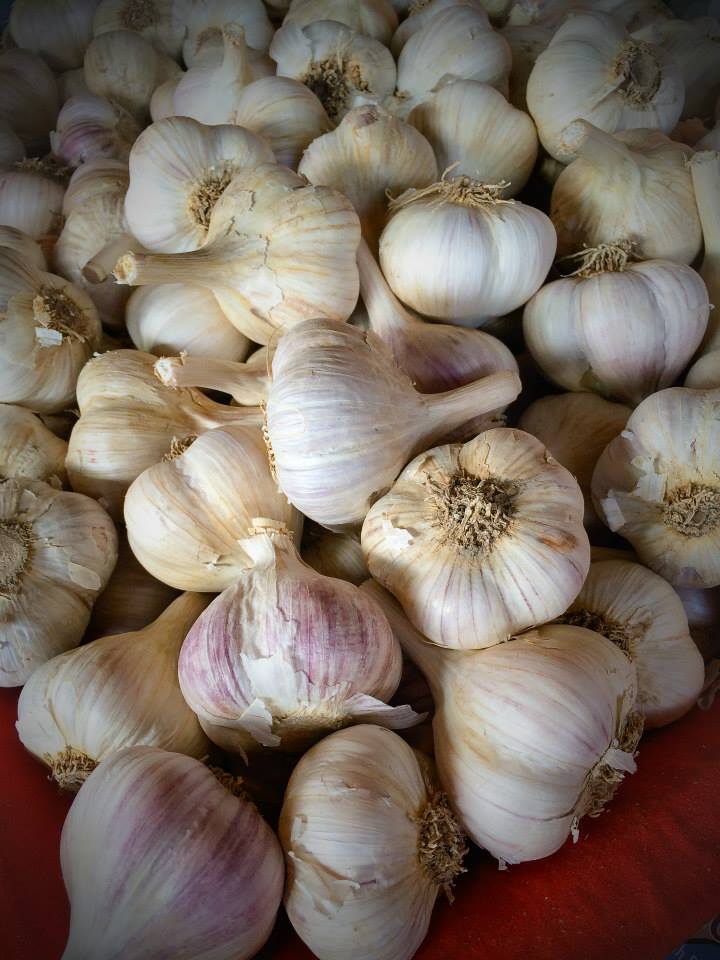 A Bulbous Bash: The Toronto Garlic Festival
In 1948, author Angelo Pellegrini, in "The Unprejudiced Palate", in reference to garlic stated "My final, considered judgment is that the hardy bulb [garlic] blesses and ennobles everything it touches". He continues on to say " with the possible exception of ice cream and pie."  Fast forward to the year 2014, to the fourth annual Toronto Garlic Festival, and Mr. Pellegrini, would most likely be rewriting that line in his important work in the history of food literature. This annual celebration of allium sativum proves that garlic has a place not only on the savory palate but the sweet one as well.
Held this past weekend at the Evergreen Brick Works, it was an aromatic observance of Ontario's garlic harvest, promoting awareness of the pungent crop by highlighting its health benefits and obvious flavor benefits as well. Visitors, like myself, have the opportunity to learn about the many strains of garlic including may rare and heirloom varieties.  Farmers, gardeners, chefs, home cooks, scientists and health experts from the GTA and southern Ontario work together to glorify garlic through garlic-themed dishes including desserts like the festival favorite, chocolate garlic ice-cream; garlic infused and inspired products such as condiments; gift items for garlic lovers like holiday ornaments; presentations; and activities such as garlic braiding workshops and garlic breath testing, not to mention the fun photo op that yours truly took advantage of with the life-size garlic superhero cut out (does garlic breath count as super power?)
The theming for the bulbous bash began from the moment of entry with a garlic hand stamp and the cloves carried throughout as natural décor, whether piled high into bushels or strung from the multitude of displays. As a first-time attendee of this event I enjoyed its many offerings, in particular, the culinary ones.  Some of the garlicky goodness that I enjoyed included a savory lamb and elk pie prepared by Globe Bistro; fluffy roasted garlic biscuits from Mildred's Temple Kitchen; a comforting bowl of roast garlic soup from Roots of Health; creamy garlic arancini by Thistlewood Highschool Chefs; a hearty garlic and porchetta crostone by Vertical; an indulgent black garlic butter tart from Smoked and Cracked;  delightful chocolate and garlic ice-cream from The Chocolateria; and a mouthwatering garlic infused macaron by Le Dolci.  Spending time at the Toronto Garlic Festival was a tantalizing experience and the only thing that stinks is having to wait to experience it all over again next year. Buon Appetito!
For more photo highlights from the event visit the gallery on Facebook:
https://www.facebook.com/#!/media/set/?set=a.792011567533194.1073741868.164665903601100&type=3
For more information about the festival visit the site: