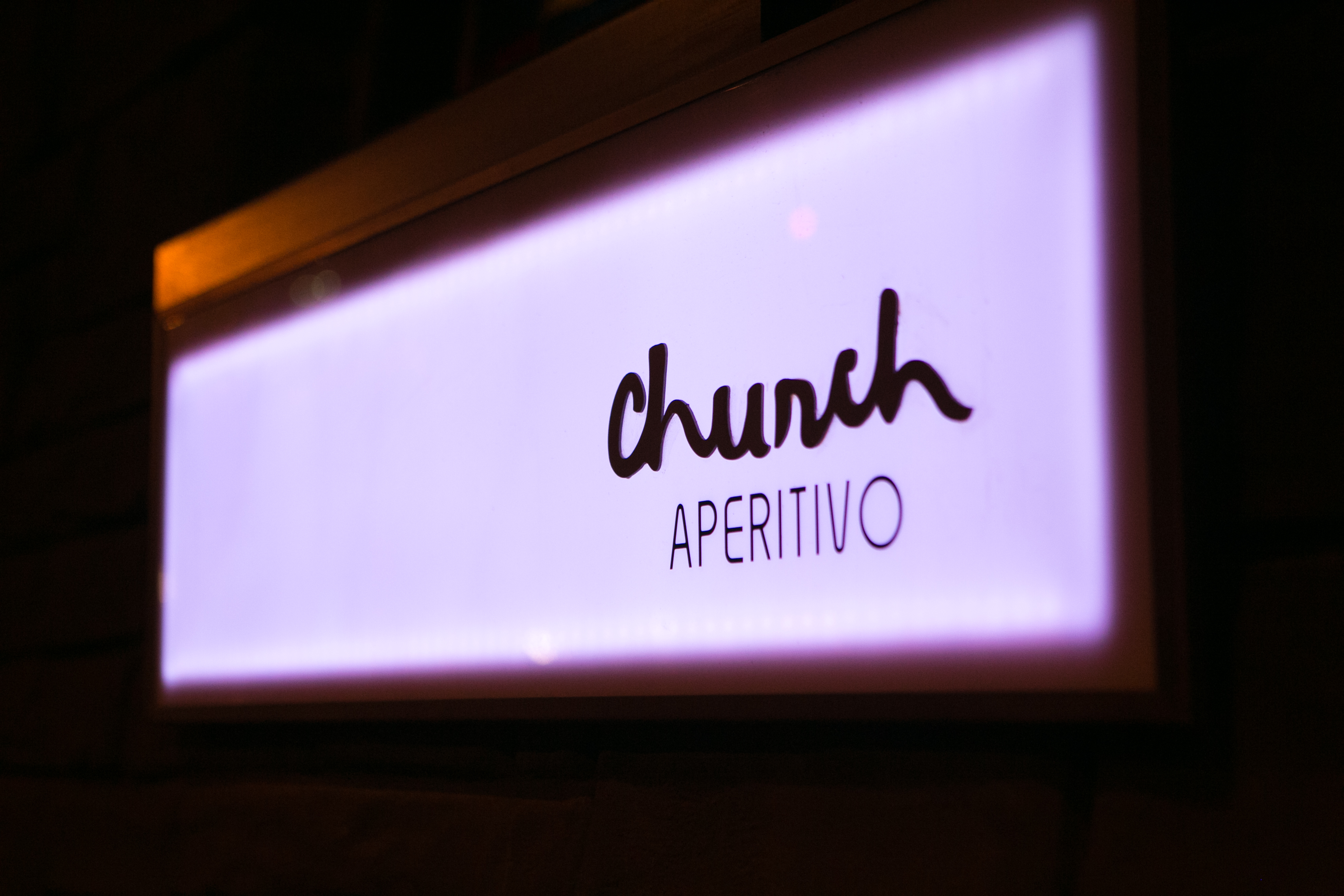 A Divine Experience at Church Aperitivo Bar
Last week, while in discussion with visitors from Italy, we reminisced about some of the experiences that are uniquely Italian, experiences that we wish could translate to the North American culture. Things like: morning conversation and cappuccino at the local caffe bar; enjoying a glass of wine with lunch, in the company of friends; and, the after work aperitivo. That relaxing prelude to dinner, that combines stuzzichini and antipasti with light and refreshing cocktails. I recently discovered the answer to one of my prayers, with the apparition of Church Aperitivo Bar in trendy Queen West . A new and hip hot spot, whose divine intervention has recreated that nostalgic experience here for me in Toronto. The truly miraculous part, the Chef, Fabio Sacca, has further bestowed upon me the blessing of being able to enjoy his modern interpretations of traditional southern Italian fare.
Church Aperitivo Bar derives its name from its own façade, a former Pentecostal church.  A very a propos alias to someone like me, that believes that great food is sacred. Stepping through the cathedral door leads you to tantalizing temptation and an overall spiritual experience. My evening began with a cool and crisp glass of white to accompany a glorious plating of crudo di pesce, a caprese comprised of roasted beets and buffalo mozzarella and arancini. This was followed up by a Calabrese inspired crostone of crusty bread topped with eggplant, guanciale and scamorza. In true Italian fashion, the next serving I sampled, the Chef's mouthwatering meatballs with house made sugo and topped with a dollop of pesto. Meatballs, which contrary to popular belief are served on their own and not with pasta, I have to admit are a particularity of mine. I have always believed that nonna had a stronghold on that Italian staple until I tried Chef Sacca's version and have to say, he comes very close.
Two types of pasta were the next offerings by the house, a fantastic rigatoni amatriciana and spaghetti alla chitara with shrimp and zucchini (which I had the pleasure of actually watching the chef prepare from his kitchen perfectly placed as the altar). The final plate of heaven that was served up as part of this menu sampling was a sensational zuppa di pesce, complete with toasted bread for souping up all that blissful tomato broth. Aside from the sanctified setting and the phenomenal fare, what I truly enjoyed was the passionate description of each dish by the manager, conveying delectable details such as the ingredient list and method of preparation. I can honestly consider my new acquaintance with Church Aperitivo as a truly religious experience. Buon Appetito!
For photo highlights visit:
www.facebook.com/media/set/
Photos by Vanessa Galle Photography
For more information on Church Aperitivo Bar visit:
www.churchaperitivobar.com/