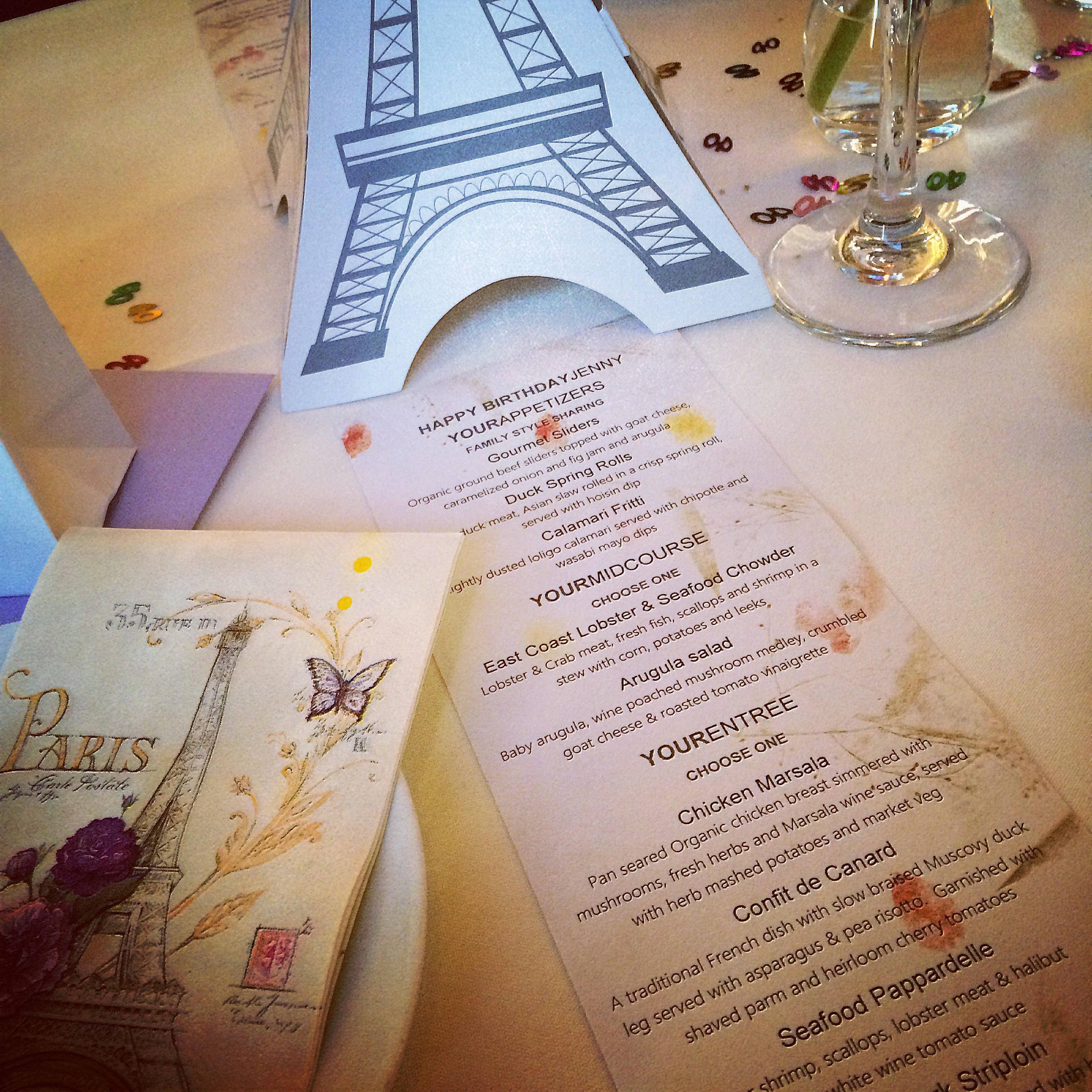 "Eating is not merely a material pleasure. Eating well gives a spectacular joy to life and contributes immensely to goodwill and happy companionship. It is of great importance to the morale." ~Elsa  Schiaparelli
This quote is particularly true when it comes to celebratory occasions such as birthdays, which I recently celebrated. While I typically gather with friends and family to mark the occasion, this year I reached a milestone and wished to commemorate it with a special dinner.  The eatery of choice, one of my local favorites, Gourmet Bistro.  Their menu consists of gourmet bistro fare with global flavors, celebrating a multi-ethnic influence with dressings, sauces and features all made from scratch.  The relaxed and familial atmosphere is the perfect place to Eat, Drink and Unwind.
I have on multiple occasions enjoyed a meal in this charming eatery, but the greatest to date would have to be the feast to fete my 40th birthday.  The menu curated by Sach Patkar (a man who I am honored to have as a friend) featured some of my favorite selections from their outstanding bill of fare along with a few surprises.
I raised a glass of red wine sangria in cheer before family style sharing of amazing appetizers that included: Gourmet Sliders (organic ground beef sliders topped with goat cheese, caramelized onion and fig jam and arugula); Duck Spring Rolls (confit duck meat, Asian slaw rolled in a crisp spring roll and served with hoisin dip); Calamari Fritti (lightly dusted loligo calamari served with chipotle and wasabi mayo); Black Tiger Jumbo Shrimp Cocktail; and Jerk Chicken Nachos (blue and red corn tortillas topped with jerk seasoned chicken, and pineapple, mango and papaya salsa).
My midcourse consisted of a baby arugula salad with a wine poached mushroom medley, crumbled goat cheese and roasted tomato vinaigrette, followed by the main course of Confit de Canard (slow braised Muscovy duck leg served with asparagus and pea risotto; garnished with shaved parmigiano and heirloom cherry tomatoes). Ending things on a sweet note, a slice of pistachio cheesecake topped with berry coulis.
It was a truly phenomenal meal, that was not only palette pleasing, but also indicative of some of the exquisite cuisine I would be enjoying on an unforgettable voyage a few short days later.
My tremendous thanks go out to Sach and his incredible team for the indelible and delicious festivities.  Happy Birthday to Me and Buon Appetito!
For more information on Gourmet Bistro visit: www.gourmetbistro.ca