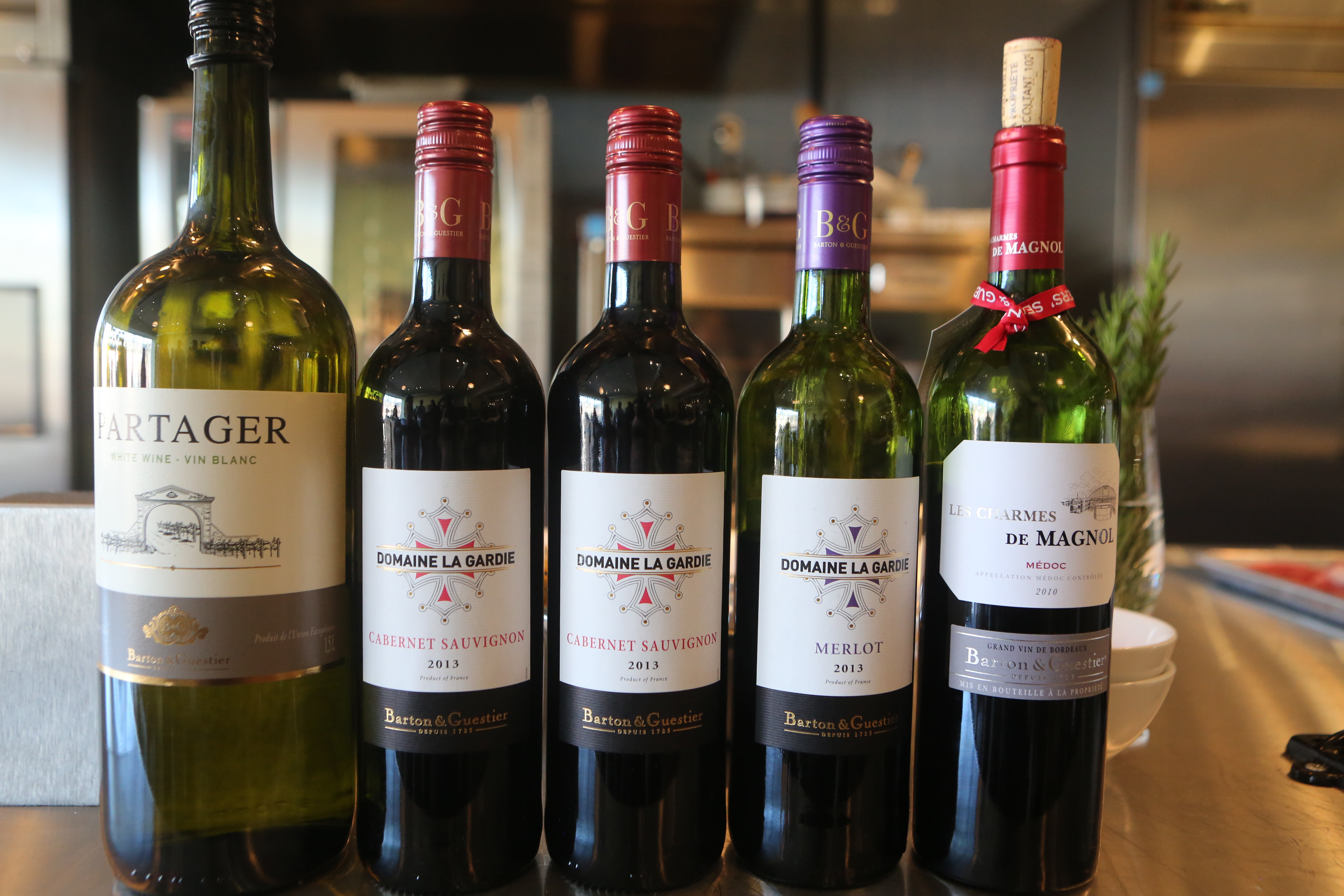 A Prelude to Paris with Barton & Guestier
As a blogger I am delighted to receive invitations to food and wine events, particularly when those events introduce my palette to new tastes.  The invitation that I received to attend a food and wine pairing early in April for a French brand known as Barton & Guestier was particularly welcome for it fell exactly one month prior to my departure for Paris.
With my friend and colleague (the same one with whom I would be travelling) I attended the event held at Nella Cucina in Toronto.  Over the clinking of knives,  and the whisking of ingredients, we learned about this French brand with a history dating back to 1725. For nearly three centuries Barton & Guestier has been producing fine French wines with a range representative of the main winegrowing regions in France: Bordeaux, Loire Valley, Burgundy, Beaujolais, Rhône Valley, Languedoc, Gascony and Corsica. With a food and wine credo embracing character, knowledge and the Art of Living, this is a brand whose mission is to enable their consumers to journey through France through their unique wines. Wines that they believe are all about pleasure.
Barton & Guestier wines are divided into several categories: Crisp Dry White Wines; Smooth Rich White Wines; Semi-sweet and Sweet White Wines; Semi-Sweet Aromatic Rosé Wines; Fresh Fruity Rosé Wines, Rich and Aromatic Rosé Wines; Light and Fruity Red Wines; Aromatic Medium-Bodied Red Wines; and Powerful Tannic Red Wines.  This vast range of wines offers something for everyone from novice wine drinkers to connoisseurs, particularly when their tasting pleasure is enhanced with the appropriate food.  This was exactly the aim for the Barton & Guestier Cooking Class at the Nella Cucina Kitchen, where everyone had the opportunity to cook together then sit down and enjoy the meal as a whole.
The meal consisted of a beet, fennel and apple salad with honey-dijon dressing; glazed beans; truffle roasted fingerling potatoes; and dark chocolate brownies with sour cherry compote.  This French fare was accompanied by:
B&G Passport Bordeaux Blanc –Sauvignon Blanc, Semillion. A crisp and smooth white with floral notes, vanilla and fruity aromas.
B&G Partager La Gardie Merlot – dry, medium-bodied and fruity with a dark ruby color and aromas of raspberry, currents and a hint of herbs.
B&G Parager La Gardie Cabernet Sauvignon – dry, medium-bodied wine exhibiting black currant, cherry and plum aromas.
Les Charmes de Magnol Médoc – Cabernet Sauvignon, Merlot. Intense and complex on the nose, developing ripe fruits, plums and spicy notes. Offers a velvety tannic structure with a long and elegant finish.
Our education on these wines came from of a representative of Barton & Guestier (and a native of Bordeaux), Clementine Quereux. Among the information provided by Clementine was the fact that these wonderful wines are reasonably priced and available at the LCBO.
This fantastic food and wine tasting experience was an extremely pleasing prelude to delectable trip to Paris and a visit to the heart of Barton & Guestier in Bordeaux.  Bon Appetit and Sante!
http://www.barton-guestier.com
Photography by Vanessa Galle Photography and Design Inc.
For photo highlights please visit my gallery on Facebook