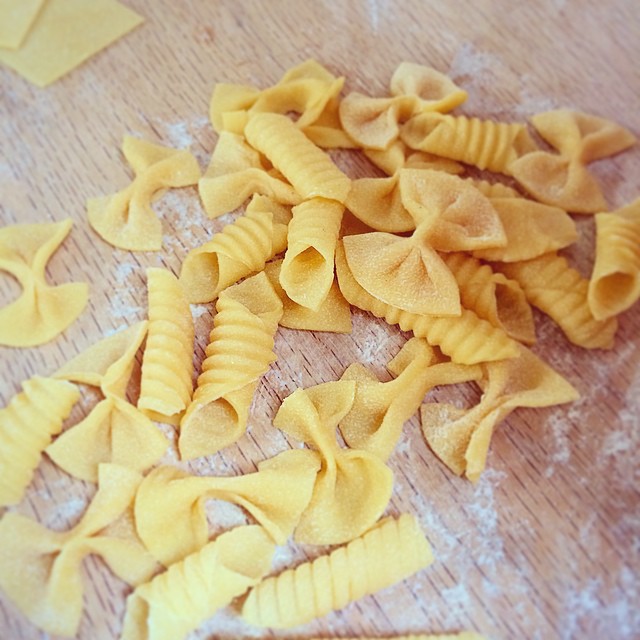 All Hands on the Sfoglia to Let the Good Times Roll
It's easy to let the good times roll, gathered around a communal table on a Sunday afternoon with tiny hands working homemade dough learning l'arte del martarello.
Organized in collaboration with the Rainbow Caterpillar bookstore and The Amarcord Associazione Emiliaromagnoli dell'Ontario, my daughters (and I) had the opportunity to learn about making sfoglia from Master Sfoglina Simonetta Capotondo.
Sfoglia is the dough or base for many types of pasta including tagliatelle, the traditional noodle of Emilia-Romagna and Marche regions of Italy.  Originating from the word "tagliare" meaning to cut, they are long, flat ribbons of pasta are served classically with a rich, meaty Bolognese (though they can be served with a variety of sauces).  Il Mattarello, is the rolling pin which is used in making sfoglia, and at the hands of a master like Simonetta is truly an art form.
In a two-hour, hands on workshop hosted at the Columbus Centre, Simonetta laid out the culinary palette to introduce a group of enthusiastic young children (and their parents) to the art of making and kneading sfoglia dough to create homemade farfalle, garganelli and ravioloni.  With a few basic ingredients, "00" flour and eggs, my girls were able to make pasta dough take shape.  After dusting their hands with flour and learning Simonetta's kneading technique they let the dough rest and watched as the Sfolgina worked her magic.  Watching this master hand roll her dough using only a rolling pin and circular movements was truly poetry in motion.  Effortlessly working her sfoglia into an enormous sheet of pasta she spoke about the connection to the ingredients and the tradition behind this art form which she, like many, learned at a very young age from her nonna.  In an age where tradition is being replaced by industrial food production, it was nothing short of spectacular to see the art of pasta making by hand highlighted in this way.
Simonetta proceeded to demonstrate how to cut and shape the dough into various types and then individually guided each child in the group through the process of brandishing their own small rolling pin. A truly valuable lesson for my children, not only in cooking, but, in tradition and culture as well.  Buon Appetito!
To learn more about Sfoglina Simonetta visit her site: sfoglinasimonetta.blogspot.com