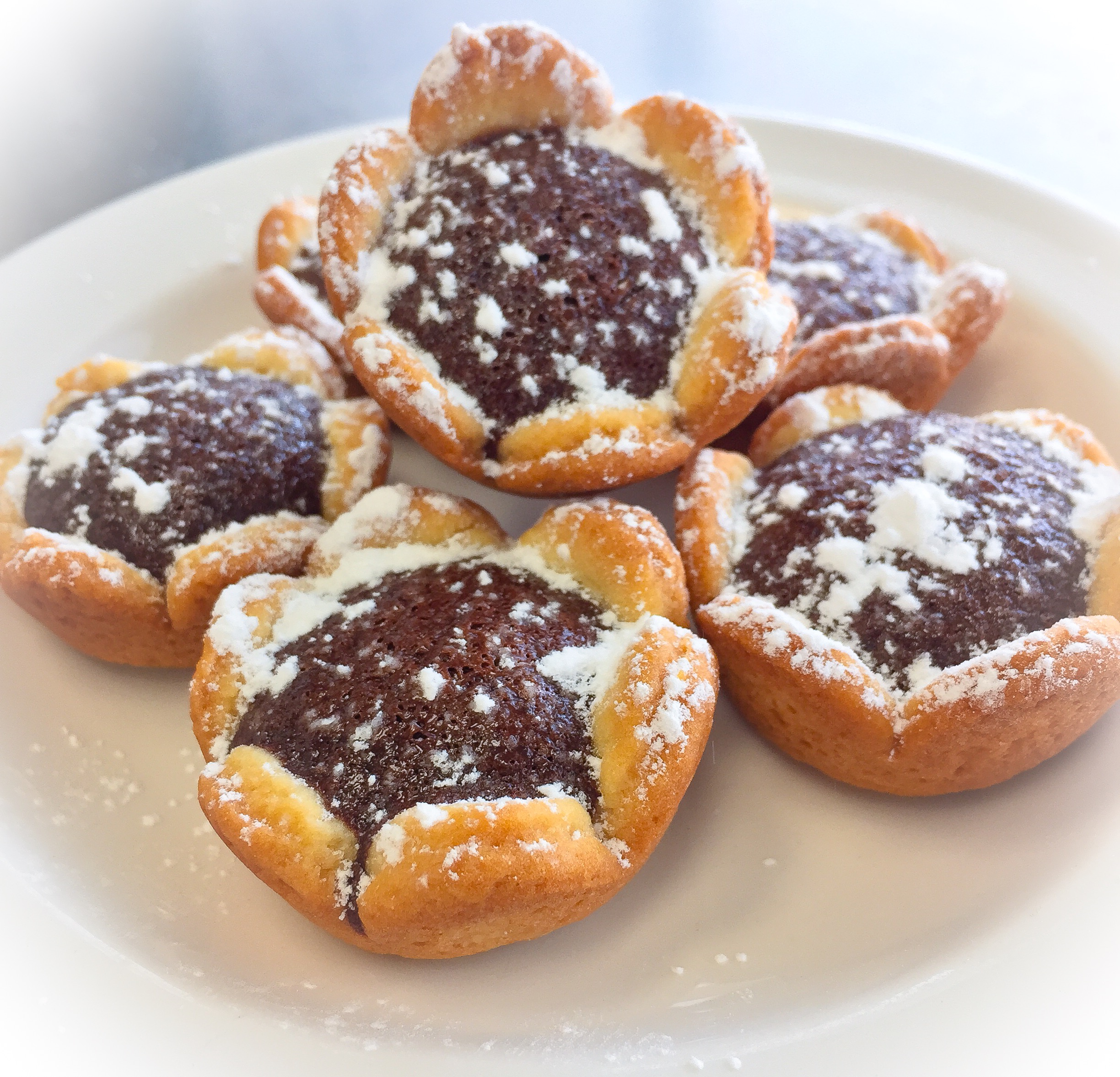 Bocconotti: Mini Bites of Tradition
I recently spent some time with friends preparing a sweet array of biscuits to be served up at a matrimonial banquet. Among the confections were the tiny tarts known as bocconotti; mini chocolate pies which are often seen artfully arranged among many other traditional Italian cookies to celebrate occasions like baptisms, communions, confirmations, showers, and last but not least, weddings.
For those who may be unfamiliar with these traditional southern Italian treats, they are sweet pastry tartlets (baked both covered and uncovered) with an exterior shell of mild, lemony pasta frolla; with varied fillings depending on the region in which they are made. In Rome, they are filled with ricotta and covered with another layer of pastry; while in the region of Puglia they are made with cherry preserves. In Abruzzo there are also a few variants consisting of mixtures containing jam and ground almonds or a chocolate filling accented by cinnamon and almonds. A variant in Pescara sees the addition of the liquor Centerba to the filling. The recipe from Bitonto (in Bari) dates back to the Benedictine nuns who baked up bocconotti with a filling of ricotta and candied fruit.
Two famed variations of these small bites hail from Calabria: in the town of Mormanno, the bucchinotti (as they are known in Calabrese dialect) are traditionally filled with mostarda d'uva (grape jam) or cherry preserves; while in Amantea the buccunottu is filled with chocolate, chopped toasted almonds, sugar, cinnamon and cloves and dusted with powdered sugar.
Savory versions of these mini pies can also be found throughout the peninsula filled with ingredients such as mixed mushrooms, chicken giblets, sweetbreads and truffles.
Aside from different interpretations on the fillings, a difference also exists in the pastry dough. Recipes hailing from Northern Italy will typically use butter while those from the south tend to use olive oil or lard.
The cookies are typically made in fluted petite four or tartlette molds where the filling can either be left exposed or topped with additional pastry before baking.
Similar to variances in their preparation, different renditions of their origins also exist. One legend dates back to the end of the 18th century in Abruzzo when the importing of chocolate and coffee began. It is said that the housekeeper of a gentleman in the region who hoarded these ingredients in greed, paid homage to him by using them to invent a new dessert. A pastry that resembled a coffee cup was created then filled with coffee and chocolate liquid. She noted upon baking that the filling remained too liquid and decided to thicken it with almonds. Her governor was ecstatic about the sweet and immediately asked for its name. The maiden being put on the spot, improvised and called it bocconotto as it was eaten in one bite.
A second story claims the confections were created in Calabria during the 1300s where in the region of Cosenza nuns prepared treats known as varchiglie for the tables of the bishops. The varchiglia which is made in metal forms resembling boats (hence the name) is a pastry enclosing a filling of almond flour and sugar which is then covered in chocolate. With chocolate and almonds being expensive ingredients, Cosentini women created a simpler version using homemade grape jam as the filling and covering them with icing sugar resulting in the creation of the bocconotti.
No matter the inspiration or the variation, these cookies have a longstanding history filled with tradition, where recipes indicating "going by the feel of the pastry" and measurements in increments of handfuls and pinches are passed down from family to family. So next time you peruse a celebratory biscuit buffet be sure to sink your teeth into these small bites; or, if you're luckier still, bake some up with someone who is willing to share their secret family recipe. Buon Appetito!
**Special thanks to my great friends at Il Porcellino Italian Restaurant and Catering for opening up their kitchen and recipe box to me.