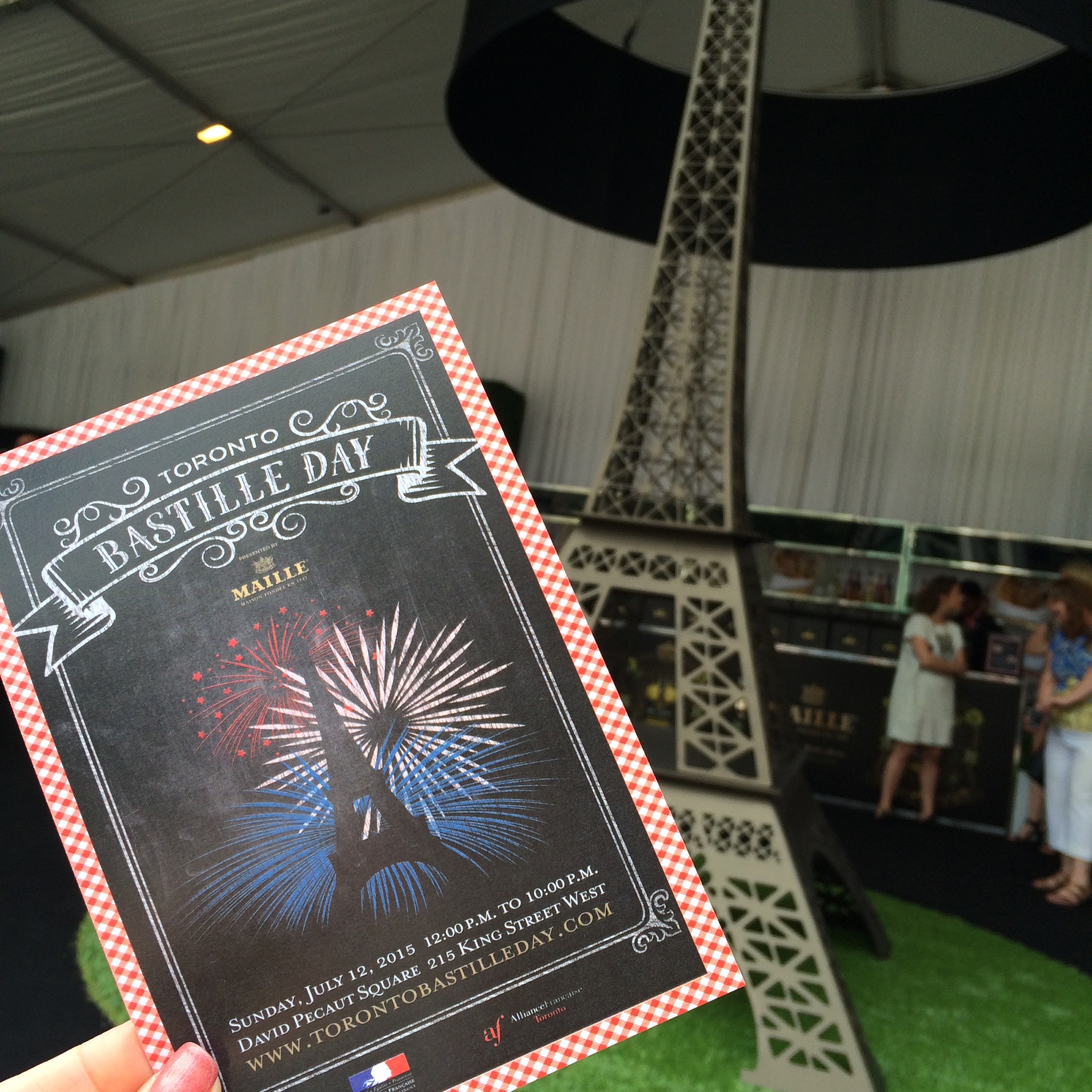 Celebrating Bastille Day with Maille
If you're in France, July 14th is known as la fête du 14-juillet (the July 14th holiday) or more officially, la fête nationale (the National Holiday). It is a day to celebrate French national pride by honoring the blue, white and red and the values of liberty, comradery and equality.  Outside of France this holiday is commemorated as Bastille Day where expats and those of French nationality celebrate their heritage through music, dancing and of course food and drink.
For Torontonians, the festivities were marked by mustard.  Not the bright yellow ball park hot dog mustard, but rather the mustard with over 268 years of French culinary expertise, Maille.  Partnered with The Consulate General of France and The Alliance Français Toronto, the Bastille Day celebrations taking place at David Pecaut Square were carried out in true French fashion featuring musical performances, games and activities for all ages, a bal populaire (traditional French dance), an invitation to guests to picnic on the grass with French market fare and enjoy the offerings of The Maille Bistro.  The Parisian themed pop-up shop (complete with Eiffel tower) featured a tasting of five different flavors (ranging from tangy and spicy to sweet) from the bar hosted by a mustard sommelier,  along with La Maison Maille's Chablis wine mustard on tap. Patrons also had the opportunity to sample Maille's line of gourmet mustards (also available for sale) along with mini sandwiches and innovative mustard infused cocktails and macarons made by French local chefs and mixologists.  An official ribbon-cutting by the Consulate General of France gave everyone the Bienvenue to the Bistro Maille which was then followed up by a celebratory toast with The 1747 (a shot of Cointreau Triple Sec, paired with pineapple and mango juices and Maille Provençal-Style mustard finished with muddled thyme); and the My Bastille (Cognac and cranberry juice infused with beets and Maille honey mustard) served up in the signature earthenware pots.
A fun-filled day of festivities and a true taste of France's national holiday. Bon Appétit!
Inspired by one of the gourmet mustards I picked up at the Bastille Day celebration I used the Maille Pesto and Arugula mustard in the vinaigrette for my summer squash tortellini salad, perfect for packing up for a Parisian style picnic.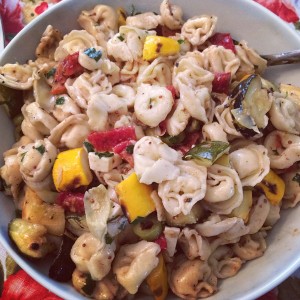 Summer Squash Tortellini Salad
For the Vinaigrette:
½ cup olive oil
2 tbsp. red wine vinegar
2 tbsp. balsamic vinegar
2 tbsp. fresh oregano
2 tbsp. Maille Pesto and Arugula mustard (or Dijon)
2 cloves of minced garlic
Salt and pepper to taste
For the Salad:
3 green zucchini
3 yellow zucchini
1 lb. cheese stuffed tortellini
½ cup sliced Kalamata olives
1/3 cup chopped sundried tomatoes
½ cup gruyere cheese cut into cubes
1/3 cup coarsely chopped parsley
Directions:
Whisk together all the ingredients for the vinaigrette and set aside
Cut zucchini into lengthwise pieces and brush with vinaigrette.
Grill over medium-high heat for 4-5 minutes per side.
When slightly cooled cut into chunks and place in a large serving bowl.
Cook the tortellini according to package instructions then drain and rinse under cold water.
Combine the tortellini with the remaining ingredients and dress with remaining vinaigrette.
Cover and refrigerate until serving.