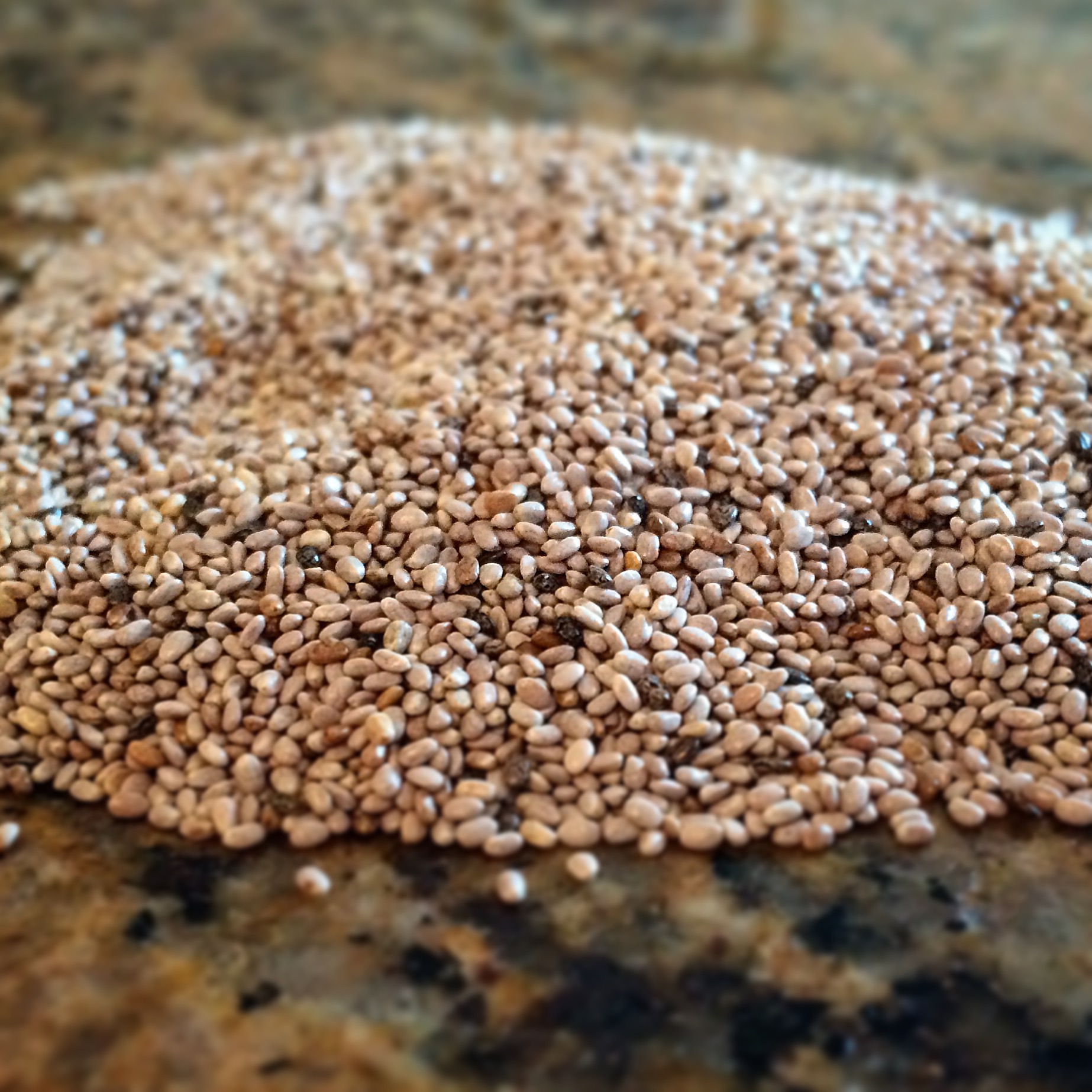 Until recently my only knowledge of chia were those terracotta figures from the 80's television commercials.  The infamous chia pets (which are still being sold by the way) had children sprinkling their animals with tiny seeds and watching them sprout fur.
I haven't gone out and purchased a Chia Pet but I have rediscovered the tiny seed with big benefits.  Since the start of the New Year, I, like many have taken a healthier path when it comes to meal and snack choices.  One of those choices has been incorporating chia seeds into my diet.
Chia seeds are a superfood that dates back to the ancient Aztecs.  They are loaded with antioxidants which protect our cells from the damaging effects of free radicals.   In addition, they are great source of Omega 3 fatty acids which are important for brain health.  They are also loaded with calcium (five times more calcium than milk in fact) which means strong bones and teeth, not to mention a great alternative for people who can't have dairy. Chia seeds are packed with protein and fiber making them great for digestive health and stabilizing blood sugar (they are often recommended for the treatment of type-2 diabetes) while keeping you feeling full.
These naturally vegetarian seeds, with no cholesterol are relatively tasteless making them very easy to integrate into foods without altering flavor profiles.  They also take on a gelatinous transformation when combined with liquid which can give way to a multitude of uses.
Over the last few weeks I have been incorporating chia seeds into my dishes in a number of ways.  I have been adding them to my breakfast smoothies as well as sprinkling them onto my yogurt and over my salads.  A spoonful of seeds stirred into a bowl of soup boosts its nutrients while providing added creaminess.  I have combined the seeds with other healthy grains to bake up hearty granola bars (recipe follows) and by far my favorite use for chia seeds, turning them into luscious puddings.
Just four tablespoons of chia seeds (either black or white) submerged into ¾ cups of liquid creates a wonderful tapioca-like treat.  Once again because of the flavorless nature of the seeds, the pudding possibilities are endless.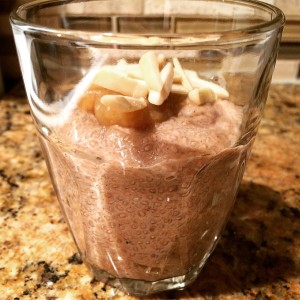 To make apple-maple pudding I added white chia seeds to almond milk (using the aforementioned ration) flavored with ¼ teaspoon of almond extract and sweetened with 1 teaspoon of maple syrup.  Once the seeds began to set in the almond milk I proceeded to stir in a tablespoon of homemade apple butter, then covered the pudding and left it overnight in the refrigerator.  I enjoyed it for breakfast with another small dollop of apple butter and slivered almonds for crunch.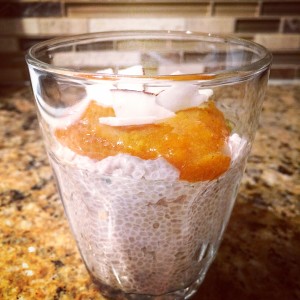 The next variation a simple coconut pudding where I combined the seeds with coconut milk then topped with a spoonful of homemade persimmon jam and garnished with coconut chips.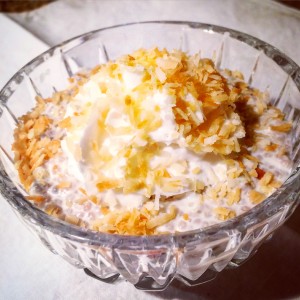 To satisfy the sweet tooth while staying on a healthy track I proceeded to make a coconut cream chia seed pudding taking the basic coconut recipe and adding in ½ cup of coconut Greek yogurt, 1 teaspoon of vanilla, ¼ teaspoon of coconut extract , 2 tablespoons of honey and a 1/3 cup of shredded coconut.  This pudding was elevated to dessert status by being topped with coconut whipped cream and toasted coconut.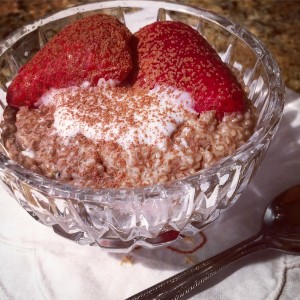 And for the chocoholics a chocolate and peanut butter variation where I used chocolate hazelnut milk as the base liquid into which I dissolved a generous teaspoon of natural peanut butter before adding the chia seeds.  Once again I topped this one with coconut whipped cream and fresh berries then gave it a dusting of cocoa powder.
I'm sure several more combinations will arise as I continue along this nutritious and delicious journey, but in the meantime I encourage you to give these microscopic grains a go.  Buon Appetito!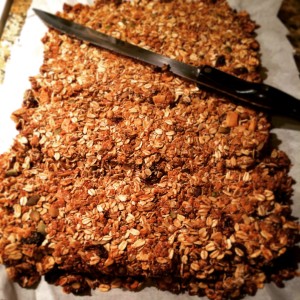 Peanut Butter Granola Bars (recipe adapted from How Sweet It Is)
Ingredients
4 cups rolled oats
2 tablespoons chia seeds
3/4 cup natural peanut butter, melted
1/2 cup honey
Optional additions:
2 tablespoons of dark chocolate slivers
¼ cup bran
¼ cup ground flaxseed
½ cup dried fruit and seed mix (cranberries, sunflower seeds, coconut chips)
Directions:
Preheat oven to 350 degrees.
In a large bowl, combine oats, chia seeds and other additions. Add the honey and mix to combine. Add melted peanut butter and mix until moistened (this may require getting in there with your hands).  If dough is still too dry (this can depend on your ingredients) add more peanut butter or honey, 1 tablespoon at a time until moistened.
Press dough in a greased (non-stick spray) 9 x 13 baking dish. Bake for 25 minutes.  Allow to cool then cut into squares or bars.