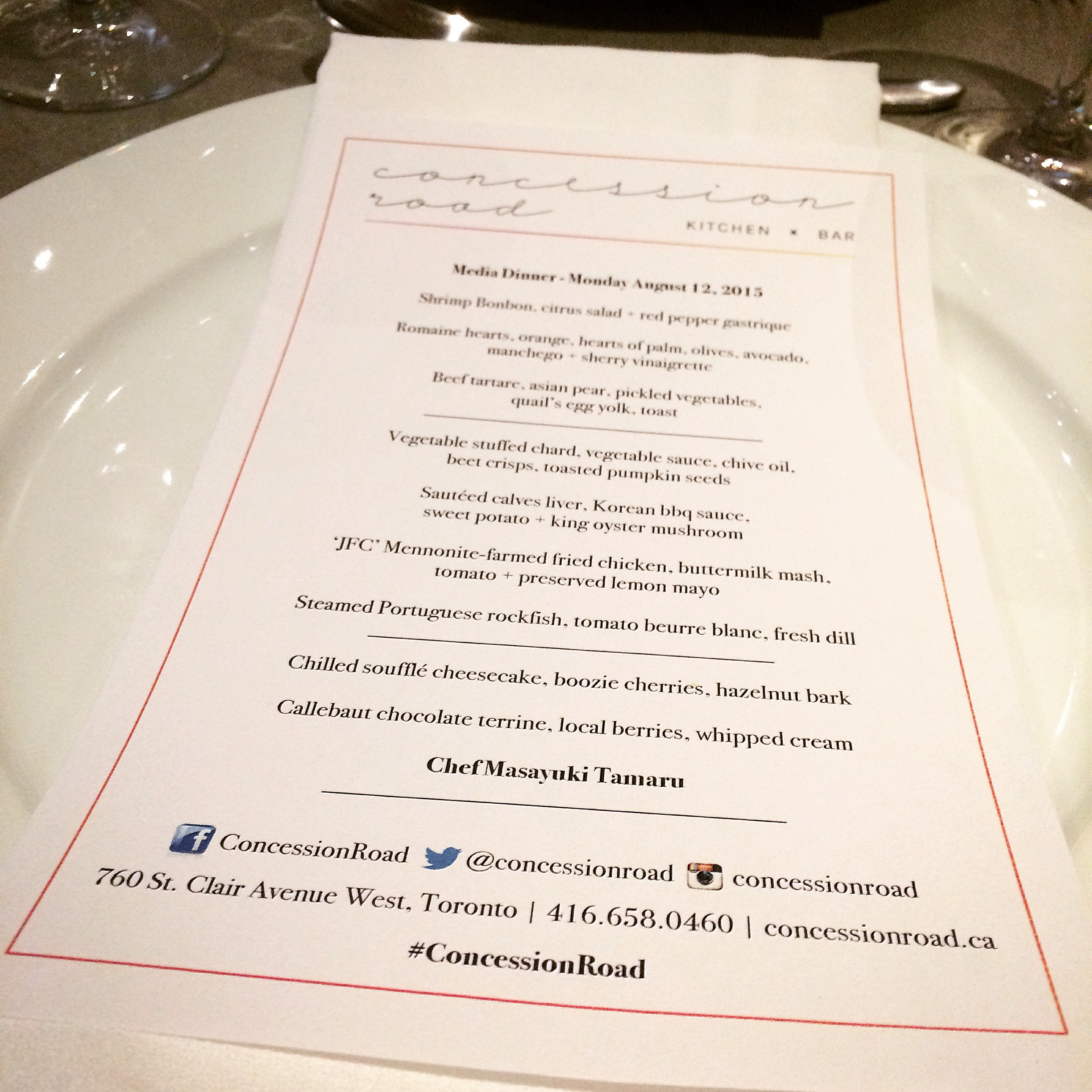 Concession Road Mapping The Way to Fine Dining
If the dinner I had the opportunity to enjoy recently at Concession Road is any indication, this new eatery will be making its mark as a food destination in Toronto. Chef Masayuki and Pukka owner Derek Valleau have teamed up to give diners a taste of French cuisine with global spicing.
Located in an up and coming neighborhood, this casual fine dining restaurant takes its name from its geographical area (St. Clair Avenue, under the British naming system was known as the 3rd Concession).  The unique name however is not the only reason its coordinates should find their way into global positioning systems; it's the French fare with a modern flair that will have you travelling down this road.
The tasting menu featured delectable starters of: shrimp bonbons with citrus salad and red pepper gastrique; a bright salad of romaine hearts, orange segments, hearts of palm, avocado and manchego cheese dressed in a sherry vinaigrette; and a French staple, beef tartare with Asian pear, pickled vegetables, quail egg yolk and toast.  These were followed up by succulent mains of: vegetable stuffed chard with vegetable sauce, chive oil, beet crisps and pumpkin seeds; sautéed calves liver with Korean bbq sauce, sweet potato and king oyster mushroom (just for the record I don't normally eat liver but after my first bite I went back for more); the 'JFC' (Japanese fried chicken) Mennonite-farmed fried chicken, buttermilk mash, tomato and preserved lemon mayo; and steamed Portuguese rockfish, with tomato beurre blanc, fresh dill and lentils.  The sweet finish to this meal, indulgent desserts of: chilled soufflé cheesecake with boozie cherries and hazelnut bark; and Callebaut chocolate terrine with local berries and whipped cream.  Not only did each dish appeal to the palette but created a gorgeous color palette with the artful plating.
Offerings from the bar, also quite distinct with cocktails such as:  Melting Snow (Nigori sake, watermelon liquor and lavender bitters); Corpse Reviver (gin, Cointreau, Lillet Blanc, lemon and absinthe); and Lillet of the Valley (Lillet Blanc, blood orange and bitters). Concession Road also features an Absinthe service which our dinner party observed and sampled first hand.
Concession Road, with its focus truly being the food is mapping the way to fine dining in Toronto.  Buon Appetito!