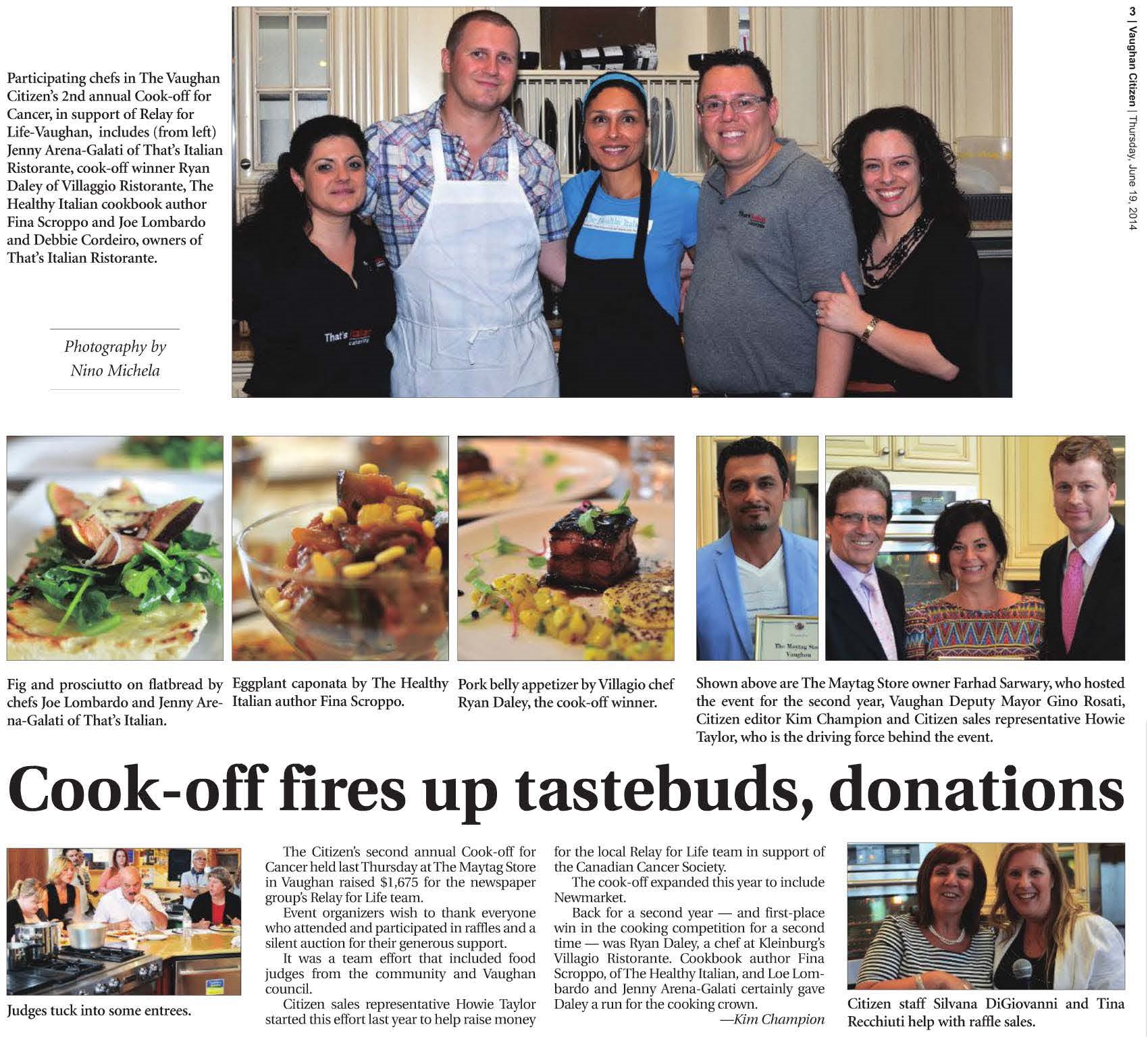 Cooking for A Cause Italian Style
There are several causes and organizations that are quite near and dear to my heart for various reasons, ones to which I make not only monetary contributions, by donate my time and talent when I can as well. One such cause is that of Cancer research for this dreadful disease has personally touched my circle of family and friends.
This past summer I had the opportunity to cook for a good cause in a heated (but friendly) competition, The Vaughan Citizen Cook-off For Cancer. Representing my good friends at That's Italian Restaurant, I used my culinary prowess to face-off against my two adversaries in the kitchen.  Each of the participants was tasked with preparing a three-course feast (appetizer, main and dessert) for a panel of hungry judges.  Sounds easy enough right?  Normally yes, but this was a competition after all, meaning, we each had a specified amount of time to prepare our dishes in the same kitchen, vying for counter space and flame time over the shared burners.  Talk about a pressure cooker.
Despite trying to stake claim to a chopping block, learning firsthand that a watched pot never boils and awaiting the final verdict from our illustrious judges, the experience was both exhilarating and above all rewarding. Our cause related cuisine featured an appetizer of grilled prosciutto, fig and arugula flatbread with balsamic reduction; a main of wild mushroom pappardelle in a parmigiano and Prosecco cream sauce, and an espresso mascarpone semi-freddo for dessert. Our cook-off menu may not have taken top prize but it was certainly a winner in raising funds for cancer. Buon Appetito!
Photography by: Vanessa Galle Photography & Design Inc.
Photo gallery highlights: https://www.facebook.com/#!/media/set/?set=a.812082665526084.1073741873.164665903601100
For more great menu offerings from That's Italian visit: www.thatsitalian.ca