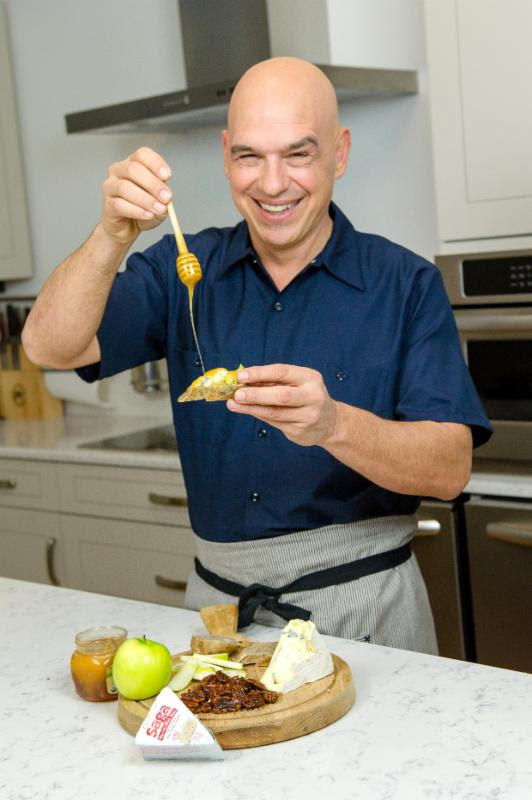 Firing Things Up with Chef Symon and Castello®
He's an award winning Iron Chef; acclaimed restauranteur and cookbook author; co-host of ABC's "The Chew" and everyone's favorite carnivore hailing from Cleveland, Chef Michael Symon.  A well-seasoned chef, who makes no bones about his love of meat and a good barbeque.
With grilling season in full swing this backyard chef was thrilled to fire things up with the grill master himself in a recent phone interview.  Chef Symon shared with me some great tips and inspiration to elevate my skills and grill like a pro (along with an awesome compliment about the name of my blog). The self-proclaimed meat lover with caveman good looks also shared with me his recipe for the ultimate burger just in time to char for father's day (recipe to follow).  Many thanks to Chef Symon and Castello Cheese USA for this opportunity.  Buon Appetito!
I leave you with the recipe for that killer burger along with the meaty well wishes that conclude Chef Symon's introduction in the "Carnivore" cookbook:
"May your steaks always be crusty on the outside and medium-rare in the centre, may your potatoes be crispy and duck-fat fried, may you always have bacon in the fridge, and may your side dishes be fresh, seasonal, and brimming with flavor"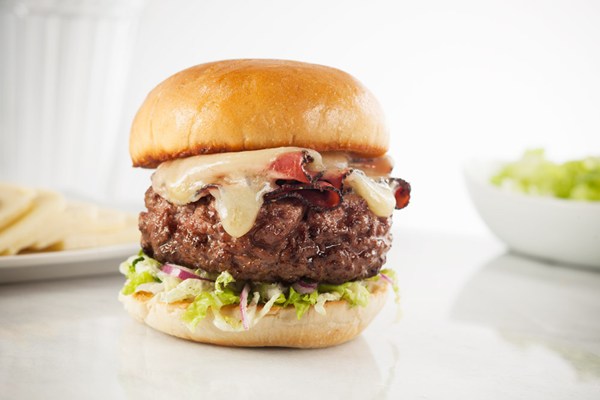 Michael Symon's "Fat Doug" Burger with Castello® Creamy Havarti
For the Slaw
½ head Napa cabbage, shredded
½ clove garlic, minced
½ small red onion, sliced thin
½ jalapeño pepper, minced
3 tablespoons champagne vinegar
1 tablespoon Dijon mustard
2 tablespoons mayonnaise
1 tablespoon sugar
1-½ teaspoons salt
1 tablespoon Worcestershire sauce
1 tablespoon spicy mustard
For the Buger
½ pound ground sirloin
½ pound ground brisket
½ pound boneless short ribs (or 1-½ pounds ground beef)
½ pound pastrami, sliced thin
4 slices Castello® Creamy Havarti Cheese
1-½ tablespoons butter, melted
4 brioche or egg buns
Salt and pepper
Preparation
Mix all slaw ingredients together and refrigerate for one hour.
Mix all the meat together really well and form into four equal size patties, season with salt and pepper. Grill the patties over high heat, 3 to 5 minutes per side.
Put 4 piles of pastrami in a pan over medium heat. After 2 minutes, top each pile with a slice of Castello® Creamy Havarti Cheese, remove from pan when the cheese has melted, set aside.
Pour butter into the pan. Toast buns—cut sides down—for about 2 minutes or until toasted to your liking.
Place slaw on bottom half of bun, top with burger, pastrami and cheese, then cover with top bun and serve.
For more of Michael Symon's inspirations for the grill visit: http://www.castellocheese.com/en-us/