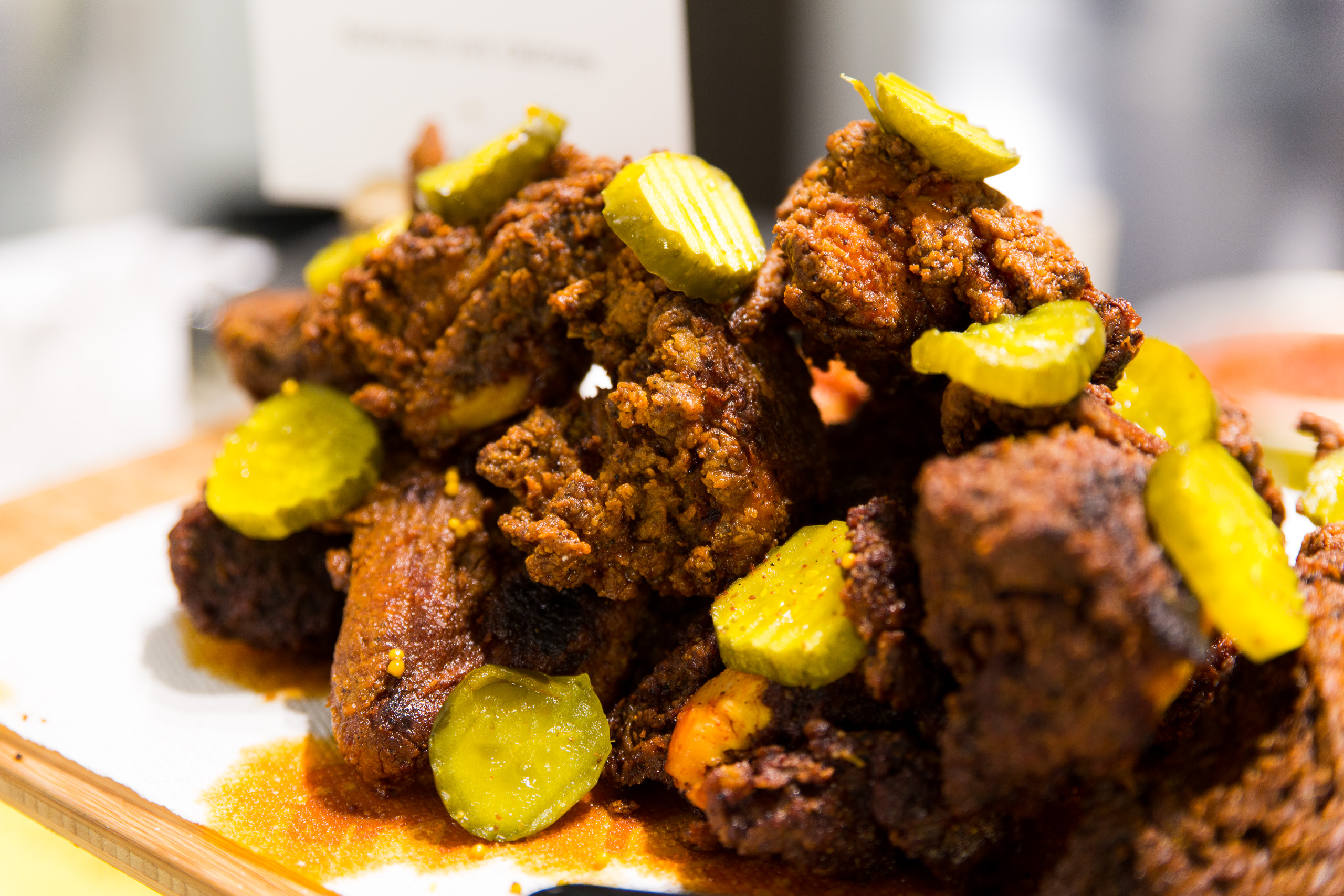 Fried Chicken in the Kitchen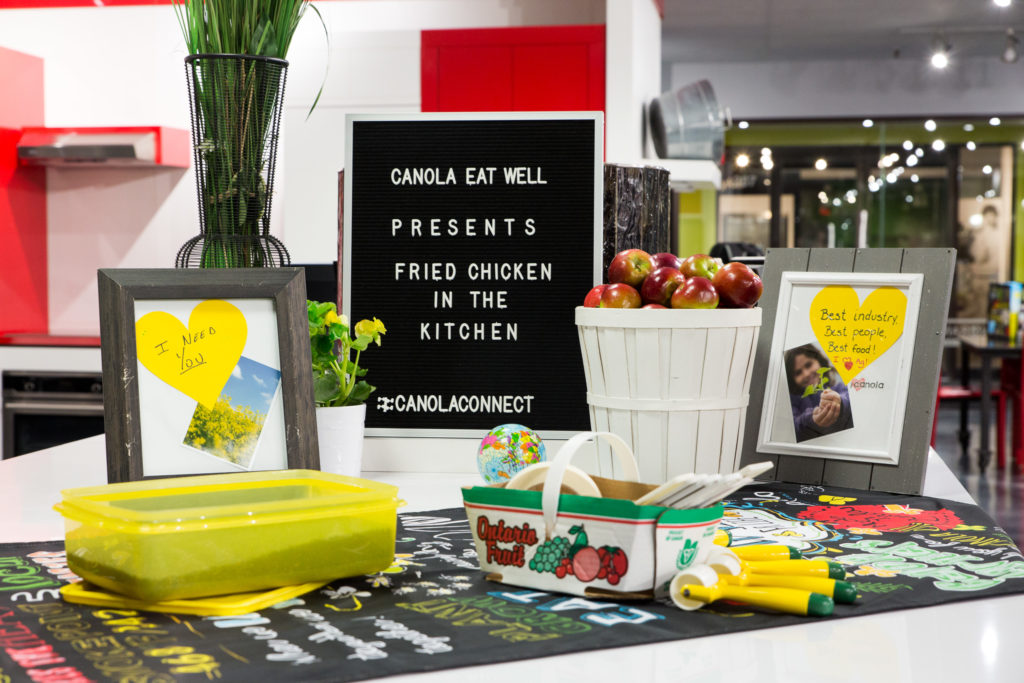 The great poet Maya Angelou once said, "The best comfort food will always be greens, cornbread and fried chicken" and I must say that I'm inclined to agree, particularly after being part of an informative and interactive culinary workshop series presented by Canola Eat Well.
I had the pleasure of taking part in one of the Canola Connect Farm to Food workshops held at Distinctive Appliances, called Fried Chicken in the Kitchen lead by chef Matt Basile (owner of Fidel Gastro's, cookbook author and television personality) where I got a hands-on education on how to make the best fried chicken using canola.
Canola Eat Well is an initiative to educate and provide kitchen inspiration on Canada's oil in partnership between Alberta, Saskatchewan and Manitoba Canola Growers. It is about building connections and conversations about farmers, their food and our tables.
While I have been using canola as a frying oil for a while it was only after being a part of this event that I learned about it numerous benefits; canola is healthy, versatile and more important local.  It's known as Canada's oil because over 20 million acres of canola are grown by over 43,000 family farmers on the Canadian Prairies.
From a health perspective, it is a good source of vitamins E and K and is loaded with anti-inflammatory Omega 3 fats that help safeguard again heart disease and stroke. Canola oil also contains the lowest amount of saturated fats (half that of olive oil).
Its light and neutral flavor, along with high smoking point make it extremely versatile in the kitchen; being used for baking, grilling, sautéing, drizzling and of course frying which I got to experience first-hand.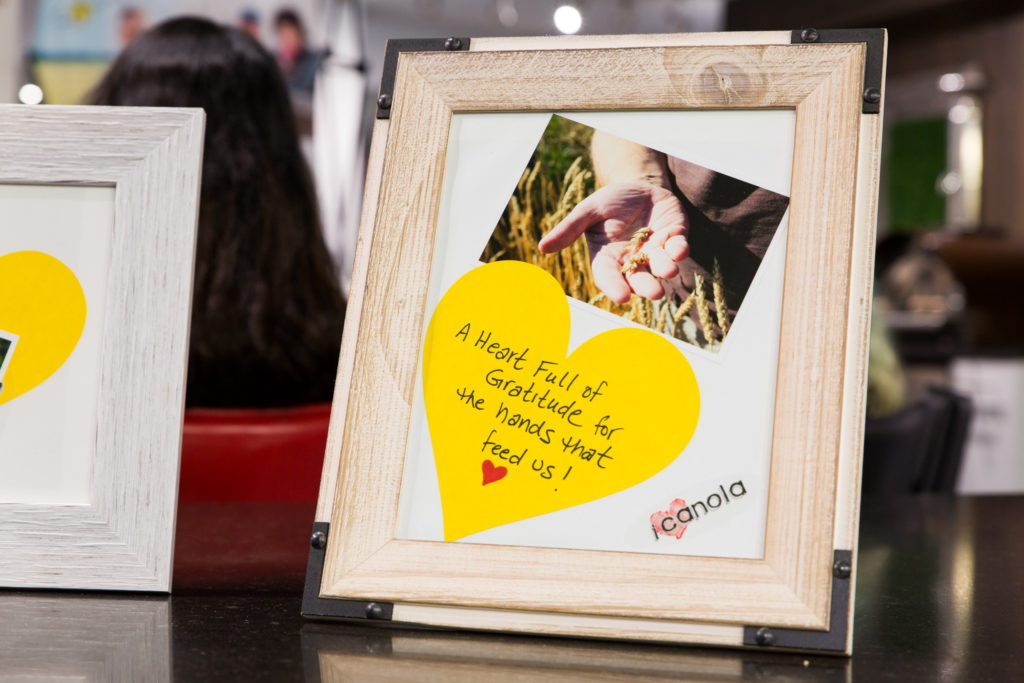 After crafting kind words of thanks to our Canadian farmers and an appetizing array of starters created by Chef Matt we donned our aprons and made our way over to our kitchen workstations where we learned how to butcher a chicken, marinate it in buttermilk, coat it in flour and fry it up to crisp perfection using canola oil.  It was here where Chef Matt talked about canola's ability to absorb the flavors of herbs and spices with which it gets infused along with discussing its high heat tolerance making it an ideal choice for grilling and frying.  With a smoke point of 468F it can certainly stand the heat and can maintain its nutritional value.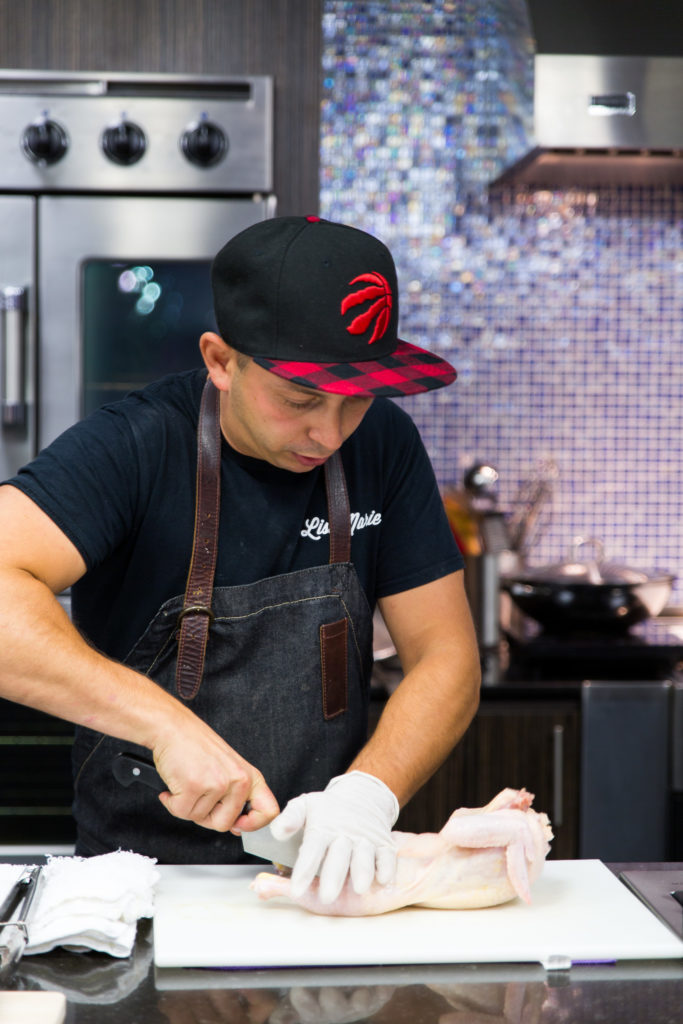 As the chicken went into the fryer we had the opportunity to hear a personal account of canola farming from Jeannette Andrashewski, and literally pick up the tools of the trade as we experienced pressing oil from the tiny canola seeds.
Soon enough we were drawn back into the kitchen to enjoy the fruits or our, or rather Chef Matt's labor as we indulged in an incredible spread of finger-licking good fried chicken and all the fixings.  A truly unique educational and culinary opportunity integrating Canola into a comfort food classic and understanding that because of its healthy, local and versatile that its once great choice in the kitchen. Buon Appetito!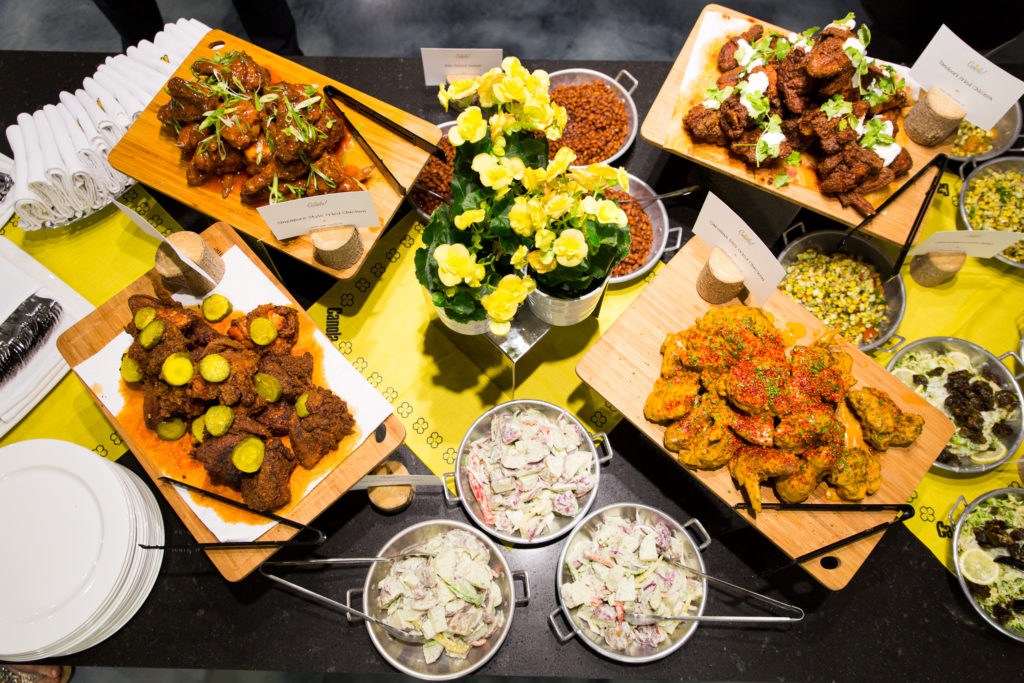 Nashville Hot Chicken
Ingredients (serves 8)
1 whole chicken, cut into 8 pieces
4 cups all-purpose flour
4 cups buttermilk
1/2 cup Tabasco sauce
1 Tbsp salt
16 cups canola oil for frying
For the Marinade
2 cups canola oil
1/4 cup cayenne pepper
3 Tbsp onion powder
juice and zest from 1 lemon
4 large pickles, cut into coins for garnish
fresh dill, chopped for garnish
Method
Place the portioned chicken in a large bowl and mix with hot sauce and buttermilk.  Let rest in the fridge for 1 hour.
In a separate large bowl, add flour and salt.  Place two pieces of chicken in flour mixture at a time and dredge lightly.  Repeat until all chicken is dredged.
Preheat 16 cups of canola oil in a table fryer or induction fryer to 325F. Cook chicken to internal temperature of 160F.
In another large bowl, mix the cups of canola oil with cayenne, onion powder, lemon juice and lemon zest.  Dip the perfectly fried chicken in the spicy marinade.
Garnish fried chicken with sliced pickles and fresh dill.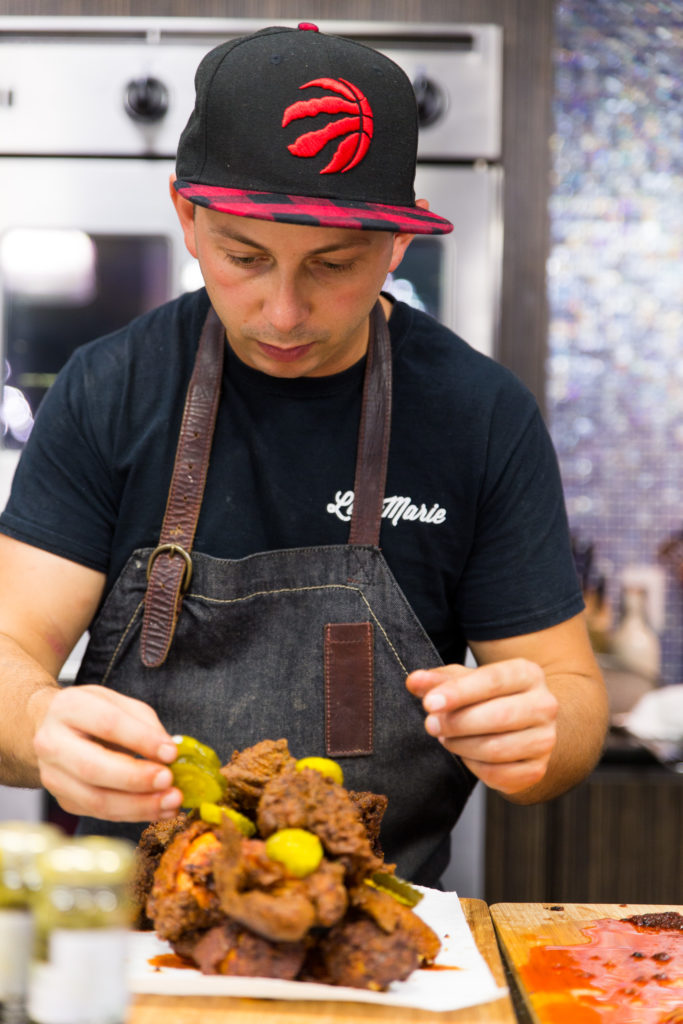 **Photography by Josh Tenn-Yuk courtesy of Canola Eat Well
To learn more about Canola and great recipe ideas visit www.canolaeatwell.com