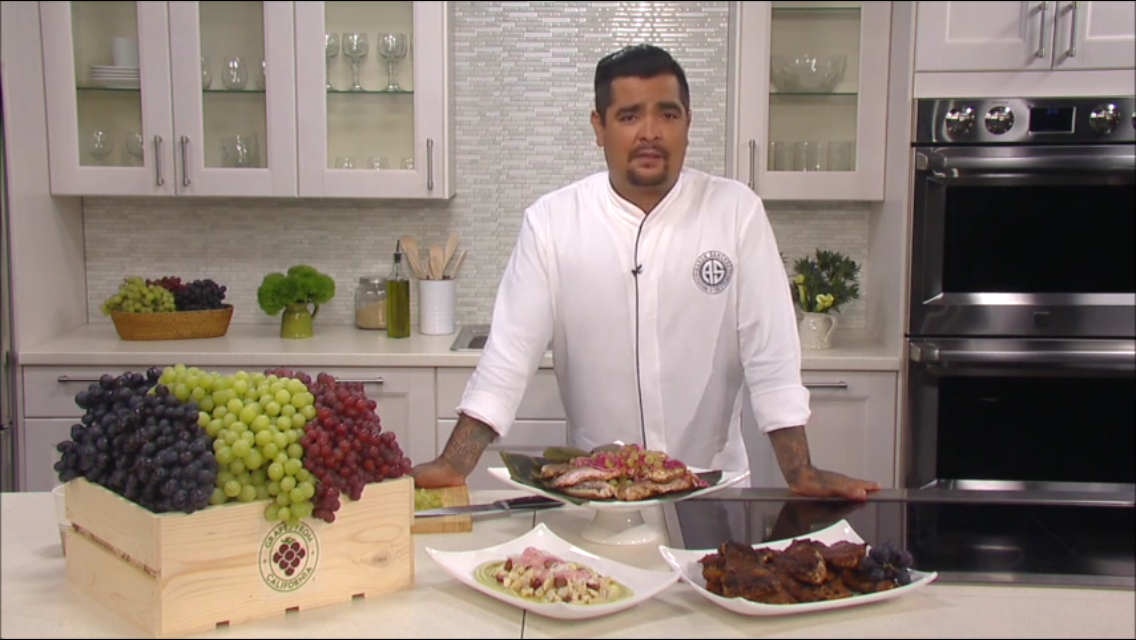 Grape Conversations with Chef Aarón Sánchez
He's best known as an award-winning chef, popular television personality, cookbook author, restaurateur, mentor and philanthropist. In addition to this, the tattoo covered, heat seeking co-star of Food Network's Chopped is also a devoted father who is passionate about preserving and passing on his cultural legacy through food.
Chef Aarón Sánchez firmly believes that by involving children in the process of meal planning and preparation that you not only have the opportunity to spend quality family time together, but you also instil in them healthy eating habits and teach them to make healthy choices.   Among those healthy choices are California grapes, a fruit whose nutrition and versatility he has demonstrated through a number delicious and health recipes that we had a chance to discuss recently.
This type of creativity not only makes Aarón Sánchez a wonderful culinary ambassador for California Grapes but also demonstrate his passion, commitment and skills that have placed him among the world's leading contemporary Latin chefs and have earned him the praise of critics and contemporaries alike.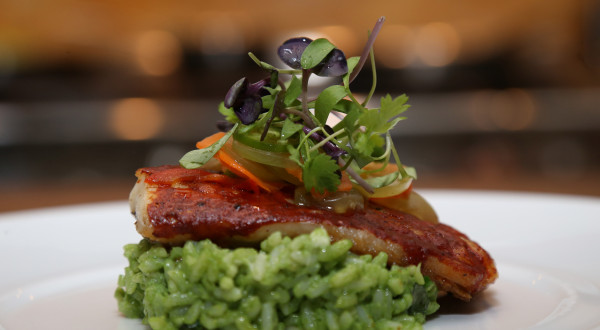 Yucatan-Style Red Snapper with Green Grape Escabeche
Achiote Marinade
2 garlic cloves
4 tablespoons of achiote paste
½ cup fish stock
 Green Grape Escabeche
1 small red onion , thinly sliced
1 jalapeno , thinly sliced
2 cups halved green grapes  (blanc seedless variety)
Juice of 2 limes
½ teaspoon dried oregano
Salt and pepper
Red Snapper
4 red snapper fillets
Large Banana leaves  (big enough to wrap around the fillet)
½ cup fish stock
Cilantro leaves , for garnish
Lime wedges , for garnish
Directions
Achiote Marinade
In a blender, combine the garlic, achiote paste and fish stock, puree to a smooth paste and reserve.
Green Grape Escabeche
In a glass bowl, combine the onion, jalapeno, grapes, lime juice and oregano, mix well. Season with salt and pepper and set aside.
Red Snapper
Preheat the oven to 350 degrees F.
Clean the banana leaves with a damp towel. Place each fish fillet on a banana leaf and brush each side with the achiote marinade. Wrap the banana leaf around the fillet and place on a baking-safe saute pan. Once all the fillets are wrapped and in the pan, add the fish stock to the pan.
Bake the fish for approximately 15 minutes or until firm. Remove fish from the oven, and cut a slit off the top of the banana leaf to expose the fish. Top each fillet with the green grape escabeche and garnish with cilantro and a lime wedge.
For more information and recipes visit: http://www.grapesfromcalifornia.com/