Hospitality Unleashed: The Restaurants Canada Show
For three days (February 28 – March 1) Toronto's Enercare Centre became the hub for everyone connected to the hospitality and food service industry.  The 71st annual trade event themed "Hospitality Unleashed" definitely brought together all the key ingredients for a successful gathering of restaurateurs and hospitality professionals.
With over a 1,000 exhibitors showcasing everything from the latest food and beverage to technology innovation and hospitality services, the appetites of show goers were both figuratively and literally satisfied.   This industry inspiring show is the largest of its kind in Canada with thousands in attendance.  In addition to representation from a broad range of products and services the show also boasts specialty pavilions (among my favorites the pizza pavilion featuring Neapolitan pizzaioli paddling out wood fired pizzas and building a CN Tower entirely out of pizza dough); panels, demonstrations and seminars on what's trending in the industry; competitions and challenges (like the barista latte art challenge); and networking opportunities.  One of the show highlights, The Breakfast with Champions featuring a panel made up of field experts such as chef and restaurateur Vikram Vij, President and CEO of Tim Hortons David F. Clanachan and the newest dragon in the den, Manjit Minhas, Co-founder and CEO of Minhas Breweries and Distillery. Other features include the reveal of the Top 100 restaurants in Canada by Canada's 100 Best magazine along with the release of the 2016 Canadian Chef Survey that outline the top 10 Hot Trends and Up and Comers for the year.
Some of the stand outs at this show for me included: Birra Moretti and wood fired pizza in the Pizza Pavilion made by Italian pizza masters; edible works of art displayed from the winners of the Frankie Tomattos Restaurant Innovation Competition; incredible local finds like purple corn flour bread from Against the Grain, artisan bread and pastries from Café Louise Bakehouse and delectable charcuterie from Finest Sausage and Meat in the Ontario Pavilion; latte art from Zuccarini Importing Co. Ltd. In the Coffee and Tea Pavilion; the most incredible pistachio ice-cream bars and ice-cream sushi from the gelato chef of Cool King Refrigeration Ltd., fantastic cheeses from the Dairy Farmers of Ontario; tempting desserts from Chudleigh's and refreshing smoothies from Humber College.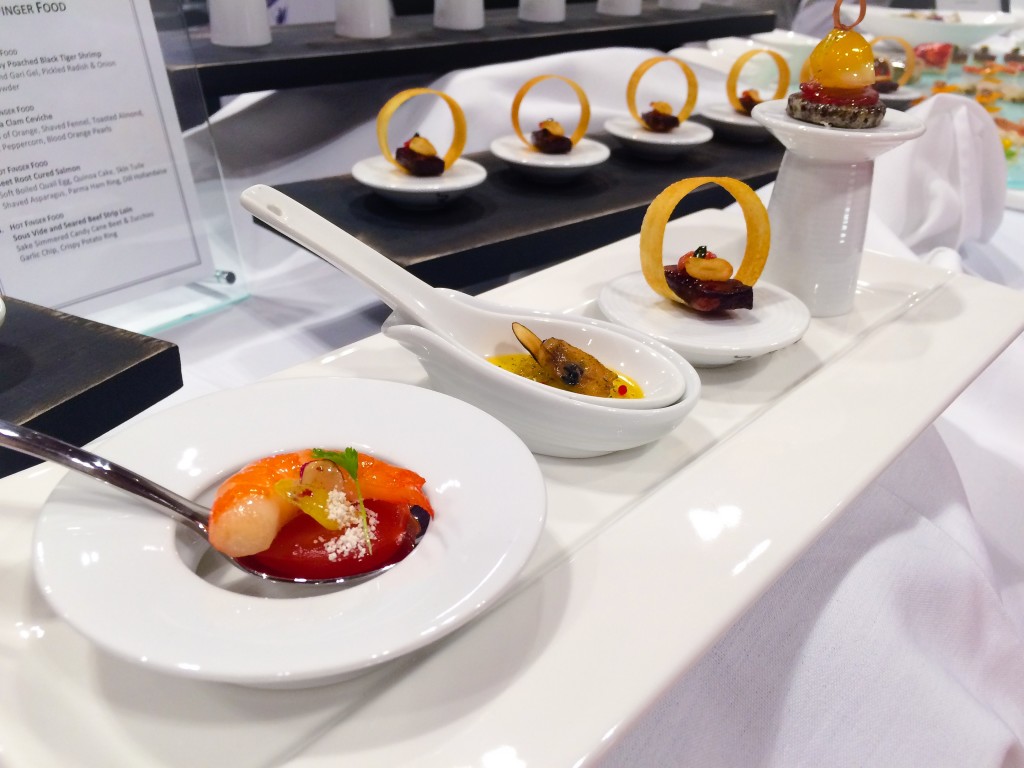 The Restaurants Canada show was truly a satiating experience and I'll definitely be making my reservation for next year.  Buon Appetito!
For more photo highlights visit my Facebook Page