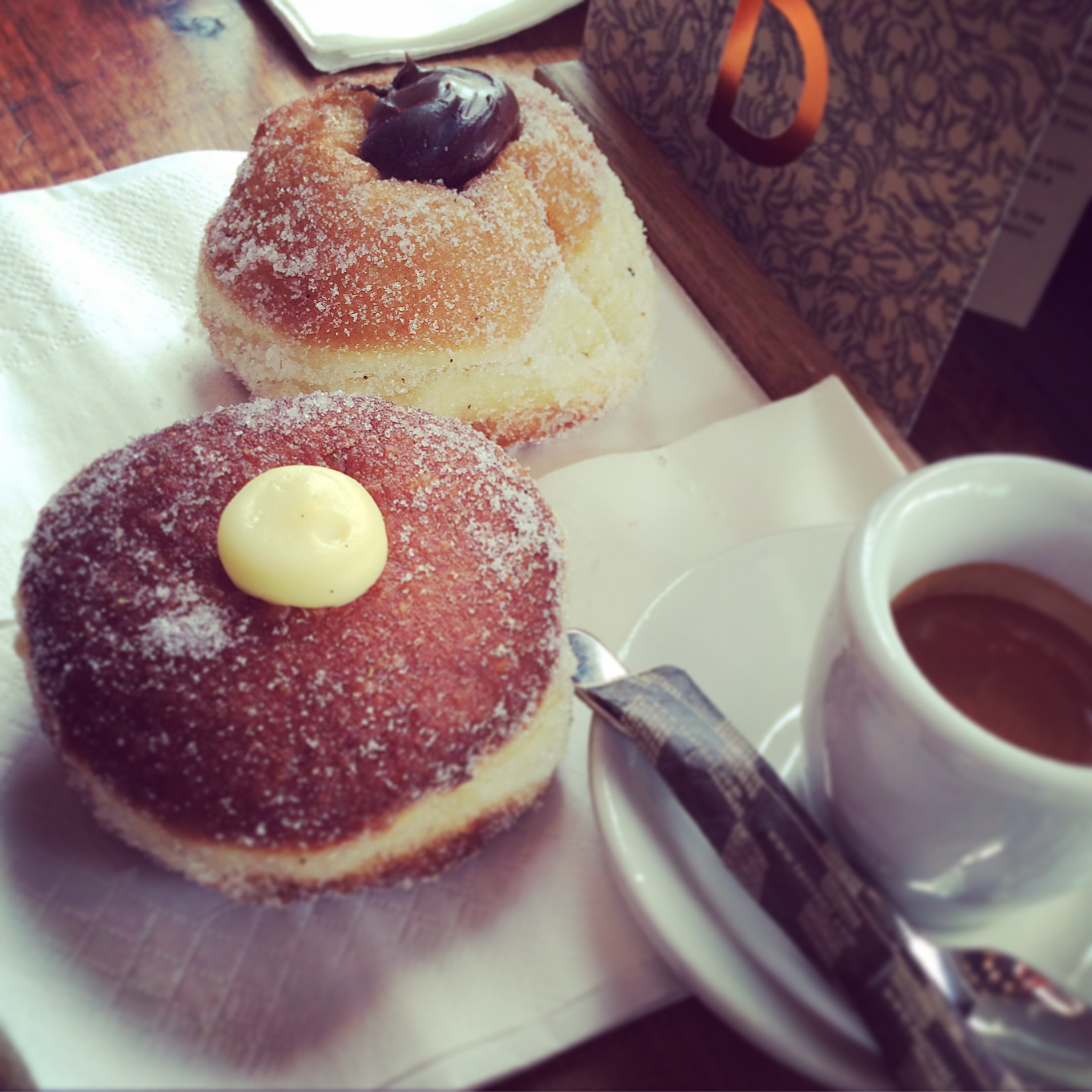 Italian Donuts Are The Bomb
Donuts, deep-fried rings or spheres of dough that can be enjoyed glazed or filled.  While Homer Simpson's most sought-after sugar fix appears to be a classic North American confection, variations of this dessert seem to span the globe.  For example the syrup soaked and coconut covered Koesister of South Africa; the fluffy egg-white sphere filled with red bean paste of Beijing known as the gaoli dousha; the North Indian dahi-vada (a bulging disc made of dal and topped with sweet chutney); and bite-sized beignet of France to name a mere few.  A place on this atlas of indulgence is also carved out for Italy, the birth place of the bombolone.
This fried, filled pastry, typically eaten as a snack or dessert, derives its name from the word bomba meaning bomb, making reference to the fact that it's a "calorie bomb".  As several areas were under the rule of Austria, the bombolone or bomba is believed to have evolved from the Austrian dessert known krapfen (a solid round shaped dough filled with apricot jam or vanilla cream).  What makes this Italian donut stand out over its international counterparts is the fact that the filling (jam, crema or Nutella) is put in from the top where it is visible, rather than injected from the side.
While several versions of bomboloni exist across the bel paese, Tuscany seems to have staked its claim to fame on the beloved treats. Not only will you find them in the pasticcerie across the region, but also sold from carts on the beach.  Their sweet stock continued to soar in 1996, when, Italian rock songstress Gianna Nannini included the song titled "Bomboloni" on her compilation by the same name. "Regalami un bomba….bomboloni bomboloni caldi" sings Nannini as mile high platters of hot donuts are being eaten.
So on June 3rd celebrate National Donut Day Italian style and bite into a bomba.  Buon Appetito!
Bomboloni Alla Crema
Ingredients:
4 cups cake and pastry flour
1 8gr package of instant dry yeast
2 tbls of sugar + extra for rolling
¼ tsp of salt
Zest of 1 lemon
3 large eggs
1 cup heavy cream (35% whipping cream) warmed
Vegetable oil for frying
For the Crema Pasticcera
2 cups milk
3 eggs
¼ cup of all purpose flour
½ cup sugar
1 tbls of lemon zest
Directions:
Whisk together the sugar and eggs until fluffy.  Add in the lemon zest and then slowly add in the milk while continuing to whisk the mixture.  Stir in the flour a little at a time until well combined.
Transfer the mixture into a medium size sauce pan and gently bring it to a boil over medium low heat. Simmer the cream, stirring continuously until it thickens and coats the back of a spoon.
Transfer the cream to a bowl and cover it with plastic wrap to prevent a skin from forming.  Allow to  cool for two hours.
Place the four, sugar, salt and lemon zest in a bowl.  Dissolve the yeast into the warm cream and allow to activate, then pour over the flour mixture and combine.
Add in the eggs and knead until you form a soft ball of dough that is smooth and elastic (but not sticky)  This will take approximately 10 to 15 minutes.
Transfer the dough into a large bowl, cover it with plastic wrap and set it aside in a warm place to rise for 1½ to 2 hours, or until it has doubled in volume.
When the dough has doubled in volume, transfer it to a clean, floured surface.
Roll the dough out to a thickness of about  ½ -inch.  With a round cookie cutter or glass (approximately 3 inches in diameter) cut out rounds of the dough.  Try to cut the rounds as close to each other as possible to minimize the amount of leftover dough.
Put the rounds on baking sheets lined with parchment, cover with plastic wrap and allow to rise once again for 1 ½ to  2 hours until they double in size
Heat the oil in large pot over medium heat.
Prepare 2 large plates for the draining and rolling of your bomboloni. Layer one plate with 3 to 4 sheets of paper towel for draining, and the other plate with sugar, for rolling.
Fry the bomboloni in the hot oil until they are golden on each size (3 to 5 minutes approximately)
Remove them with a slotted spoon, drain them on the paper towels and immediately roll them in sugar until evenly coated.
While the bomboloni are still warm fill them with pastry cream.   Fill a large pastry bag fitted with a plain round tip then insert it into the top of the bombolone.  Pipe the cream until a mound rises to the top.
Note that the bomboloni can be filled in the same manner with Nutella or jam.
Serve immediately.