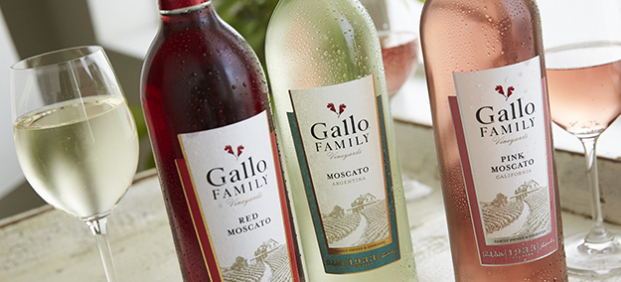 *Image from gallofamily.com
"It's a celebration — clap clap bravo.  Lobster and shrimp and a glass of Moscato."(Drake)
These lyrics from the Canadian hip hop superstar sent sales of Moscato wine sky rocketing in 2009 making producers of the sweet drinking wine raise their glasses in cheer.  So celebrated in fact, that the Gallo Family Vineyards decided to give this particular spirit its own holiday, and introduced May 9th as Moscato Day in 2012.
If you don't know what Drake and many of his industry counterparts are singing praises about (Nicki Minaj, Lil Kim, and Jay-Z are among the artists who've given the wine a nod in songs), here's a bit of a rap sheet on Moscato.
Moscato (named because of its earthy musk aroma) is a sweet, light bodied wine originating from the Piedmont region of north-west Italy, mainly in the province of Asti (the Moscato D'Asti is actually a DOCG wine and is considered one of the oldest grapes grown in that area).  Made from the Moscato bianco grape (a grape with a high level of sugar), it is an easy drinking wine with a honeyed sweetness.  Made in the frizzante style, it is semi-sparkling and is low in alcohol. It is a wine that should be drunk young, ideally no later than a few years after bottling (meant for the table and not the cellar). Moscato should be served slightly chilled and can be enjoyed on its own, as an aperitif or as a dessert wine.
Available in white, red and rosé varieties, it is a palette pleasing wine whose sweetness pairs well with a wide variety of foods.  It is a great accompaniment to soft cheeses such as Camembert, gorgonzola or mozzarella di bufala, along with hard cheeses like Pecorino Romano.  Fresh fruits and cold cuts as well as paté and grilled salmon also pair nicely with a glass of Moscato.  Its sweetness acts as a wonderful contrast to spicy Asian or Mexican dishes as well as complementing desserts such as fruit tarts, panettone, biscotti and sorbet.
Aside from its festive and fun qualities, its affordability factor has also contributed to its acclaim, making it the bubbly of choice over champagne in its young and unpretentious demographic.  Its popularity has also led to spin offs being produced by beverages makers which include beer and Moscato-mixed drink recipes, even a Moscato-infused vodka.
So be sure to circle May 9th on the calendar to raise a glass (or even a chorus) in celebration of Moscato.
"When things get hard to swallow. We need a bottle of Moscato" (Ab-Soul)