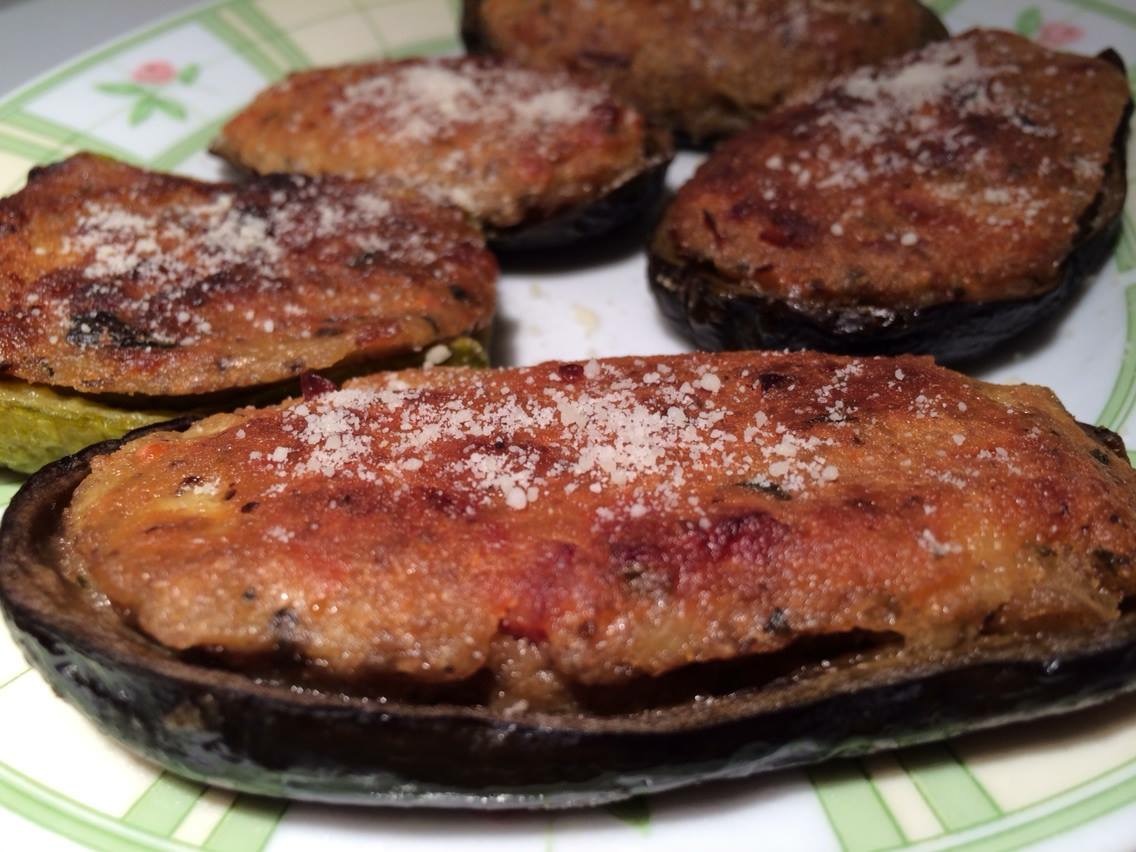 Nonna Carmela's Melangiani Chini
Melangiani chini, dialect for a southern Italian staple, stuffed eggplants. I have eaten countless numbers of these growing up and the mere smell of these vegetable delights turning golden brown in a frying pan conjures up wonderful memories of unforgettable moments. I don't know of any Calabrese woman, nonna or otherwise, who doesn't have this recipe as part of her repertoire. Every summer when eggplants are in season the melangiani chini make their appearance at our table; and no one makes them better than my nonna Carmela. For as long as I can remember, I've been welcomed back to my nonna's house in Calabria with a piping hot plate of stuffed eggplants.  We could've probably paved the way from Lamezia Terme to her hilltop home in Grotteria with the number we've devoured over the years.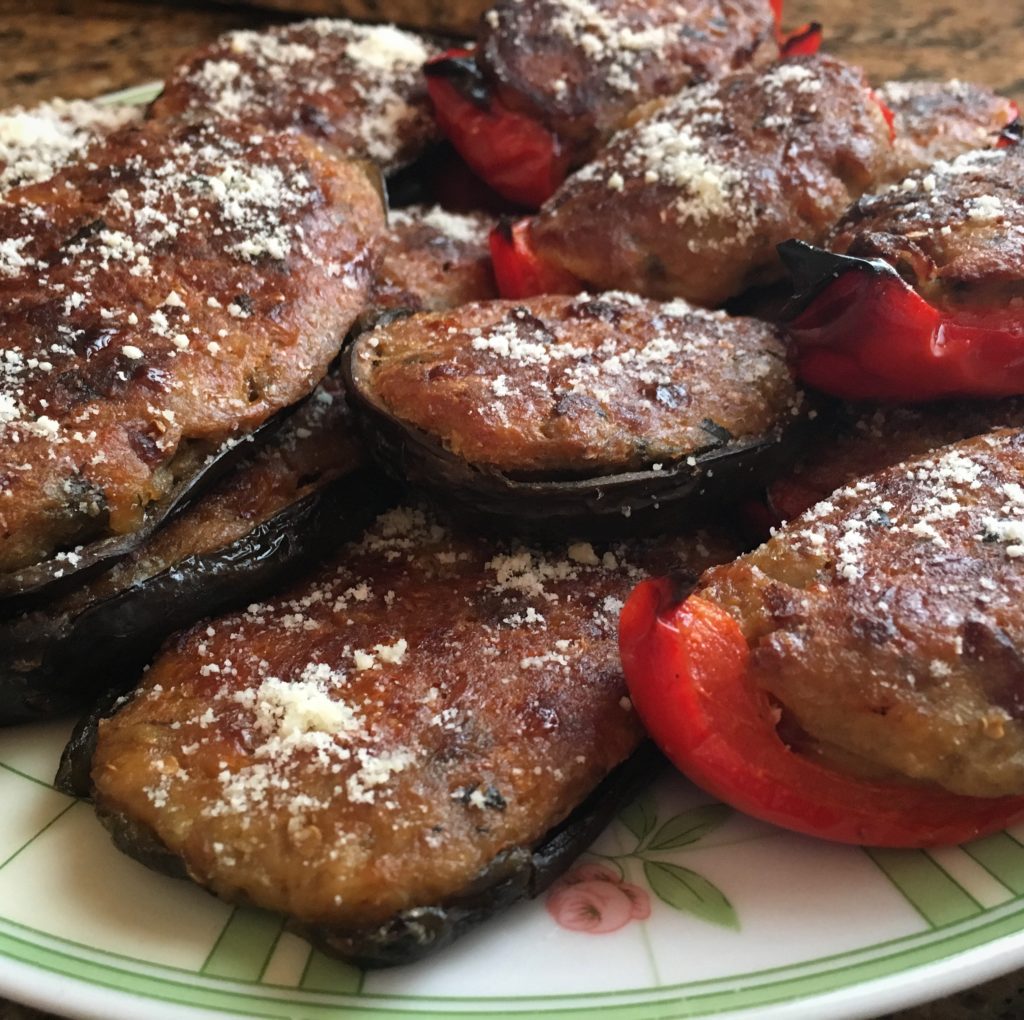 We are always greeted by the incredible smell of fried eggplants that comes wafting through my nonna's kitchen and they are always a part of our first meal in Italy.  It's certainly the greatest benvenuto I can think of. That very first bite into the warm and creamy filling lovingly spooned into an eggplant shell and sprinkled with Parmigiano or Pecorino, is truly a marvelous homecoming and cherished culinary tradition.
A heaping plate of these stuffed eggplants is always enjoyed when family and friends are gathered. No matter whose home I am invited to break bread in during my summer stay; the meal always includes this humble rustic fare. While the dish appears fairly simple, the process is slightly involved which means that the hostess has really given of herself to prepare it for her guests, thus making it a truly special part of the meal for me.
These stuffed eggplants are just one of the many culinary incarnations of the aubergine found in the Calabrian kitchen, where this vegetable reigns supreme.  Thought it is considered a specialty of Parma, the origins of melanzane alla parmiggiana (eggplant parmesan) are Calabrese.  The region's dry climate, high temperatures and nearly calcium-free soil provide ideal growing conditions which prevent a build-up of the fruit's bitter juices and concentrate its sweet flavor. Its name derives from the Latin malum insanum meaning "the fruit which makes one crazy", rather appropriate because after one bite you'll be crazy about this prized vegetable too. Buon Appetito!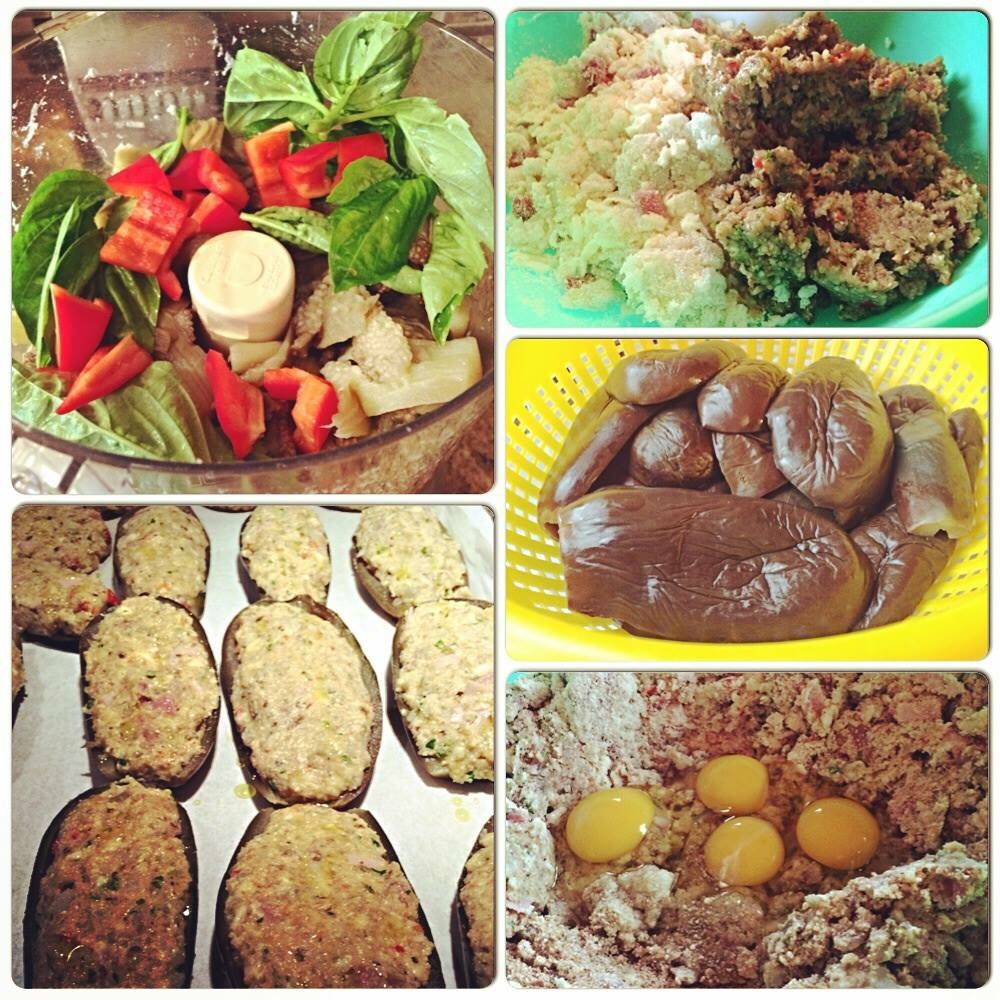 Nonna Carmela's Stuffed Eggplants
Ingredients
12 small to medium eggplants
3 potatoes peeled and sliced lengthwise
1 ½ tbls salt
1 cup grated mozzarella
2 cups chopped cooked ham
1 garlic clove minced
½ cup finely chopped bell pepper
4 large basil leaves finely chopped
2 ½ cups grated parmesan + cheese for garnish
1 ½ cups bread crumbs
5 large eggs
Directions:
Remove the stems from the eggplants and cut in half lengthwise.  With a sharp pointed knife slit the flesh ¾ of the way through in v shape.  Line the bottom of a large pot with the sliced potatoes and then lay the halved eggplants over the potatoes, flesh side down.  Cover the eggplants with water and add the salt then bring to a boil until they are fork tender (approximately 20-25 minutes).  Remove the eggplants and potatoes from the pot and shock them in ice water to stop the cooking process.
Remove the eggplant halves from the cold water and place them in a strainer to drain off any excess liquid.  Carefully remove the flesh from the eggplant leaving a shell to be filled.  Take the eggplant flesh and place it in a food processor or food mill along with the basil leaves and pulse to get a semi-smooth mixture.  Place this mixture in a large bowl to create the stuffing.  Next mash the potatoes and add them to the eggplant mixture.  Add in the remaining ingredients and mix by hand to create the filling.  Once the ingredients for the stuffing have been combined spoon the mixture into the eggplant shells and place them skin side down on a baking sheet lined with parchment paper.
Drizzle the stuffed eggplants with olive oil and place in a preheated 450 degree oven to bake for approximately 40 minutes, turning the eggplants over halfway through cooking.  Remove the stuffed eggplants from the oven and garnish with grated parmesan cheese.
Makes approximately 24 pieces.