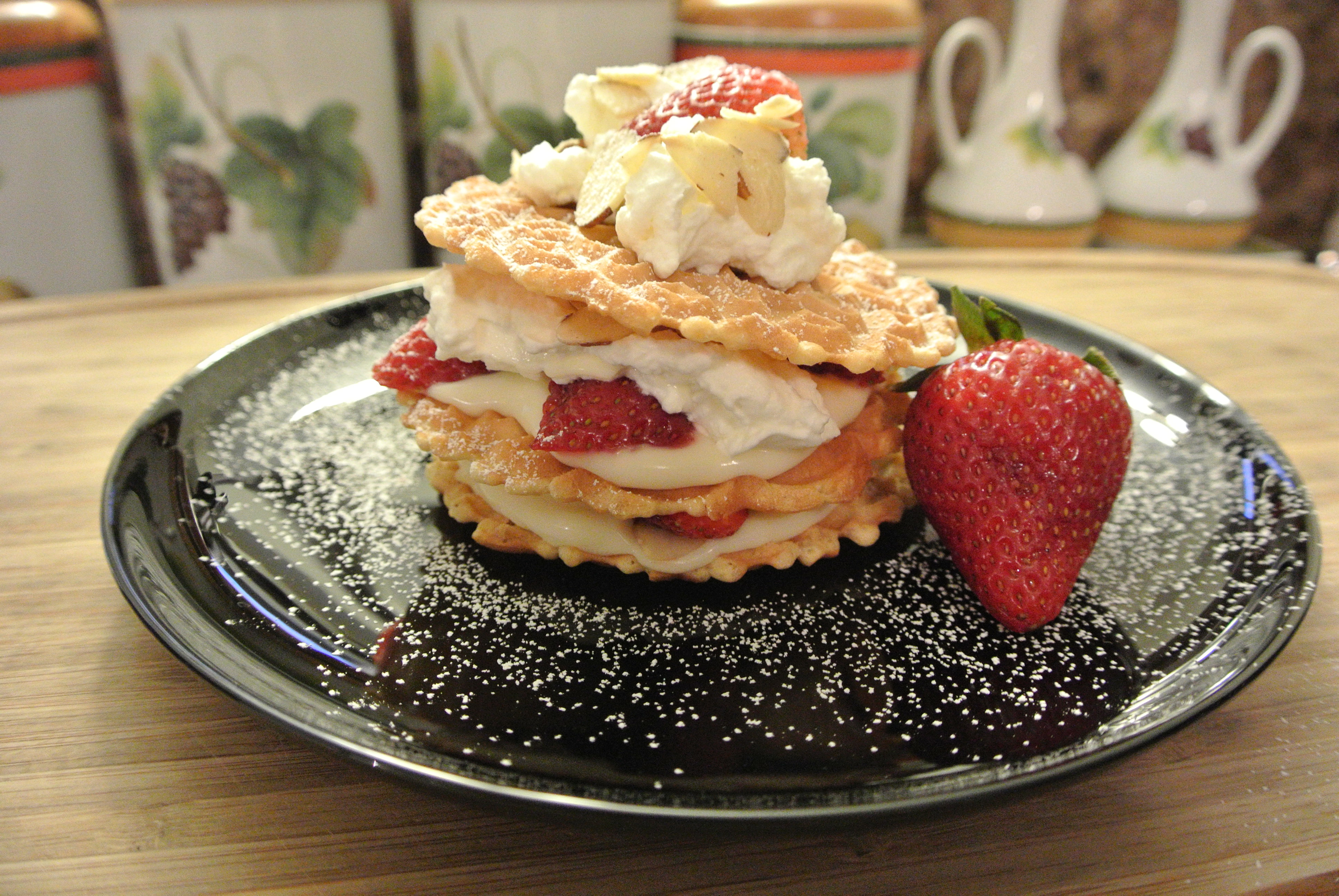 Nonna's I Love You Berry Much Napoleon
You have to love Italian grandmothers.  Whatever they do, they do it tenfold, especially when it comes to food. They are always asking if you've eaten, and if you haven't, they are quick to prepare a meal at the drop of a hat.  And, if nonna finds out, through her keen sixth sense (or by paying close attention to conversation) that her nipotini have a favorite, it's no holds barred and be prepared to have a pantry packed with goodness.  It is because of this that my kitchen is constantly stocked with formaggini, brioche, Nutella, "S" cookies and pizzelle.
My girls developed a liking for these ornate Italian wafers and as a result I have enough of them to feed the Italian army.  The one thing nonna fails to realize however is that this food, like many others, tends to be a fad and before you know it, the girls have moved on to another phase of cravings, leaving mommy with the task of consuming the spoils.
For anyone who is unfamiliar with pizzelle (from the Italian word pizze meaning "round" and "flat"), they are waffle-type cookies that are made by pouring batter between the two plates of an iron (originally heated over a fire).  These guilded biscuits originated in Abruzzo and are believed to be one of the oldest cookies in existence.  The dough is made from a simple batter of flour, eggs, sugar and butter or oil delicately flavored with vanilla, anise or lemon zest traditionally (though creative bakers over the years have developed several flavors both sweet and savoury). The batter is then put into an iron (similar to a waffle iron) that stamps it with a snowflake or floral pattern on one side, and a woven basket-like pattern on the other. Early versions of pizzelle were actually made on irons embossed with family crests, some hint of the village of origin or other symbols of meaning, and were made to mark an annual celebration honoring a patron saint.  Over time however, it became tradition to make the crisp, thin, golden-brown cookies for holidays such as Christmas and Easter, and festive celebrations such as weddings.
Though a delightful treat on their own, the pizzelle are actually quite versatile.  They can be turned into sweet sandwiches once cooled, or formed, when still warm, into cylinders, cones and mini baskets capable of holding a wide variety of fabulous fillings. Bearing this in mind, I set out on a confectionary challenge to tackle the pile up of pizzelle in my kitchen.  The result, an elegantly plated dessert which I have affectionately named "Nonna's I love you berry much Napoleon".  A slightly sweetened stack of pizzelle layered with vanilla pudding, almond whipped cream, slivered almonds and fresh strawberries.  A simple dessert inspired by nonna and completely worthy of bearing her name.  Buon Appetito!
Ingredients (serves 4)
12 pizzelle cookies (homemade or store bought)
1 cup whipping cream
2 tbls powdered sugar
2 tsp almond extract
1 cup vanilla pudding or vanilla custard (store bought or made from scratch)
Slivered almonds
Sliced strawberries
Powdered sugar for dusting
Directions:
Place whipping cream, powdered sugar and almond extract in cold mixing bowl and whip until light and fluffy.  Once the almond cream is ready proceed with assembly of the Napoleons.
Start with a pizzelle, top with vanilla pudding, sliced berries, whipped cream and slivered almonds.
Repeat for a second layer.  Top with third cookie, and garnish with a dollop of cream, a few almonds and a strawberry then dust with powdered sugar and enjoy.