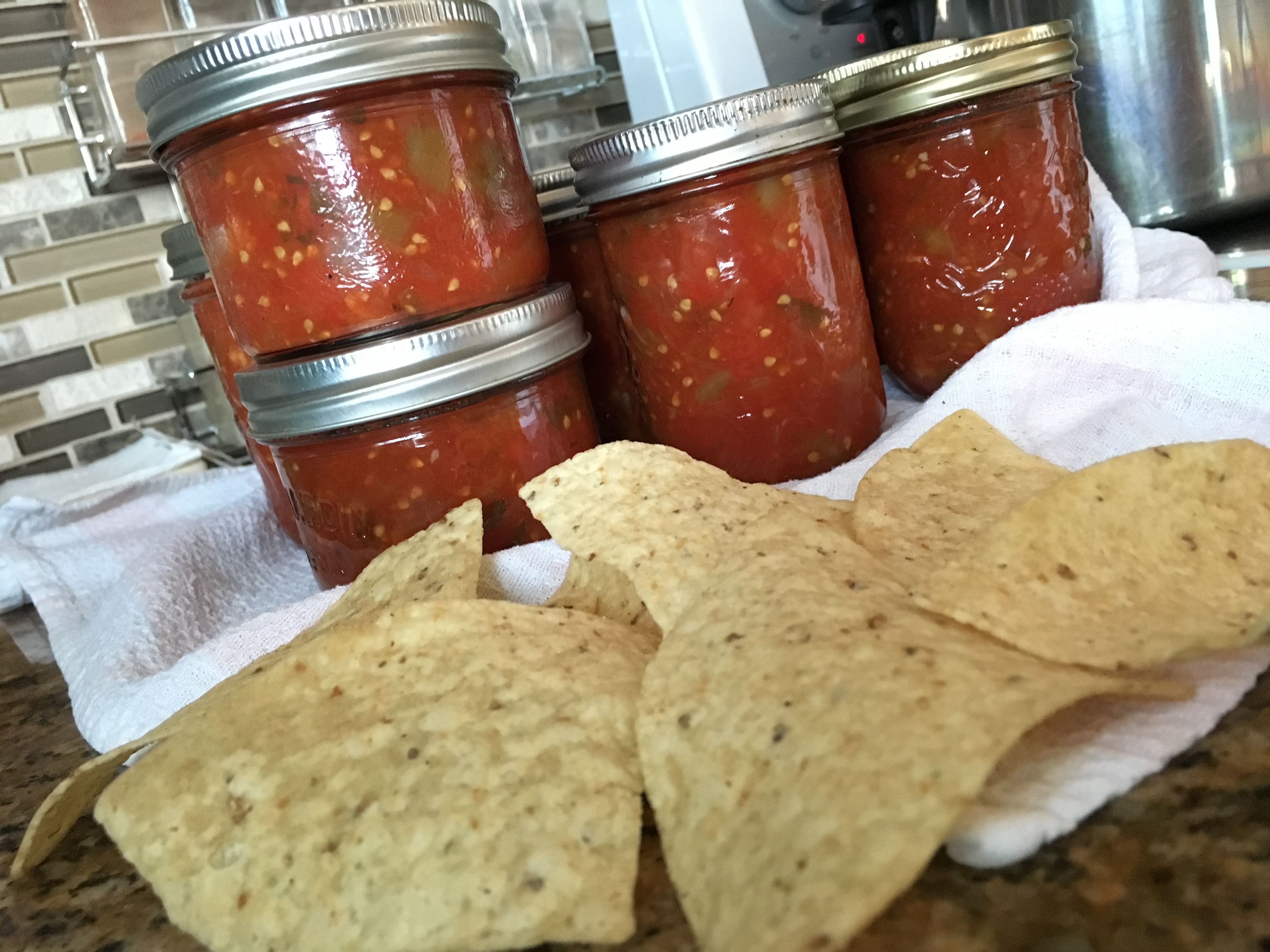 The fleeting days of summer are always marked by canning rituals: tomato sauce; roasted peppers, pickled eggplant, fruit jams and pestos to name a few.  It's all about taking the bounties of the garden at their prime and preserving their vibrant colors and flavors to brighten up cold and dark winter day.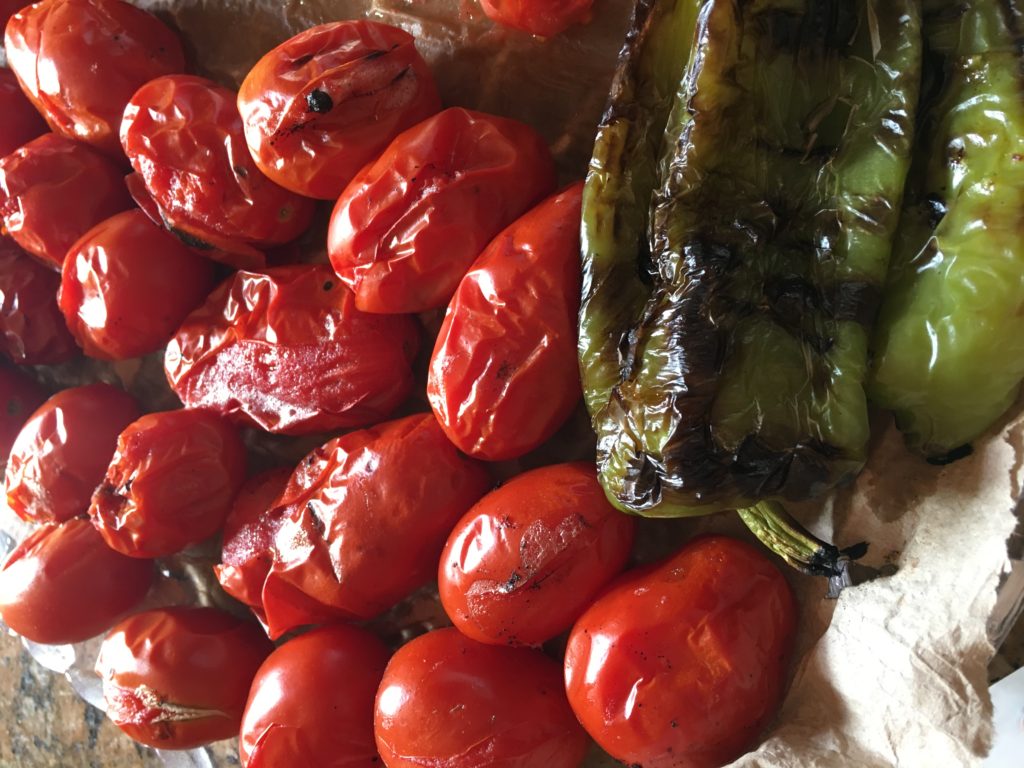 This year I chose to bottle up some fiery heat to enjoy from a jar on days when frost's bite is bitter and canned fire roasted salsa making use of beautiful sun-ripened tomatoes and peppers along with onions, garlic and herbs from the garden.  There is always a jar of salsa in my pantry ready to be used as the obvious snack with tortilla chips but in number of other ways as well.  Breakfast is instantly transformed into an exotic meal with the addition of some salsa to make huevos rancheros; it adds a nice fresh tang topping a bowlful of chili; a few spoonfuls deliciously alter plain white rice and make a great topping for grilled chicken or fish; and combined with black beans and a few other key ingredients it makes one great veggie burger.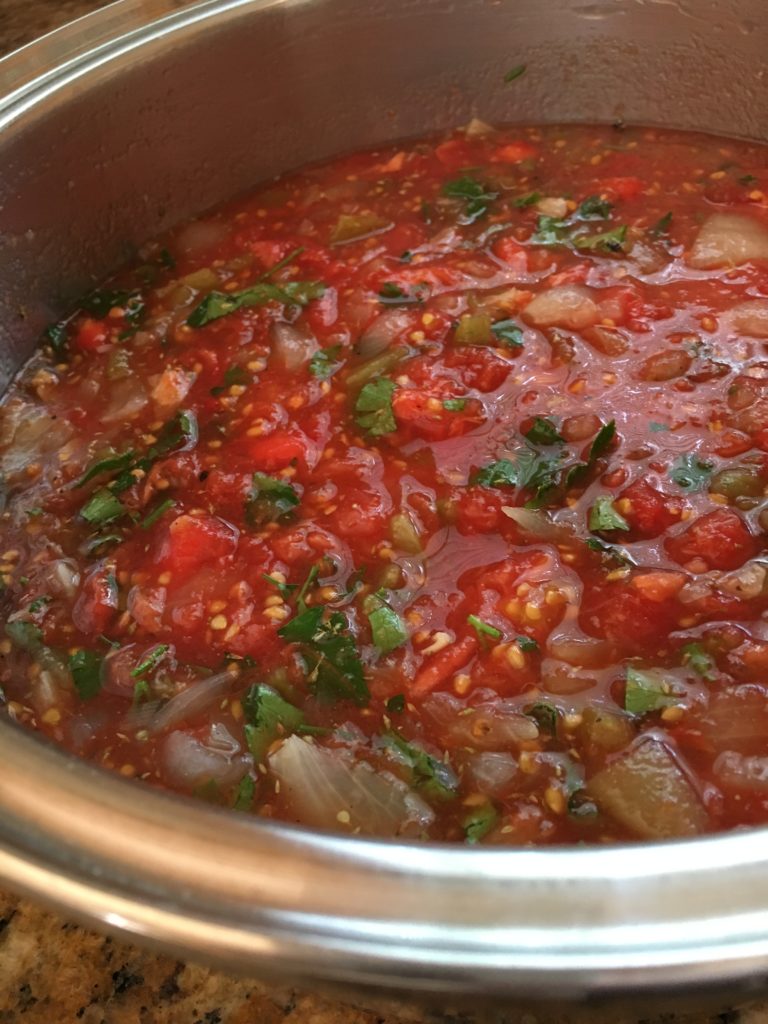 Because I use so much of this picante sauce, it was only natural that I try and conserve my own; and rather than simply chop and combine the raw ingredients I opted to intensify their flavors by flame kissing them all on the grill.  The end result, a slightly smoky sauce bursting with the essence of summer.  Once made, the salsa should be consumed within one year but it's not likely to remain uneaten that long.  Buon Appetito!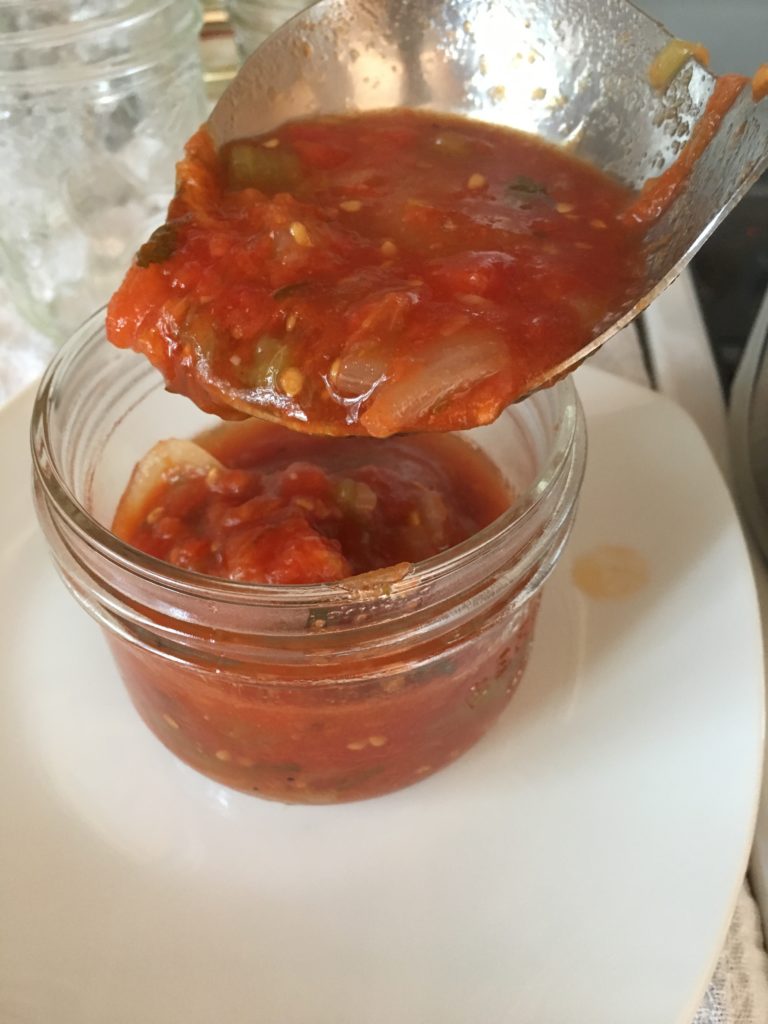 Fire Roasted Salsa
Ingredients
40-45 ripe Roma tomatoes
4 small yellow onions
1 head of garlic
3 Poblano peppers
2 jalapeno peppers
1 cup apple cider vinegar
½ cup chopped parsley
2 tsp dried oregano
½ tsp cumin
2 tsp salt
1 tablespoon sugar
Directions
Rinse the peppers, tomatoes, garlic and onions and place on a BBQ grill over medium heat to char, turning frequently.
Remove the vegetables from the grill once they are charred (note that the onions and garlic will take more time to soften).  Place on a large tray and when they are cool to the touch remove the skins, seed the peppers (handling the jalapenos with care) and chop (as fine or as chunky as you wish).
Place the chopped vegetables and their juices into a large pot and add the remaining ingredients. Bring to a boil then simmer over medium heat for ten minutes.
Have sterilized jars and lids on hand to fill with the salsa once simmered.  Ladle the salsa into jars leaving a ½ inch space from the top.  Wipe down the rims with a damp cloth then screw their lids on tightly. Place the jars in a boiling water bath for 15 minutes then remove and place them upright onto the counter for 24 hours to hear the popping sounds of the seal.