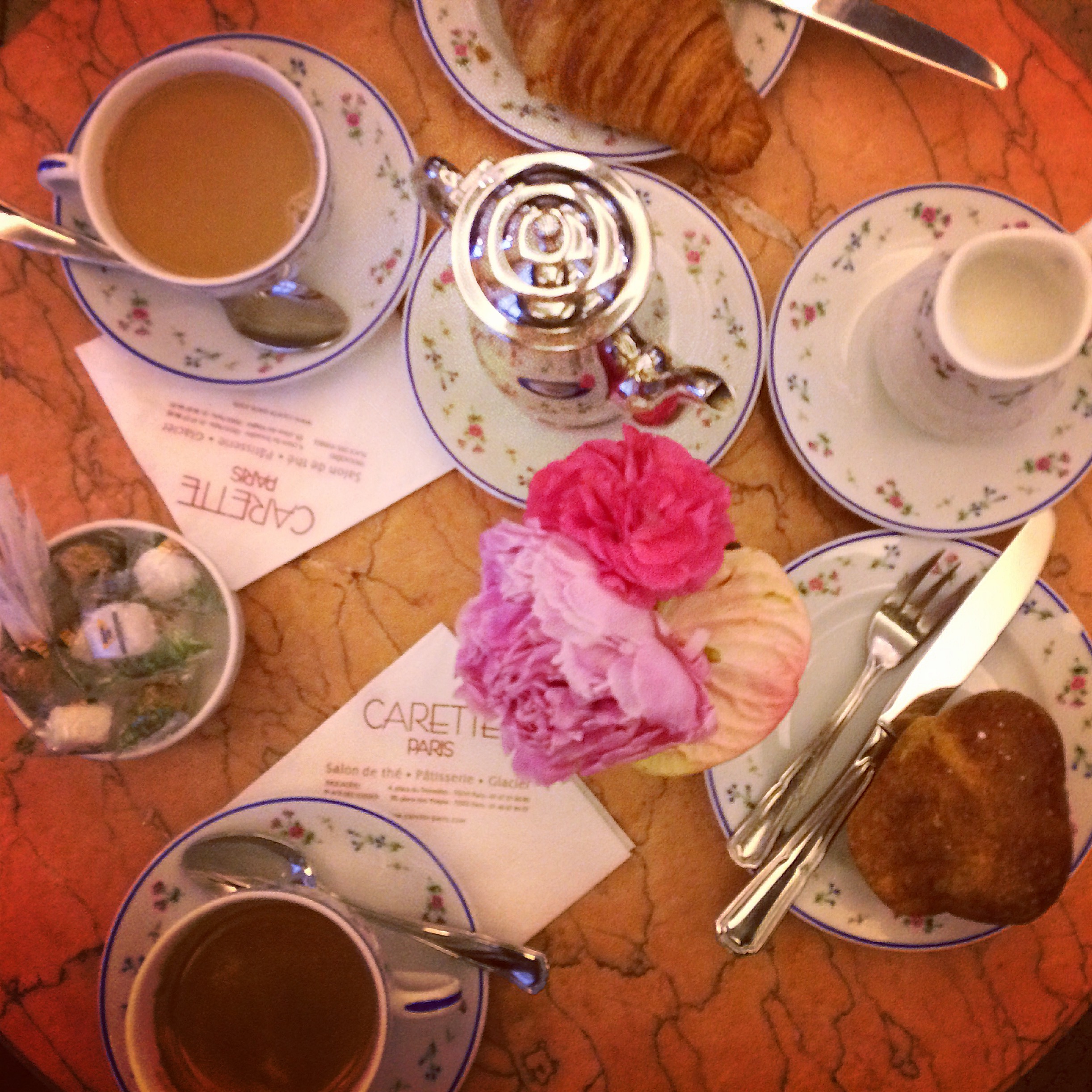 Paris, known as the City of Love for many reasons; its native tongue, its historic beauty, and its natural disposition to romance.  This beautiful French capital captured my heart, via my stomach, making me fall in love gastronomically.
In one delectable week my taste buds (and those of one of my best friends) learned a delicious new language, and, I developed a new fluency in French cuisine.
The haute cuisine that has defined the French food scene since the late 18th century is prominent in Paris with the artful, and meticulous preparation, and presentation of each dish, no matter the meal.
An early morning arrival to the city meant beginning with the most important meal of the day, breakfast, le petit déjuner.  The first was a traditional one of croissant and café au lait, beautifully presented on floral china at Carette Patisserie in Place des Vosges.  A return visit to this lovely salon de thé later in the week brought with it the enjoyment of gloriously yellow and creamy oeufs brouillés (scrambled eggs). The secret to this plate of simple perfection is their preparation, cooked slowly in a saucepan, over low heat.  Scrambled eggs were also part of the decadent Sunday brunch we indulged in at the Angelina Tea Room, boasting a history of 112 years. The eggs were preceded by café;  jus de fruits frais (freshly squeezed juice); mini viennoiseries of croissant, pain au chocolat; pain aux raisins and petit pain (bread) with butter, jam, honey and chestnut cream; and a glass of champagne. The final course in this exquisite brunch, a pineapple carpaccio with lime, mango tartare.  This chic spot is also famous for its decadent hot chocolate which we also enjoyed served from a golden urn.  While most of our days began with a leisurely café breakfast, we did on one occasion grab a quick bite in a place called the Brioche Doree (which I would equate to a North America coffee shop) where we enjoyed something called the muffinoiserie (a cross between a muffin and a croissant) that was filled with Nutella.  The grab and go cruffin was out of this world.
Le déjuner (lunch) consisted of baguette sandwiches purchased from beautiful boulangeries (like the one I enjoyed on my first day filled with coppa and mozzarella); croque monsieur (a grilled ham and gruyere cheese sandwich topped with béchamel) served with frites (fries);  and salads like the warm goat cheese salad I enjoyed in the Musee D'Orsay Café.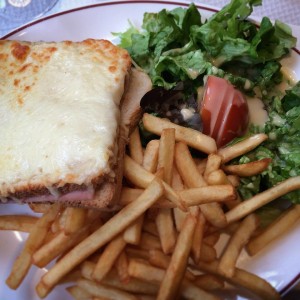 Our dinners, le dîner were also varied and enticing.  On our first night in Paris we discovered a small wine bar called L'Eclisse where we enjoyed wine selections from Bordeaux paired with a cheese board and charcuterie plate.  Along the Champs Elysee we came across an eclectic eatery called Toi where I enjoyed a three-course feast consisting of a sweet pea veloute topped with smoky bacon; beef tartare with pine nuts, parmigiano shavings and a side of frites; and a typical concluding course of a buttery cheese served with salad and toasted bread.  In the area of Montparnasse we dined at a traditional French brasserie called the Montparnasse 1900 (another historic destination) where I savoured classic courses of traditional Parisian-style onion soup au gratin; spinach salad with Roquefort; and crème brûlée. By the bank of the Seine we enjoyed a savoury puff pastry tarte of vegetables and goat cheese with mixed greens and a cocktail under the night sky.  The truest example of haute cuisine that we delighted in was at Alain Ducasse's 58 Tour Eiffel Restaurant. On the first floor of the majestic landmark we indulged in artfully plated fare. This remarkable dining experience began with an apéritif of champagne followed by a first course of cream of mushroom soup with Royans ravioli, summer truffle ricotta and herbed croutons that was served in amusing manner. The garçon brought out my bowl with the ravioli, ricotta and croutons elegantly arranged on the bottom and then proceeded to pour from a silver carafe the luxuriously creamy soup. Next came the main of leg of lamb "a la plancha", Anna potatoes, carrots confit with honey glaze, dates flavored with Menton lemon and gravy.  This dazzling dinner concluded on a sweet note with another interactive presentation.  An éclair filled with vanilla bean ice-cream that was generously doused in a hot chocolate sauce by our waiter.
In addition to our phenomenal meals we binged on baguettes, savoured coco confections, caramels and nougats from artisanal chocolatiers, indulged in mouth-watering macaron from the mecca Laduree, relished crêpes and cannelles, and simply took in the stunning elegance of patisserie.
The great Julia Child once said "you learn about great food by finding the best there is" and I certainly learned about and found some of the best in Paris.  Buon Appetito or shall I say Bon Appétit!
A tremendous thanks to my travelling partner and photographer Vanessa Galle
Visit my Facebook page for all the delicious highlights.