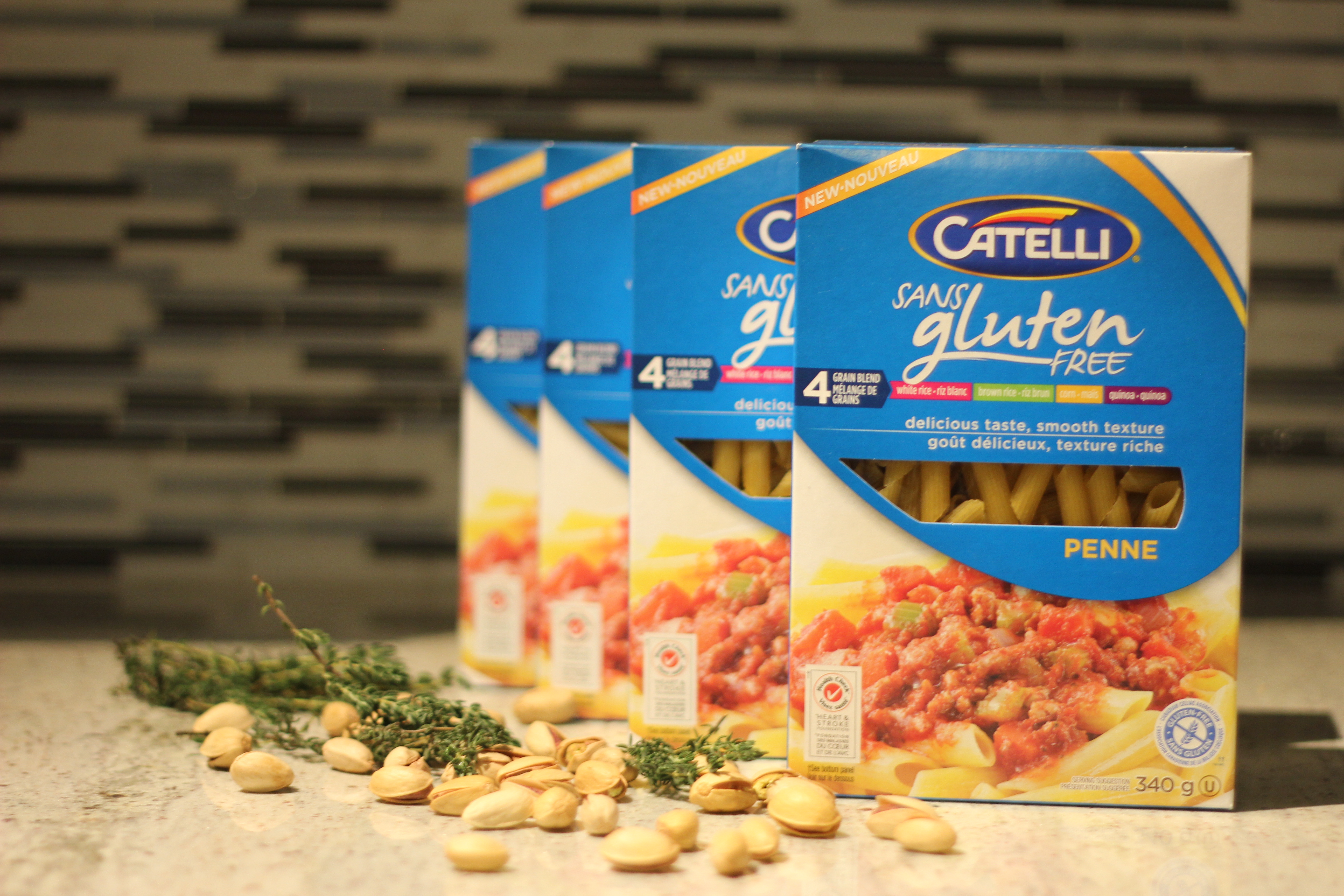 Penne-spiration with Catelli®
I was recently invited to use my noodle to creative a dish to celebrate Celiac Awareness Month using Catelli® Gluten Free Pasta. Made from a unique four-grain blend of white rice, brown rice, corn and quinoa, the Catell®i Gluten free pastas have a delicious taste and smooth texture.  With several cuts to choose from (Penne, Fusilli, Macaroni or Spaghetti) the pastabilities are endless.
When it comes to pasta I always gravitate towards my signature dish, Penne al Pistachio (Penne with Pistachio Pesto). As one of the cuts available in the gluten-free line is penne, it was only natural that I prepare this particular plate.  The result was both beautiful and delicious.  Buon Appetito!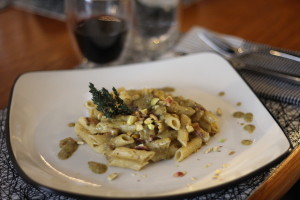 Penne al Pistachio
Ingredients:
2 cups parsley
¾ cups shelled pistachios
1 tbls fresh thyme
2 garlic cloves
¾ cups olive oil
Salt and pepper to taste
½ cup diced pancetta
¼ heavy cream
Thyme sprigs (optional)
Chopped pistachios for garnish (optional)
Directions:
Place the parsley, pistachios, thyme, garlic, olive oil and salt and pepper in a food processor or mortar and pestle to create the pesto. If possible prepare a day ahead and refrigerate to allow for the flavors to really come together.
In a medium sauté pan over medium heat, crisp up the diced pancetta until golden adding in a few sprigs of thyme for added flavor if desired. Remove the sprigs of thyme and stir in the pistachio pesto. Add in the heavy cream to loosen the mixture and lower the heat.
Cook the penne according to instruction and reserve some of the cooking water to loosen the pesto cream sauce if it becomes too thick.
Once the penne are cooked toss into the pistachio sauce and serve with chopped pistachios for garnish.
Photography by: David f. Di Benedetto: Design, Creative & Art Direction