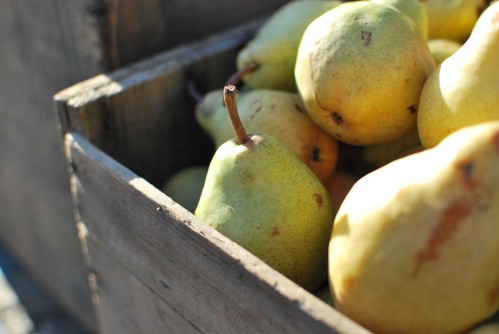 Often overlooked for the apple which finds its way into many a food and beverage during the harvest season, fall's other fruit, the pear, deserves its place in the spotlight too.  Though not as bright and shiny (unless we're talking the maroon tinted Anjou) they are certainly as sweet and versatile as their autumnal companions.
The yield from friends, was my bounty recently, calling my culinary creativity into action. So on a rainy Saturday afternoon, a pile of pears was took on various transformations in my kitchen.  Some were combined with ripe bananas and shaped into fragrant bundt cakes while others got diced and baked up into scones.  In addition, they were caramelized with butter and brown sugar and used as a filling for delectable mini pies; and the remaining pears were cooked down into sweet pear butter that was in turn used to make aromatic spiced donuts.
I chose to preserve my pears in this candied form because of its versatility.  On the sweet side it can be enjoyed on its own as a topping for toast;  baked up into treats like donuts, muffins, cakes, tarts and pies; or even blended into a smoothie or milkshake as sweetening agent. Pear butter also makes a great contribution on the savory spectrum. It makes a lovely addition to a cheese plate enjoyed with salty bites of Parmigiano cheese; it can be the base of a savory tart topped with prosciutto, walnuts and gorgonzola or even whisked into the dressing of a salad.
The production of this spread is not overly involved making it rather easy to add to your pantry staples. Buon Appetito!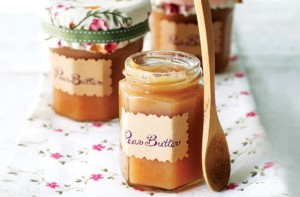 Easy Pear Butter
(from the blog Gimme Some Oven)
Ingredients:
3 lbs. ripe peas, peeled, cored and diced
3 Tbsp. hone
1 Tbsp. lemon juice
1 tsp. ground cinnamon
1/2 tsp. ground ginger
1/4 tsp. salt
pinch of ground nutmeg
pinch of ground cloves
Directions:
Stir all ingredients together in a medium saucepan, and bring to a boil over medium-high heat. Reduce heat to medium low and simmer for about 50 minutes, covering so that the lid is slightly open, and stirring occasionally. Keep an eye on the mixture so that the bottom does not burn. Once it has reduced slightly and thickened, remove from heat and transfer to a food processor. Pulse until smooth. (Or you can skip this step and keep the pear butter chunky.)
Transfer to canning jars or a heat-proof container, seal, and refrigerate until ready to use. Keep for up to a week.
*If your pear butter is too thin, feel free to run the mixture through a strainer to remove extra liquid. Alternately, let the mixture simmer on the stove longer to reduce more.