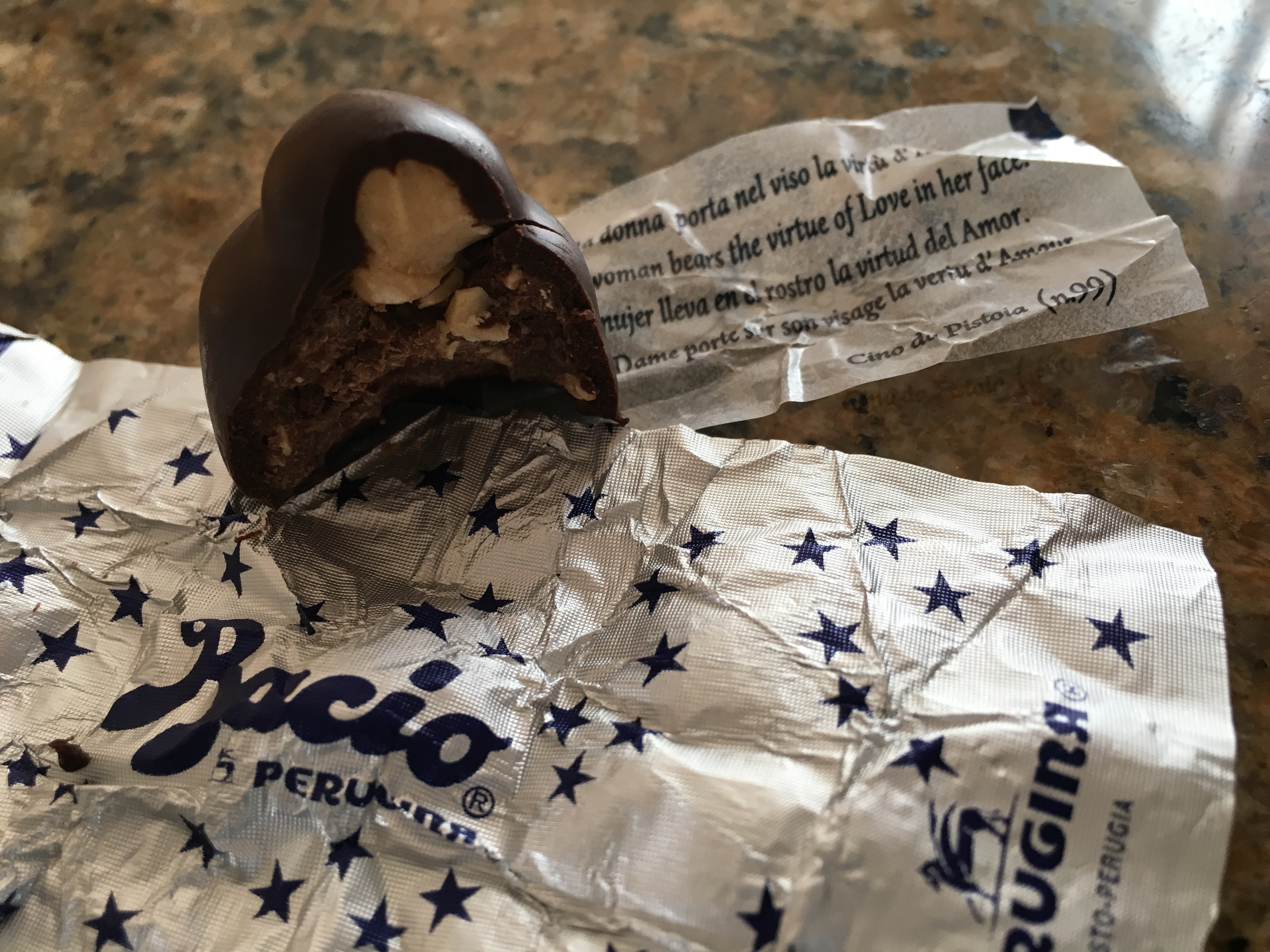 "Ogni grande amore comincia con un Bacio ~ Every great love begins with a kiss"
A kiss can be romantic and passionate; loving and warm or sinful, indulgent and made out of chocolate.
The Bacio is one of Italy's most beloved confections and although the dark chocolate and hazelnut kiss can be gifted at any time, for any reason; there is no better time for Baci Perugina than during San Valentino.
While it may seem that the distinct praline with its romantic love notes has been forever synonymous with lovers in Italy, it was only in 1922, that the Italian population received its first kiss.  Creator, Luisa Spagnoli was inspired to create the iconic treat when trying to repurpose hazelnuts leftover from other Perugina recipes. Thus the famous Bacio was born, a chopped hazelnut filling and a whole hazelnut centre, enveloped in dark chocolate.  This delicious combination became an instant sensation in its birth place, Perugia.  However, it wasn't until the 1930's that the second great wave of inspiration came into play, the infamous love scroll.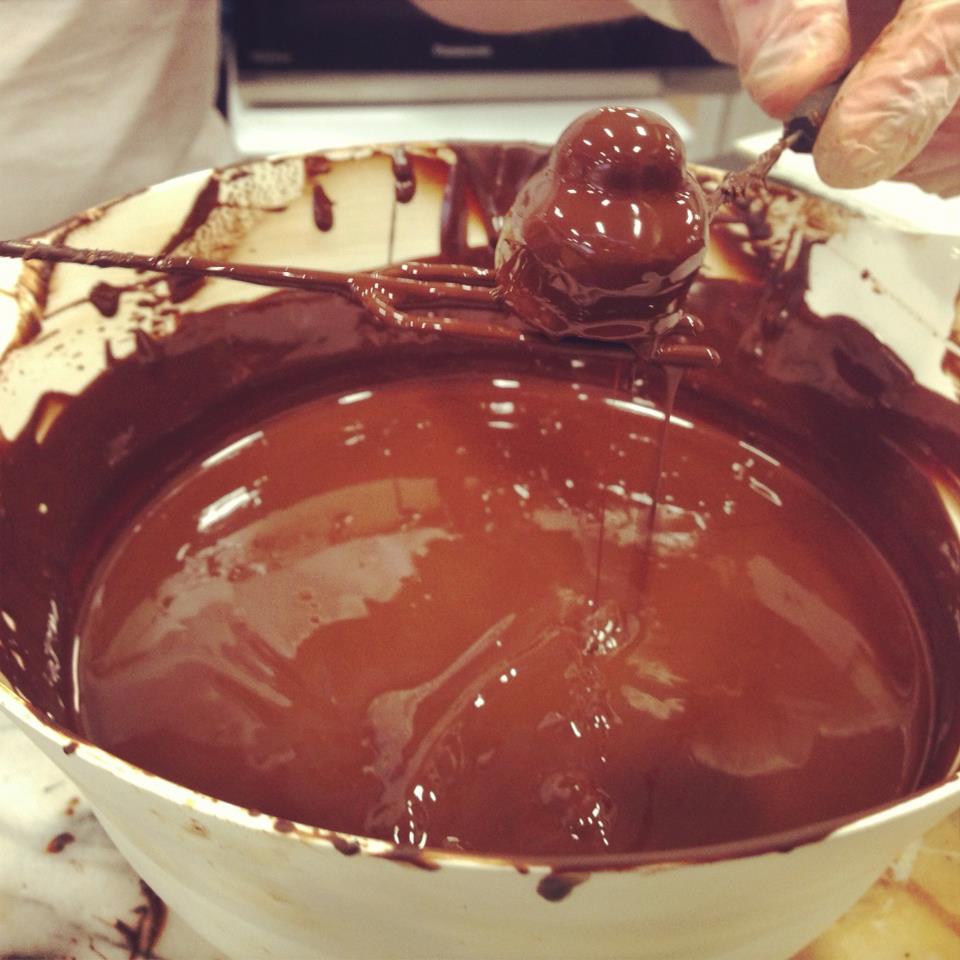 The scroll was created by Perugina visionary Federico Seneca as part of the company's attempt to establish Baci as a romantic gift.  Chocolate had long been known in Italy as a lovers' treat; ancient legends described the ingredient as an aphrodisiac. The love notes inside the new Baci enhanced the romantic message that was part of the tradition of chocolate in Italy. Unlike other chocolates, Baci didn't just symbolize love; it expressed it with romantic messages that could stand in for the giver's own thoughts of affection.  The design of the early scrolls resembled cinema admission tickets and featured a graphic of two lovers kissing, enforcing Baci's message of fantasy and romance.  The love note has become a cult object and collector's item.  Each Baci chocolate comes wrapped in a scroll inscribed with a message of affection, love or friendship.  While early Baci love notes communicated simple messages of romantic love, contemporary versions capture the diverse facets of modern love.  Now written in a more modern, ironic tone, Baci love notes include ways to express affection to friends, family members, partners, and children. They include quotes from the world's best known poets, and proverbs from ancient and contemporary cultures around the globe.  Like an invisible embrace, the scroll has become integral to enjoying all the magic of Baci.  In fact, the association between Baci and romance is so pronounced in Italy that a popular response to a poetic expression is to ask: "where did you learn that from, a Perugina Bacio?"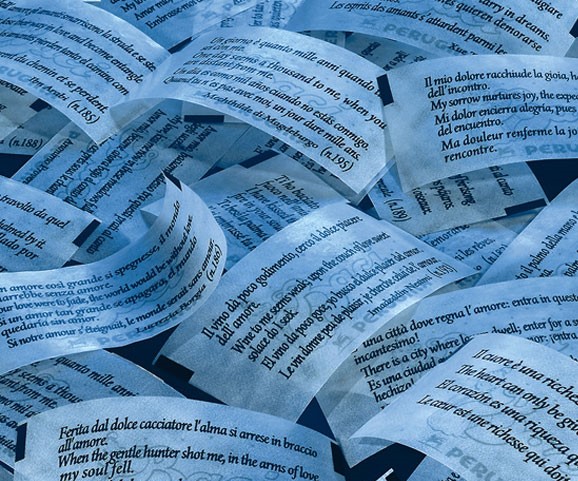 The packaging of Baci chocolates is as iconic as the love notes that come inside. In the 1930's, the same visionary behind the scrolls created the distinctive blue-and-white packaging, which features lovers kissing against a starry backdrop, to help communicate the Baci message of romance and spontaneity.  He based his design on a famous 1859 painting by Francesco Hayez, Il Bacio, or The Kiss.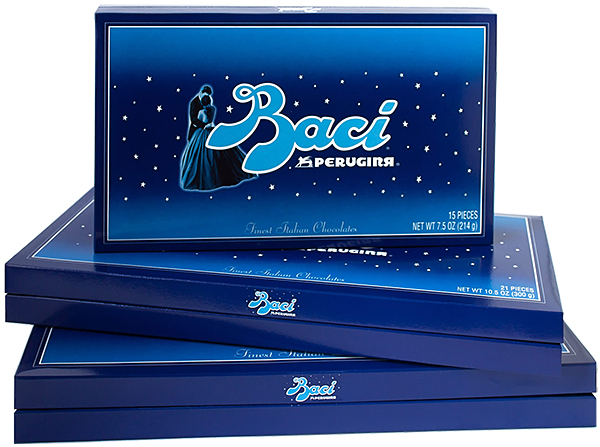 The Baci boxes and silver wrappers captured the contemporary spirit of romance, and quickly became synonymous with Baci chocolates and the tradition of exchanging them with sweethearts and friends.
By 1939, Baci had taken the peninsula by storm and it was time to introduce this romantic star to the rest of the world.  It was that year that Perugina opened a store on Fifth Avenue in New York City: the first step in a global campaign that introduced Baci to countries around the world. The chocolates were immediately popular among global consumers. Not only did Baci have a hazelnut filling that set them apart from other chocolates on the market, but they communicated Italian values of romance, creative expression and charm that were irresistibly exotic.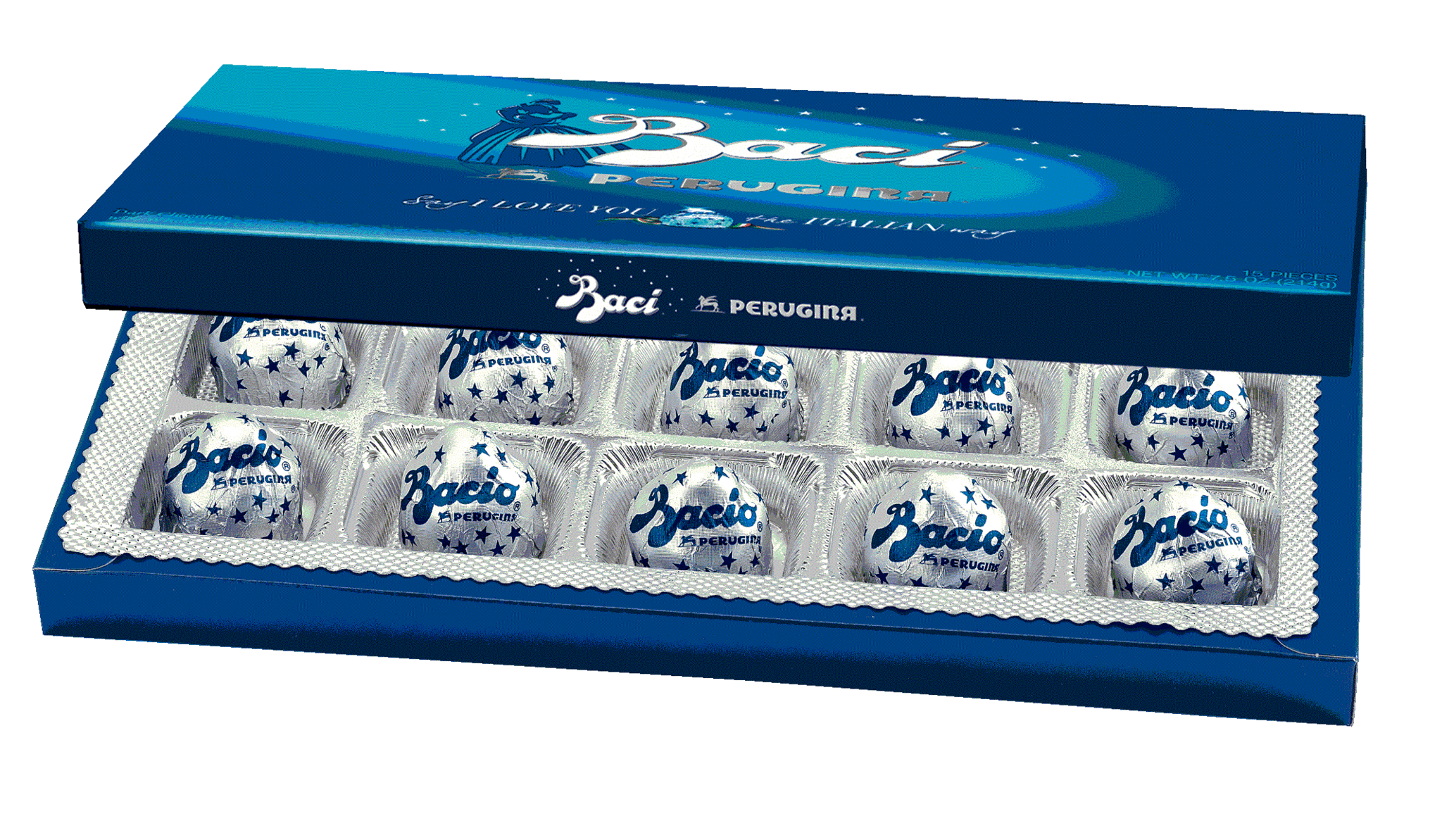 Since its inception, Baci Perugina has captured the imaginative, romantic spirit of the chocolates themselves.  As the Baci were introduced to European countries and the U.S., Frank Sinatra, Rudolph Valentino, and Clark Gable helped spread the word about Baci to North America.  In the 1970s Baci saw a promotion of cinematic proportion, landing a role in one of the most romantic films of that era, "Love Story".  To commemorate the Baci being immortalized on screen, Perugina designed a special "Love Story" box that combined elements of the film with classic Baci imagery.
Each year, over 300,000 Baci Perugina are sold to chocolate lovers around the globe.  As Baci Perugina's popularity has grown over time, so has the public's affection for them. Though the chocolates retain their aura of Italian passion and continental chic, Baci "kisses" have become a treasured way to say "I love you" in cultures around the world.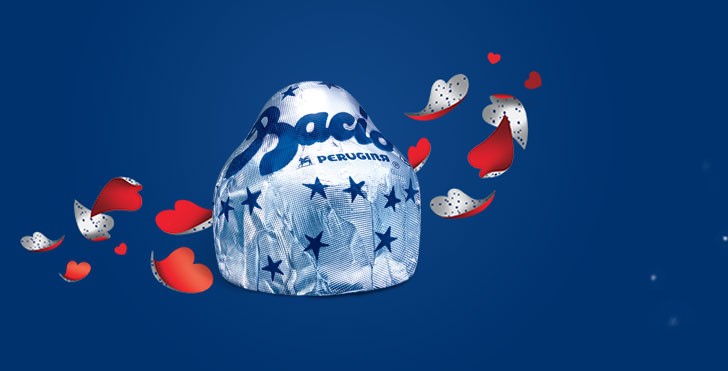 Buon San Valentino e Buon Appetito!