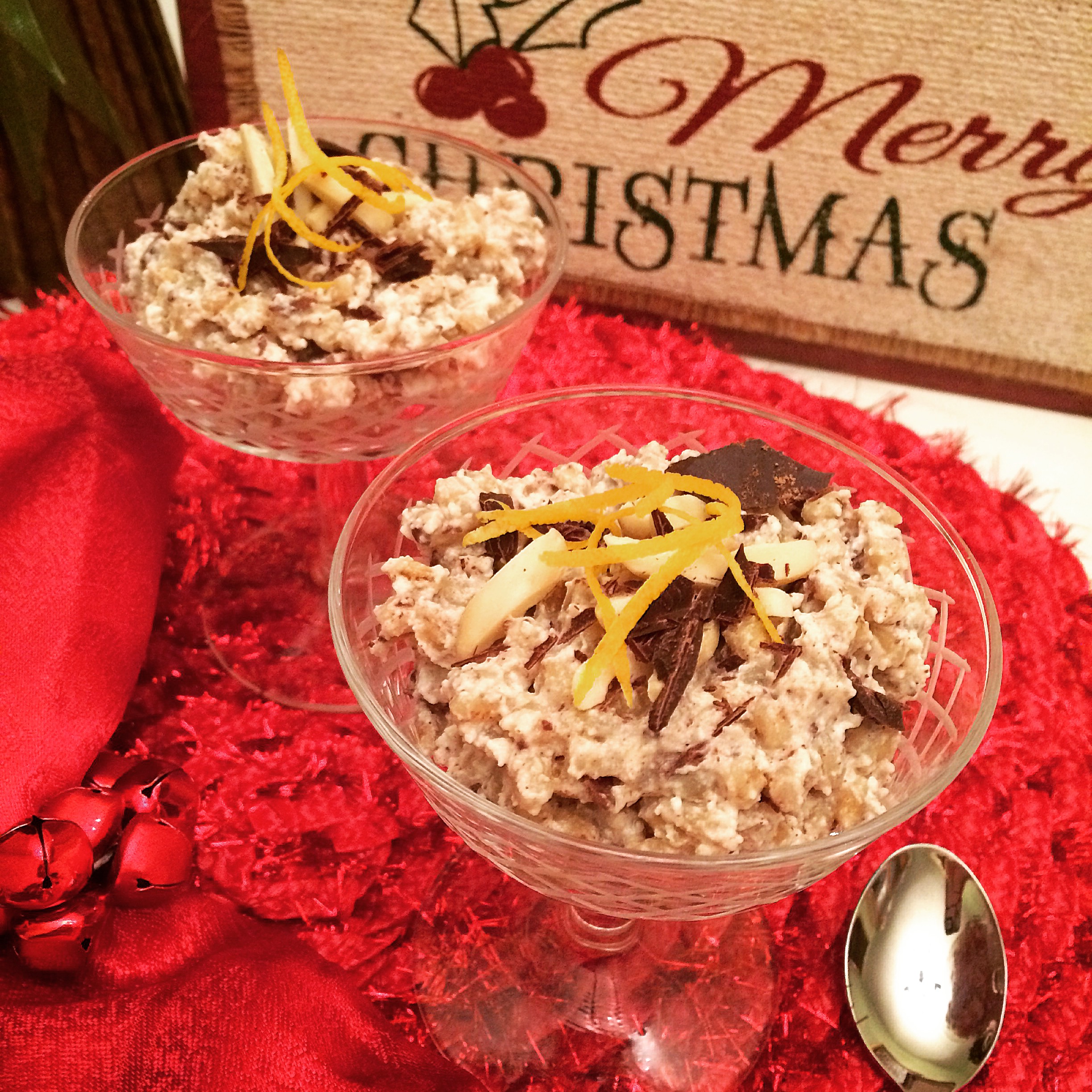 Something Sweet For The Holidays
Being a Canadian of Italian heritage, there are many holidays we observe leading up to Christmas.  With those holiday celebrations come wonderful food traditions, each of which usually has historical significance.  Most recently, the Feast Day of Saint Lucy (Santa Lucia) was celebrated with a classic dessert known as cuccia.
Santa Lucia, is a beloved Sicilian saint who is said to have ended a famine in 1582.  According to legend, a terrible famine swept Sicily during that time, and in Syracuse (the town of which she is the patron saint), the starving prayed to Lucia for salvation.  Their prayers were answered when a boat transporting a large mass of grain sailed into the harbour.  The population so ravaged with hunger, rather than bake bread with the wheat, boiled it and consumed it immediately.  Prayers of thanks were offered up to the saint and it became tradition to eat a dish of boiled wheat on her feast day  each year (December 13th).
Over time cuccia evolved from a simple boiled wheat to a dish consumed in both savory and sweet form,  as is the case with the dessert cuccia.  The boiled wheat berries are combined with ricotta, embellished with candied fruits, nuts, raisins or chocolate, and sweetened with honey.  While I typically celebrate the feast day of Santa Lucia with a savoury wheat berry salad, a carton of almond milk that I received from Almond Breeze, prompted me to put my spin on the classic dessert.
Rather than boil the grains in water, I simmered them in almond milk flavored with a cinnamon stick and the zest of one orange.  One the wheat berries were cooked and cooled I combined them with creamy ricotta cheese, slivered almonds, honey, cinnamon, dark chocolate shavings and another splash of the Almond Breeze.  The result a sweet and fragrant dessert, similar to a rice pudding, which was completely devoured by my family. Buon Appetito!
Dessert Cuccia
1 cup of wheat berries
Almond Breeze almond milk
1 cinnamon stick
Zest of one orange
1 ½ cups ricotta
Honey to taste
¼ cup dark chocolate shavings (can also add in raisins, currants or candied fruit if desired)
¼ cup slivered almonds
1 tsp of ground cinnamon
Cover the wheat berries in cold water and let soak overnight in the refrigerator.  Drain and place in a medium sauce pan along with cinnamon stick and orange zest and enough almond milk to cover (about 2 to 3 inches).
Cook at a slow simmer, partially covered, for approximately one hour (until the kernels are tender and slightly open).
Drain the wheat berries and combine with the ricotta and an additional splash of almond milk.  Blend in the honey to taste along with the cinnamon, chocolate shavings and almonds.
The cuccia can be served at room temperature or refrigerated for 1-2 hours.
Serve topped with additional chocolate shavings, almonds and orange zest if desired.