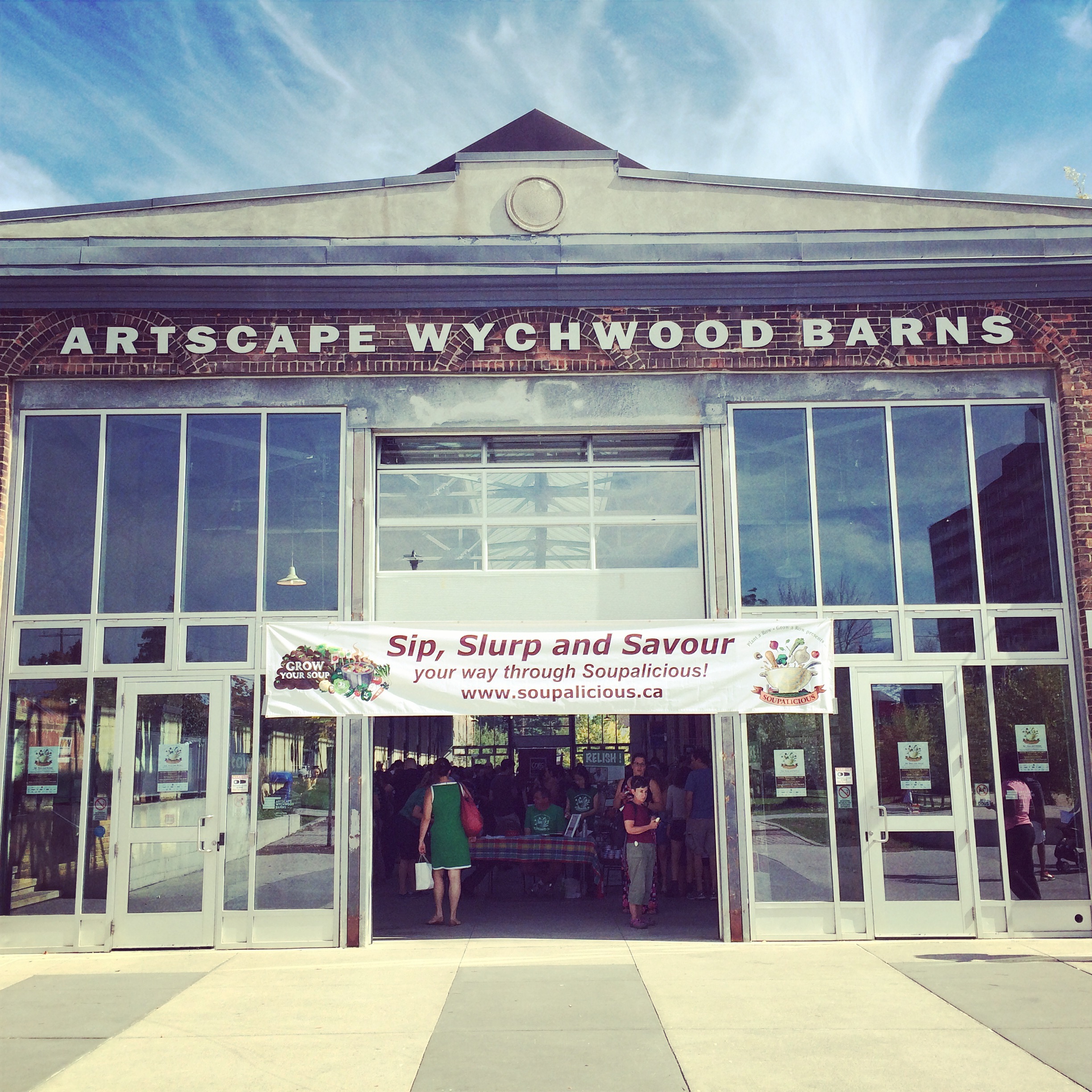 Soupalicious: A Slurpalicious Experience
Sip, Slurp and Savour is the tagline for Soupalicious and that is exactly what I had the opportunity to do recently at this annual celebration of soup. On Sunday, September 27th, 28 participants ladeled out liquid exquisiteness at Wychwood Barns.
The venue, Artscape seems aptly named to host this event featuring an incredible array of offerings from a number of culinary artists. Cups became the canvas into which color, texture and flavor were relished by the spoonful.  The masterpieces served up by the chefs on site delighted the palettes of many with soups ranging from comfort classics to exotic creations.
Some of my favorite sips and slurps included: Jamaican Coconut Sweet Potato Soup by Andria Barrett, Culinary Nutritionist; creamy mushroom soup by Aria Ristorante; comforting cheddar and ale soup with pretzel croutons by Cheesewerks; hearty clam chowder by Culinary Adventure Company; spicy cauliflower, spinach and chickpea garam masala with papri from Foodies on Foot; kicked up Portuguese caldo verde by No. 7 Hot Sauce; delicate cauliflower sake kasu soup with black garlic, chili and sesame from Globe Bistro & Earth; lush citrus spiced roasted pear and ginger soup with tropical foam and coconut bacon from Incredible Spice; hearty mulligatawny soup from Morgans on the Danforth; seasonal Halloween Harvest by Pamela Hamel; onion and turnip soup from Southern Accent; striking Spanish fennel soup from Torito Tapas Bar; and creamed rutabaga soup topped with a live enzyme sprout salad from Vert Catering.
Soupalicious was a deliciously soul satisfying event that I am already looking forward to again for next year. Buon Appetito!
For photo highlights visit:
https://www.facebook.com/media/set/?set=a.800417026692648.1073741870.164665903601100&type=1
For more information visit: www.soupalicious.ca