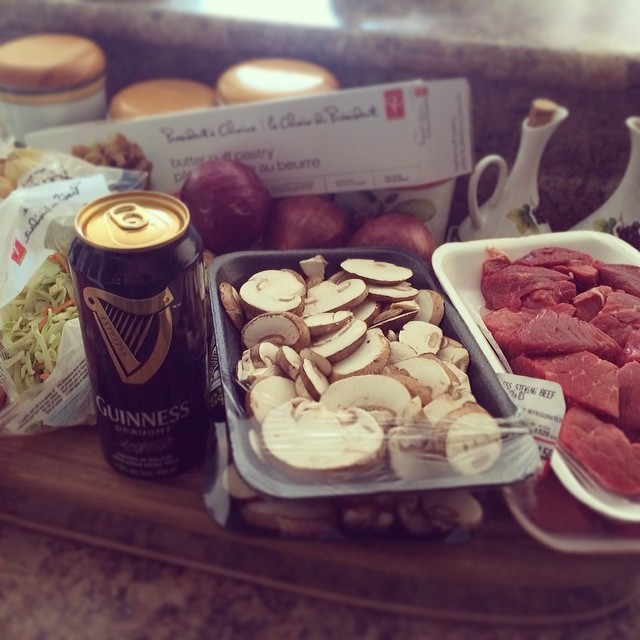 St. Patrick's Day: A Feast of Fortune
I once read a quote about Irish luck that started out with the words, "ample food and sturdy drink". If these are in fact two important components of Irish luck, then good fortune should be mine when it comes to menu planning for a feast in honor of St. Patrick's Day. Though born and raised Italian I have always had a fondness for this holiday, particularly now that we have a namesake in the family. I have always loved the idea of an emerald colored day, filled with mythical creatures and lucky charms, dedicated to the celebration of good cheer.
Though the holiday originated as a feast day by the Catholic Church to honor the life of Ireland's patron saint, the date March 17th has evolved into a day where everyone gets to be Irish.  Part of the observances include partaking in a pint (or more) of Irish ale (which may or may not be tinted green) or a good swig of spirits such as whiskey or Irish cream preceded by a toast of "sláinte" (to good health).  With drink of course comes the pairing of food which in keeping with the theme of the day can take on varied forms; ombre offerings in the shade of the day by building a meal with an all green theme (spinach, asparagus, peas); a stout based spread (steak and ale pie, beer battered onion rings, beer and cheddar dip); or a heritage feast (bangers and mash, soda bread, lamb stew).
This year's St. Paddy's Day menu will incorporate both traditional and non-traditional fare. Stews are among the most recognized dishes in this Northern European cuisine and I will be using a classic beef stew as the base of a steak and Guinness pie.  The dark ale with also be incorporated into a few other dishes and of course poured into a tall glass to pair with dinner.  Among the dishes that will be served alongside will be my interpretation of corned beef and cabbage which coincidentally is not a traditional Irish dish but rather an American-Irish custom.  While cabbage is a staple of the Irish diet, it is traditionally served with Irish bacon.  The corned beef was substituted for bacon by Irish immigrants who could not afford it, learning of this cheaper alternative from their Jewish neighbours.
There will be ample food and sturdy drink as I gather my fellow leprechauns around the table to partake in our pot of culinary gold and I can only hope that Irish eyes will be smiling and bestowing luck upon us. Erin Go Bragh and Buon Appetito!
Steak, Guinness & Cheese Pie (Recipe by Jamie Oliver)
olive oil
3 medium red onions, peeled and chopped
3 cloves garlic, peeled and chopped
2 carrots, peeled and chopped
2 sticks celery, trimmed and chopped
4 field mushrooms, peeled and sliced
1 kg quality brisket of beef or stewing beef, cut into 2cm cubes
a few sprigs fresh rosemary, leaves picked and chopped
sea salt
freshly ground black pepper
440 ml Guinness
2 heaped tablespoons plain flour
150 g Cheddar cheese, freshly grated
170 g ready-made all-butter puff pastry
1 large egg, beaten
Preheat the oven to 190ºC/375ºF/gas 5.
In a large ovenproof pan, heat a lug of olive oil on a low heat. Add the onions and fry gently for about 10 minutes – try not to colour them too much. Turn the heat up, add the garlic, carrots and celery and scatter in the mushrooms.
Mix everything together before stirring in the beef, rosemary, a pinch of salt and a level teaspoon of pepper. Fry fast for 3 or 4 minutes, then pour in the Guinness, stir in the flour and add just enough water to cover.
Bring to a simmer, cover the pan with a lid and place in the preheated oven for about 1½ hours. Remove the pan from the oven and give the stew a stir. Put it back into the oven and continue to cook it for another hour, or until the meat is very tender and the stew is rich, dark and thick. A perfect pie filling needs to be robust, so if it's still quite liquidy, place the pan on the hob and reduce until the sauce thickens.
Remove from the heat and stir in half the cheese, then season carefully and leave to cool slightly. Dust a clean work surface with flour and roll the pastry out evenly with a floured rolling pin to the thickness of a pound coin. Tip the stew into your dish and even it out before sprinkling over the remaining cheese.
Place the pastry over the top of the pie dish and criss-cross it lightly with a sharp knife. Brush the top with beaten egg, then bake the pie directly on the bottom of the oven for 45 minutes, until the pastry is cooked, puffed and golden. Delicious served simply with peas.