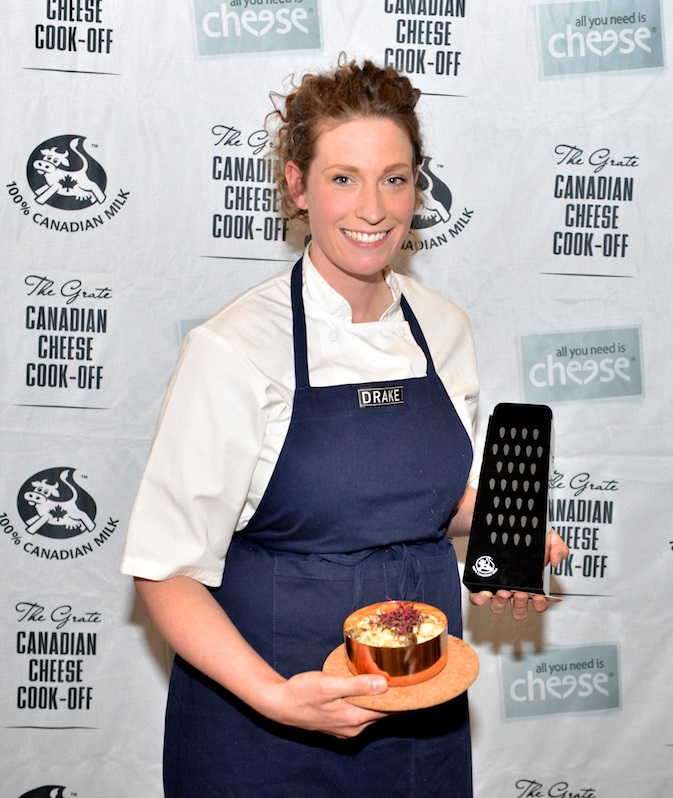 The Grate Canadian Cheese Cook-Off: Mac and Cheese Edition
Take four talented Canadian chefs, add a hearty sprinkling of great Canadian cheese and you have the makings of the ultimate comfort food completion.  The Grate Canadian Cheese Cook-Off brought together the culinary skills of some the country's finest to create the ultimate gourmet mac and cheese.
This bi-annual competition, organized by Dairy Farmers of Canada took place at the Enercare Centre during last week's Toronto Food + Drink Market.  The cook-off took Canada's ultimate comfort food, to a whole new level while showcasing the outstanding quality, variety, taste, and versatility of Canadian cheese made from 100% Canadian milk.
The competition featured gastronomic  greatness from: Andrew Farrell, Chef de Cuisine at 2 Doors Down Food + Wine in Halifax, Nova Scotia who prepared Smoky Cauli-power Mac & Cheese; Alexandra Feswick, Chef de Cuisine at the Drake Hotel in Toronto with her Nutty Home-Style Mac & Cheese ; Nicole Gomes, Executive Chef at Nicole Gourmet in Calgary who cooked up Apple Beer Mac & Cheese; and Thompson Tran, Chef and Owner at The Wooden Boat, Port Moody, BC with his Cod You Believe It's Shmoked Mac n' Cheese .
The curds prepped by these four competitors were judged by an esteemed panel consisting of:  Afrim Pristine, proprietor at The Cheese Boutique in Toronto; Vanessa Simmons, Cheese Sommelier at Savvy Company; Georgs Kolesnikovs of cheeselover.ca and the Great Canadian Cheese Festival; and Rita DeMontis, Sun Media food editor.
After a fierce on-stage competition, Chef Alexandra Feswick emerged as the victor with her unique macaroni and cheese that combined cheddar and blue cheese with sage, mushrooms, Jerusalem artichokes and hazelnuts to create a nostalgic and luxurious flavor combination.  A truly grate dish indeed (recipe follows).
Having had the opportunity to sample all the cheesy goodness myself post-competition, I can certainly attest to the difficult task the judges had in making their decision.  Each of the chefs put a deliciously innovative twist on the classic creating an impressive quartet of tastes.
Thank you Dairy Farmers of Canada for demonstrating that sweet dreams really are made of cheese. Buon Appetito!
Chef Alexandra Feswick Nutty Home-Style Mac & Cheese
(recipe from dairygoodness.ca)
Ingredients
1 lb  (500 g) Jerusalem artichokes, divided
2 tsp  (10 mL) vegetable oil
1/4 tsp  (1 mL) salt
3 cups  (750 mL) 2% milk, divided
1 1/2 cups  (375 mL) 35% whipping cream, divided
1 pkg  (150 g) Beech mushrooms, trimmed and separated (about 2 cups/500 mL)
1/4 cup  (60 mL) unsalted butter
3 tbsp  (45 mL) all-purpose flour
1/4 tsp  (1 mL) ground nutmeg
1/4 tsp  (1 mL) ground black pepper
1 lb  (500 g) cavatelli pasta
1 1/2 cups  (375 mL) shredded Canadian 7-year-old Cheddar cheese
1 1/2 cups  (375 mL) shredded Niagara Gold cheese
2/3 cups  (150 mL) crumbled Blue d'Elizabeth cheese
1 cup  (250 mL) shredded Alpindon cheese
Topping:
1 cup  (250 mL) panko breadcrumbs, toasted
1/2 cup  (125 mL) toasted hazelnuts, finely chopped
¼ cup  (60 mL) chiffonade or finely chopped parsley
3 tbsp  (45 mL) finely shredded Alpindon cheese
1 tbsp  (15 mL) finely chopped sage
1/2 tsp  (2 mL) salt
Preparation
Preheat oven to 375°F (160°C). Line baking sheet with parchment paper; set aside.
In medium bowl, toss half of the whole, unpeeled Jerusalem artichokes with oil and salt. Place on prepared baking sheet and roast for 35 minutes or until artichokes aresoft, easily poked with fork. Place roasted artichokes in blender with ½ cup (125 mL) of milk and ½ cup (125 mL) of cream; blend on high until smooth. Set aside.
In medium saucepan, combine remaining milk and cream, heat over medium heat until bubbles start to form around the edge of the saucepan and steaming about 10 minutes, stirring occasionally.
Meanwhile, dice remaining Jerusalem artichokes into ½-inch (1 cm) pieces. Add to heated milk and cream mixture and cook over low heat until soft when poked with a fork, about 20 minutes. Strain Jerusalem artichokes and reserve milk and cream mixture. Return milk and cream mixture into saucepan; add mushrooms and cook on low heat until mushrooms soften, about 3 minutes. Strain mushrooms and reserve milk and cream mixture.
In a clean medium saucepan, melt butter over medium heat. Mix in flour until fully incorporated. Stirring constantly with wooden spoon, cook for 5 minutes.  Slowly whisk in reserved milk and cream mixture, nutmeg and pepper. Simmer on low heat, constantly stirring until sauce is thick enough to coat the back of a spoon, about 20 minutes
In large pot of boiling, salted water, cook pasta according to package directions; drain and spread on parchment lined baking sheet; set aside. Preheat oven to high broil.
Remove, sauce from heat and whisk in one at a time the Cheddar, Niagara Gold and Blue d' Elizabeth cheeses (the sauce will be thick and stringy with melted cheese). Stir in reserved Jerusalem artichoke puree.
In large pot, mix together sauce, pasta and reserved Jerusalem artichokes and mushrooms until well combined.  Transfer into a 13×9-inch (3 L) glass baking dish and sprinkle with Alpindon cheese. Broil on middle rack, until bubbly and top is crispy, about 5 minutes.
Topping:  In small bowl, combine breadcrumbs, nuts, parsley, Alpindon cheese, sage, and salt. Sprinkle over hot pasta in dish. Serve and enjoy!
Tips
Combining the pasta with the cheese sauce while they're both hot helps guarantee a moist and creamy mac and cheese.
If you can't find Jerusalem artichokes (sometimes called sunchokes), you can replace them with butternut squash.
*Photos courtesy of The Dairy Farmers of Canada