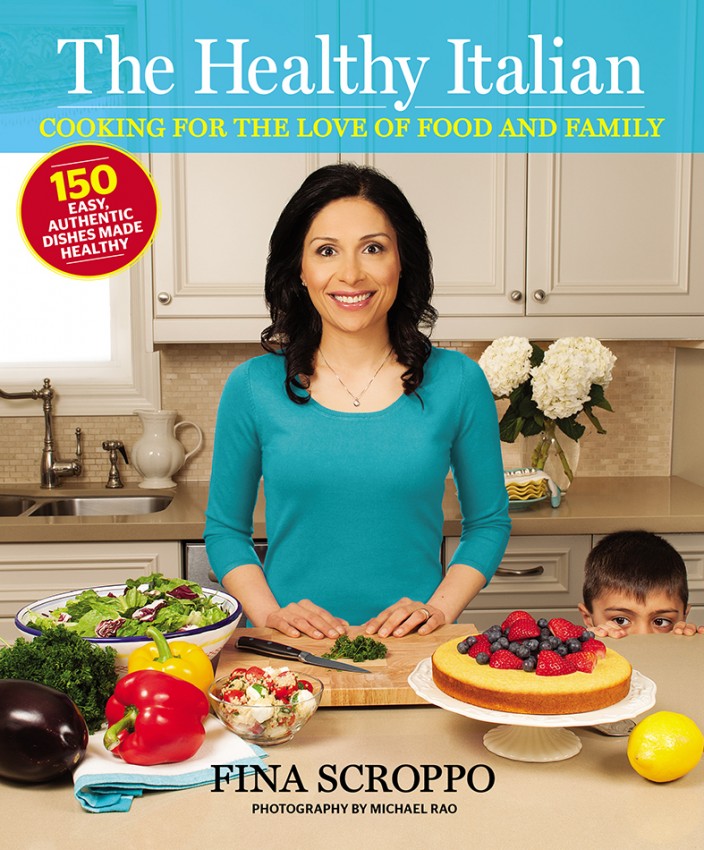 "Cooking for the love of family and food", this is the tag line for a wonderful new cookbook entitled "The Healthy Italian" by busy mom, editor, writer, and passionate home cook, Fina Scroppo. As the title suggests, this book is full of delicious, authentic Italian recipes made healthy, without compromising taste.
What I love about this cookbook, aside from page after page of mouthwatering recipes each beautifully depicted in photographs, is that I really connected with its author.   Much like me, and many others who grew up in an Italian household, food has always been at the epicenter of her life. The heartwarming stories she shares throughout are very relatable. Flipping through the pages of "The Healthy Italian" not only was I inspired to recreate the dishes, but also reminded of many similar moments and memories that she shares throughout. Things like a special visit from nonna, from Italy; unfolding an unconventional lunch at school; sitting in the garage peeling Romano beans out of their pods; planning elaborate family picnic menus; dad's garden; the smell of Sunday sauce; and Christmas Eve seafood dinner just to name a few. Not to mention the touching dedication to nonna accompanied by her photo that appears among the first few pages.
In addition to this, I really enjoyed the breakdown of the healthy Italian pantry that outlines many nutrient-rich ingredients that form the foundation for many nutritious and delicious meals. As well, the book is packed with tips, make-ahead options, and nutrition information which make it a great kitchen resource.
While I am confident that I will cook my way through this entire collection of recipes, I decided to start off with something from "The Basics-Salse e Condimenti Basilari", "Pastas & Risottos – Pasta e Risotti", "Salads– Insalate", "Meats, Fish & Meatless Mains-Carni, Pesce e Secondi", "Sides-Contorni" and of course "Desserts-Dolci".
I am a huge fan of polenta and therefore the very first recipe to get tested was the Polenta di Patate Dolci  a creamy and aromatic sweet potato polenta that made great comfort food topped with lamb sauce. This was followed up by colorful red cabbage salad, Insalata di Cavolo Rosso. Next, Rotolo di Spinaci e Ricotta, a sensational baked spinach and ricotta pasta roll with a lightened up version of béchamel. For the main I tested out the Filetto di maiale ripieno alle erbe e prosciutto, an herb and prosciutto stuffed pork tenderloin. I must note that the day I decided to test this recipe I only had a veal tenderloin available to me but it was delectable nonetheless, particularly when served over Farro al pomodoro con spinaci e pancetta (farro simmered with tomato, chicken broth, spinach and bacon), and drizzled with a balsamic reduction sauce. And to round off the taste testing, the Cassata Siciliana, a layered sponge cake filled with a citrus ricotta filling and topped with figs and pistachios (once again a variation on the original recipe in the book which features kiwi but to which I am allergic). Also, of note, I made the Sicilian Cassata cake to celebrate my father's birthday and it was a definite crowd pleasing dessert.
Fina Scroppo's aim with this, her passion project, was to make "The Healthy Italian" more than just a cookbook. In my opinion, she has succeeded in creating a must-have resource for home cooks who are passionate about good food and nutritious eating. Buon Appetito!
To learn more about Fina's work and what she's cooking in her kitchen, visit