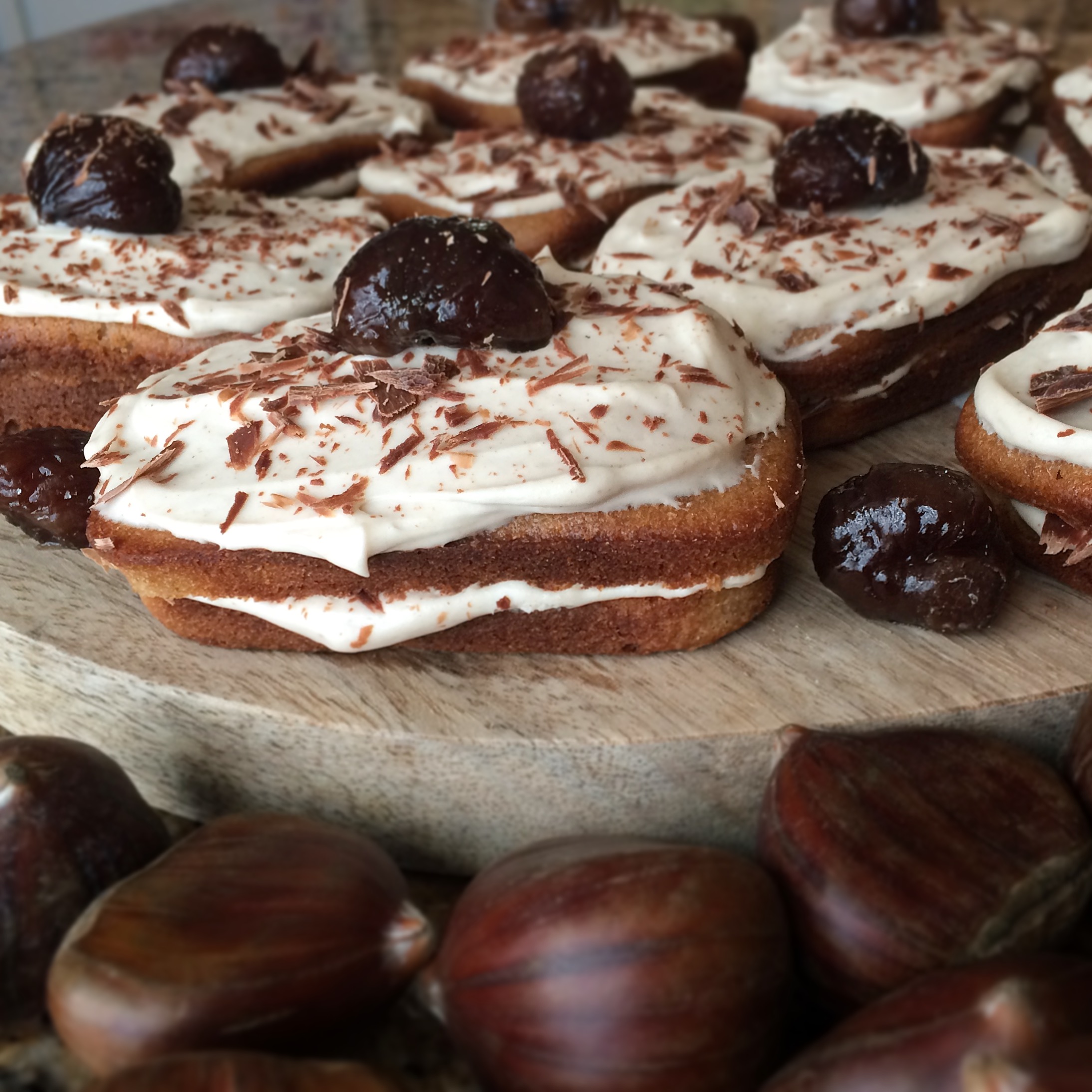 The Making of Marrons Glacés
Chestnuts rank highly among my favorite fall foods.  Their woodsy scent and earthy flavor immediately not only warm my taste buds, but my heart as well.  I have many fond memories associated with chestnuts, from taking in the wonders of Piazza Duomo with a warm little bag in my hands; to enjoying sweet chestnut cream and pastries while brunching in Paris with my best friend; to cracking them open and giving a first taste to my daughters. They seem to just fall into the landscape of memories that get created year over year.
Most recently, chestnuts were at the heart of a true labor of love, the making of my father's birthday cake.  Each year I take the time to prepare something special for the man who instilled in me my passion for food and all things culinary; and each year I place the focus on one of his favorite flavors.  This year chestnuts played the leading role in my confectionary production.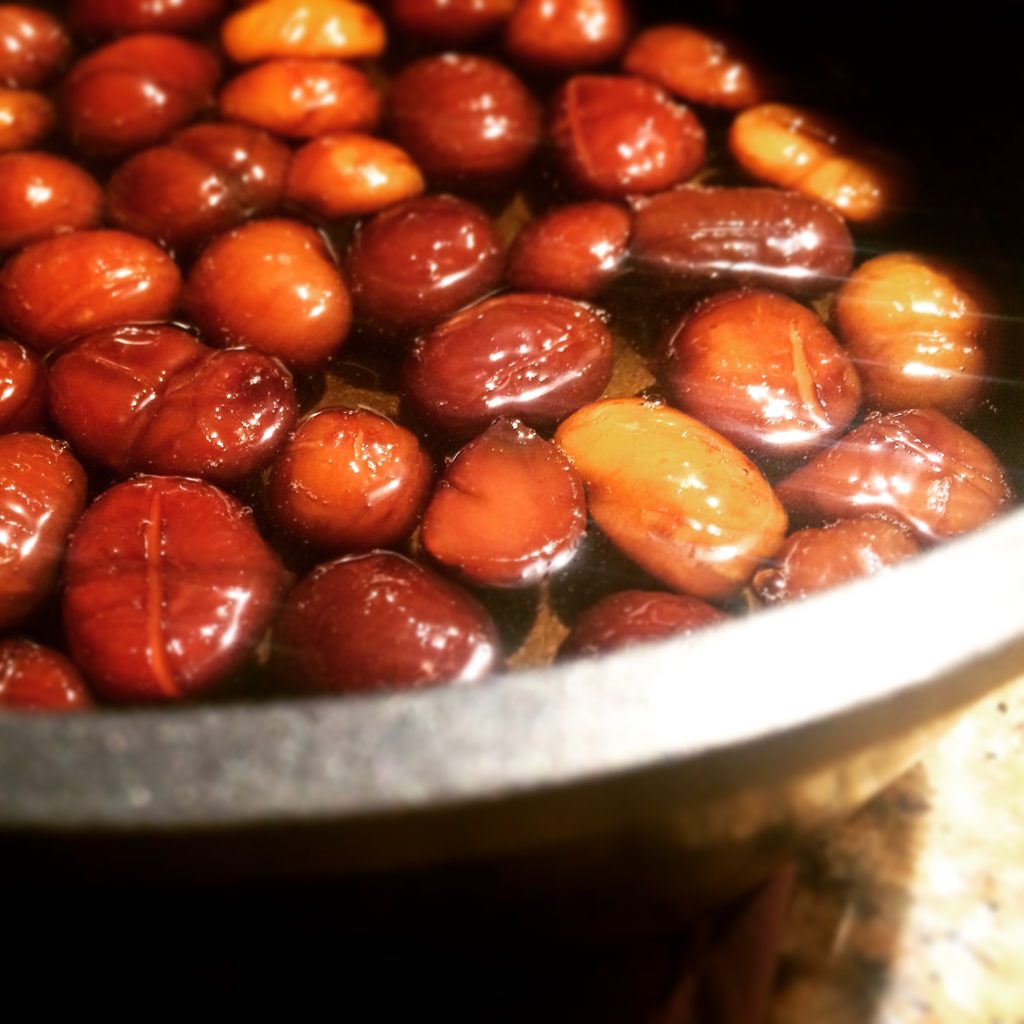 My father blew out the candles on mini chestnut cakes filled with brandied chestnut mascarpone cream.  The crowning jewel on each of the tiny tortes was a homemade marron glacé.  Marron glacé is a confection, originating in southern France and northern Italy consisting of a chestnut candied in sugar syrup and glazed. These candied chestnuts can be enjoyed on their own or used as an ingredient in both sweet and savory recipes. In Europe they are a highly coveted holiday gift individually wrapped and foiled to preserve their beauty and form. They have a delicate sweetness and a creamy earthiness that make them simply irresistible.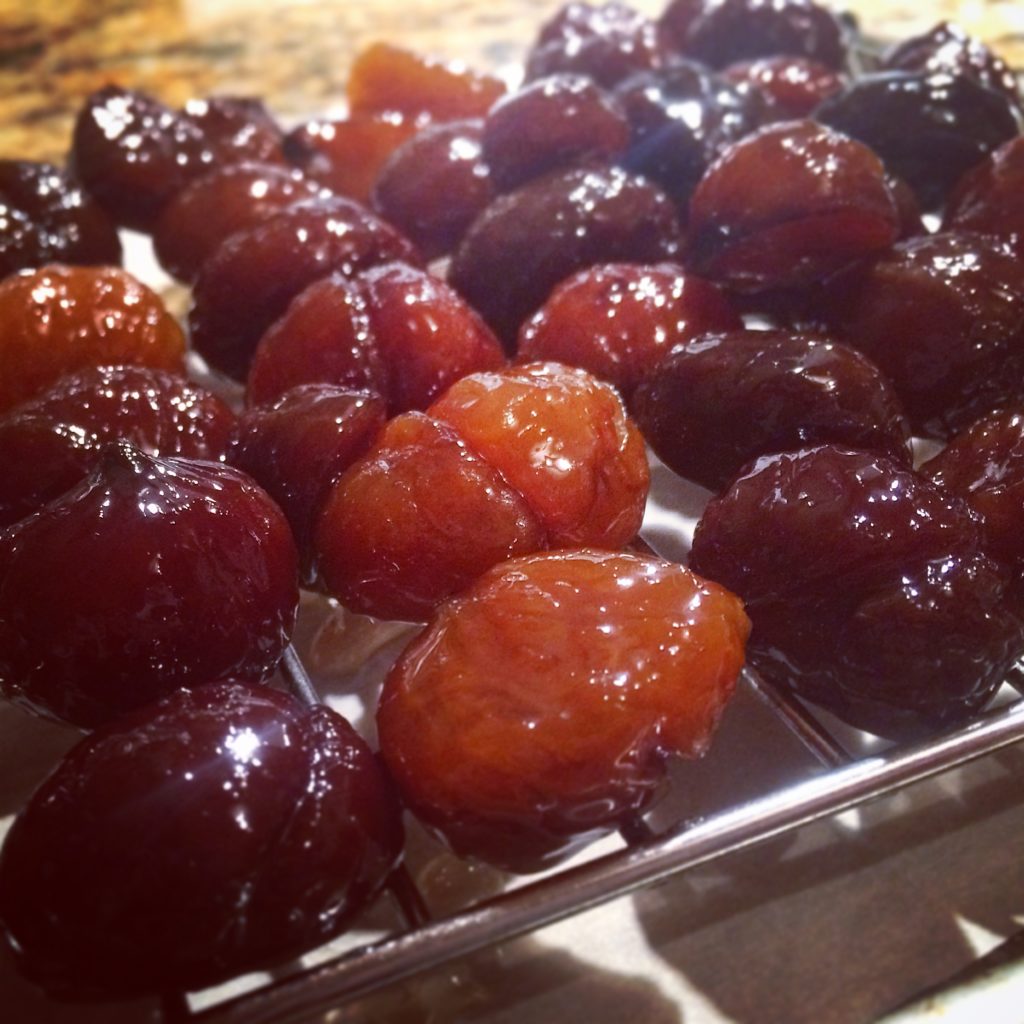 I was about to begin a specialty store search to get my hands on some when a dear friend suggested I try making them myself and so I did.  With the recipe he was gracious enough to share and a lot of passion combined with patience I embarked on a three-day culinary challenge the final result was well worth the time invested, glorious and glistening homemade marrons glacés. These golden beauties not only added the perfect finishing touch to a special dessert but sparked further inventiveness for future use. I thank my foodie friend for the inspiration, for helping me add an extra special touch to my father's birthday, and for allowing me to share the process with all of you. Buon Appetito!
Marrons Glacés
Ingredients:
2 lbs. chestnuts, shells removed
2 lbs. granulated sugar (4 cups)
2 1/2 cups water
1 vanilla bean or 1 tbls. of vanilla extract
Directions:
In a large saucepan, cover chestnuts with water. Bring to a boil. Boil 8 minutes. Discard liquid. Drain. Using a kitchen towel, rub off brown inner skins.
In a large saucepan, cook sugar, water and vanilla bean over low heat. Stir until sugar dissolves. Simmer 5 minutes. Add chestnuts. Increase heat. Boil 10 minutes. Remove vanilla bean. Pour syrup and nuts into a large bowl. Let stand 12 hours.
After 12 hours return the chestnuts and syrup to the saucepan. Boil for 1 minute. Return to bowl and let stand 24 hours. Repeat this process 3 times until all the syrup has been absorbed.
Preheat oven to 150F. Cover a wire rack with parchment paper. Place the chestnuts on the wire rack. Bake in preheated oven with the door open for 2 hours or until firm. Remove from oven and cool.
The candied chestnuts can be stored in an airtight container lined with wax paper and will keep for two weeks.