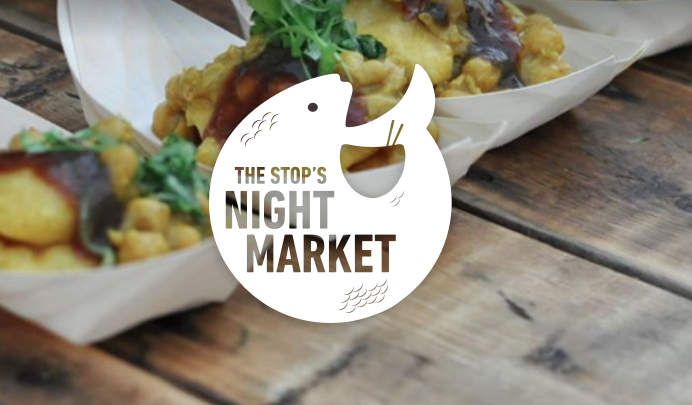 The Stop Night Market 2017
*Header image from Canadian Architect Magazine
Guest post by Denise K. Livotti of Petits Chefs Academy
I had the pleasure this year to be invited to The Stops Night Market 2017, (please see the hashtag #TheStopNM for all posted pictures and information) charity event, supporting food initiatives and food programs in the Greater Toronto Area, and I have to say it was picture perfect. Culture, Community, Art, Commitment and Value was all that I noted in this non-profits, charity event. As soon as you walked in you were greeted by a vibrant calypso style band playing happy, get into the groove kind of music. Setting the tone for the evening ahead. I B-lined it to a beer tent to get a thirst quencher with Halo Brewery, a small brewery, taproom and bottle shop in Toronto's Junction Triangle that specializes in unique and surprising flavours. Their sour Shapeshifter beer was on spot. I just like anything sour, that is my thing and enjoyed this beer and would definitely purchase more.
As I waited in line to get served, I was taking note of all the beautifully styled food booths which I learned were created and designed by engineers specifically for the event. They even had a contest for the best food booth (the winning booth can be seen on their social media). It is a big production when it comes to these events. No time or penny is spared in bringing worthwhile food events which are shared with the greater public to educate and inspire.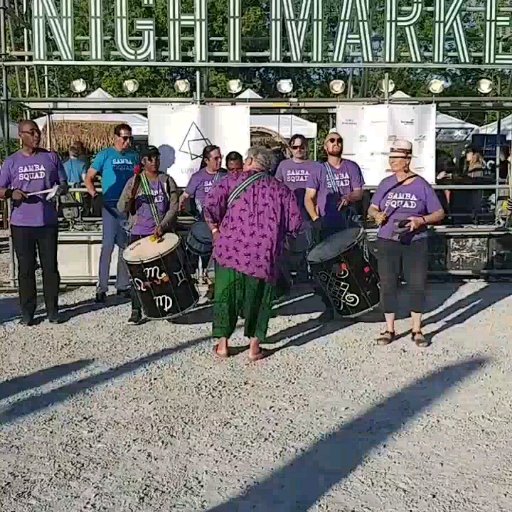 Let us move onto all the colourful people around, and a culture of fusion food, representing all that is Canada the country I am proud to call home. Food is the very epicenter of our Canadian identity. Food is life, and in my books it is also Love and that is what I saw that night. A mix of people enjoying themselves to the beat of the music with food and wine in hand, talking, laughing, sharing. Just positive vibes all around. I was also grateful to share this experience with a number of foodie friends. So I didn't feel left out of the crowd. I must say it was a challenge to mingle, eat, drink, take pics and make notes all at the same time. I was lucky I did not spill anything on my white inspired dress ensemble. Great balancing is in practice when at these events.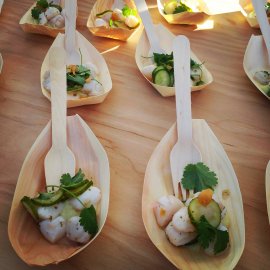 So let's move onto some of the food, I know you're curious about the food, here is some of the long and short of my food experience, in no particular order. The Bay Scallop Ceviche (GF) by The Broadview Hotel.  One of my favourite dishes by this new hotel opening soon in Toronto. Best of luck to them! Fun and vibrant fruit cookies by Lindsey Bakes. This Sicilian Pistachio on Salted Brioche by The Drake Commissary was a combination of sweet and salty. Definitely a favourite!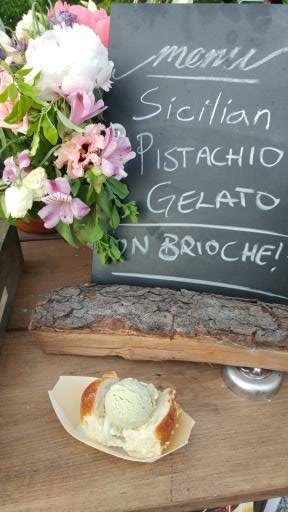 A few of my other favourite local Ontario food and wine producers were: Bespoke Butchers with a Coney Dog, with Beef Heart Chili, filling, clearly, but tasty. Next the Kanpai Snack Bar with a sticky tofu noodle bowl (V, VG, GF). Yummy and light.  The adorably labeled Ladybug Rose and Malivoire wine, hailing from Niagara Region. And lastly a very tasty Pork bun (hoisin, cucumber, scallion) by Momofuku Noodle Bar. I don't typically like pork and rarely eat it but this was really good. Grilled to perfection.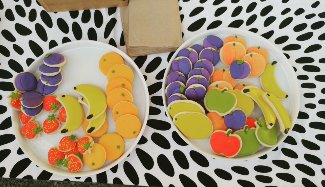 There were so many other food vendors, too many to list. This is just a short compilation of mine, but many, many more great food bites being served at The Stops Night Market 2017. For a list of all the food vendors or to take part in next year's event please contact The Stop Community Food Centre directly. They would also appreciate your support in donations. All to support food initiative and food programs for those in need in the Greater Toronto Area.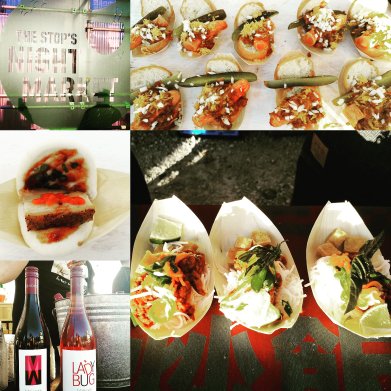 In conclusion hats off to all the food vendors and The Stop for a delicious event I hope all the hard work put into bringing a culturally inclusive, delicious, for a good cause, food event in the Junction was well worth it!
Buon Appetito
Petits Chefs Academy is an educational, mobile, cooking school for children between the ages of 3-15 years, tweens, teens, the culinary newbie and enthusiast alike. A fun, interactive and safe environment where children will discover the value and joy of healthy, nutritional cooking, a life skill that not only will enrich their academics such as math, science, reading, social studies and much more but one that will empower them to make wise food choices now and for a lifetime.