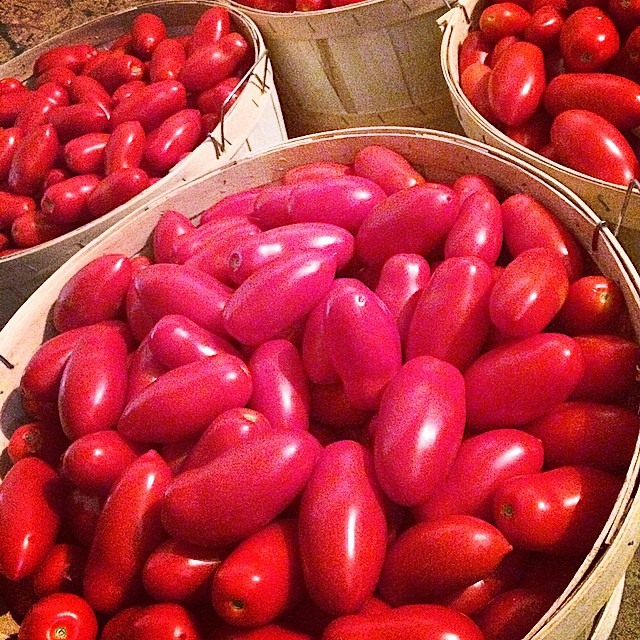 Tomato Day: Sauce to Signal Summer's End
The month of September is upon us, and aside from the flip of the next calendar page, there are also other triggers, that for me, signify the end of summer. The CNE wrapping up another season;  the final fireworks displays at Wonderland; the days getting shorter; the evenings getting a little crisper; back-to-school sales; and last but not least, the bushels of tomatoes lined up in the garage.  Yes summer's fleeting days are marked by preserving its bright flavor through the annual family tradition of making tomato sauce, otherwise known as Tomato Day

Each year, our clan (not always in its entirety) gathers in my parents' garage to make our batch of tomato sauce. Admittedly, I did not always view this ritual as a time honored practice of conserving not only the summer fruit, but our culture and heritage as well.  For quite some time in fact I faced this time of year with dread, for tomato day was a tiresome process that took me away from the business of enjoying summer's last days.  Thankfully, my perception on this practice has changed, and this year, after having strayed from participating for one reason or another the last few years, I embraced the opportunity.  For several hours, I was able to partake in a labor of love with my loved ones, sharing stories and laughter, combined with coffee and donuts.

Within a matter of hours we gave our bright red Roma's a bath, sliced them down the middle and blanched them before they were pureed into sauce, bottled and boiled. The greatest reward at the end of this process, another annual tradition; gathering around the table to enjoy the fruits of our labor generously ladled over a bowl of spaghetti, and accompanied by a glass of vino.  This becomes the first of many family meals shared throughout the course of the next year, over the sauce we produce on tomato day.

Not only do we nourish our bodies, but our hearts and souls as well, in carrying on this custom. The ability to connect with the ingredients and with each other, makes tomato day an important one in my books. Buon Appetito!