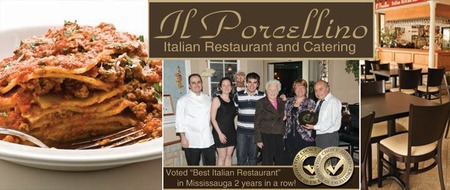 Tops in My Book : Il Porcellino Italian Restaurant
I was recently invited to take part in a celebratory evening at Il Porcellino Italian Restaurant in Mississauga.  The reason for the celebration you ask?  For the fifth year in a row, this family owned and operated establishment was presented with a  Top Choice Award for "Best Italian Restaurant in Mississauga".  I have been frequenting this hidden gem of an eatery for the last few years and was delighted to have been invited to this VIP dinner and award presentation that took place on Tuesday, December 1st, 2015.  That evening, a room full of foodies from Toronto and the GTA all had the chance to discover why this restaurant is a repeat winner.
Since opening its doors in 1996 Chef Anthony Tucci has been preparing Italian specialties from scratch, including traditional dishes from the southern region of Calabria (the area from which the family hails).  Homemade pastas, pizza doughs and cookies are just some of the foods that are prepared and served with smiles by the chef and his family.  The mouth-watering meal prepared in honor of their win was a true testament to what the Tuccis do best.  Guests were greeted with a sparkling pomegranate cocktail followed by a sweet spumante with which to toast to the occasion.  Dinner began with an appetizer trio of crostini topped with smoked salmon, crème fraiche, capers and chives; tomato, boconccino, fresh basil and balsamic reduction; and prosciutto, arugula and shaved parmigiano.  The first course that followed featured a scaled down version of their signature lasagne, four luscious layers of pasta and meaty Bolognese sauce (as opposed to the usual eight layers), along with a portion of ravioli rolled out in-house, bursting with a wild mushroom filling.  The main was a lovely plating of tender grilled chicken topped with a brandy peppercorn cream sauce, served alongside spicy rapini and perfect roast potatoes.  The sweet finish to this incredible meal, an array of chocolate cookies which included: Oreo truffles, chocolate Sambuca crinkle cookies, Nutella roll ups and a Calabrese classic, boccanotti di Amantea which I paired with an espresso lungo.
Needless to say I left Il Porcellino completely satiated and as happy as a piglet (the meaning of their name).  With dishes like these coming out of the kitchen, it's easy to see why they are five-time champions in their category, and will no doubt continue to collect top honors.  Buon Appetito!
For Il Porcellino's hours of operation and menus visit their site