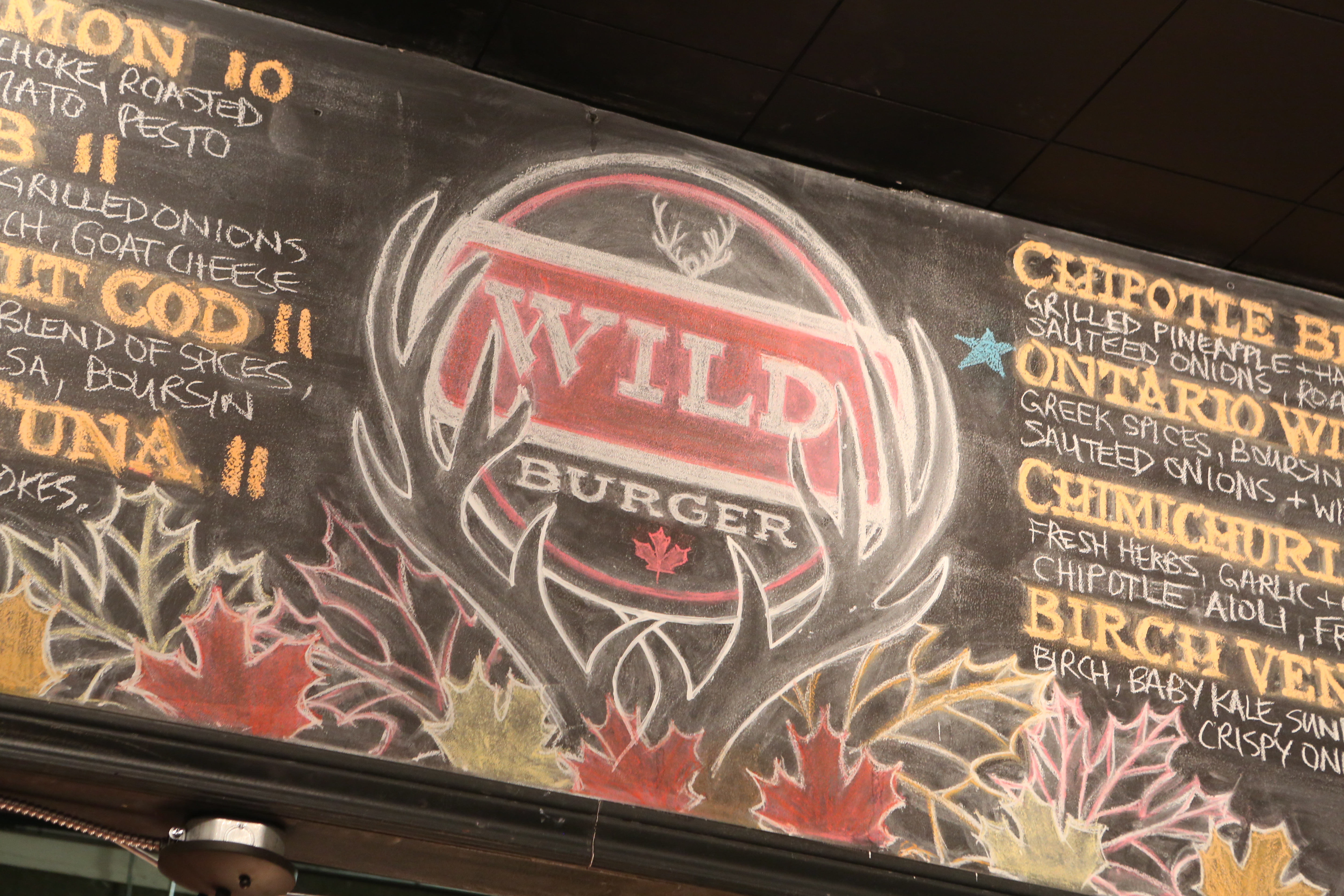 When it comes to food I have been known to take a bit of a walk on the wild side and have enjoyed game meats in a number of preparations. Growing up in fact things like lamb, goat, rabbit, moose and deer often graced the table (the result of a father, uncles and family friends being avid huntsmen). While, I've enjoyed roast venison, stewed goat and grilled rabbit over the years, I can honestly say that I had never relished any of these game meats formed into patties and served up on a bun. Not until recently that is, when I had a truly wild experience at Wild Burger.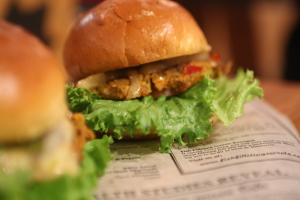 I learned about this incredible establishment earlier this year online and had earmarked it as a must-try which is what I finally had the opportunity to do last week.   I was treated to a sampling of some of the most succulent offerings on Chef Suman's menu that boasts 18 exotic offerings with wild meats such as camel, kangaroo, boar, bison, elk and ostrich to name a few.  For less adventurous eaters Wild Burger also serves Canadian artisan beef along with seafood and vegetarian options.  If the game meats aren't enough to lure your appetite over to this mid-town destination, the multiculturalism of the menu will send you on a culinary adventure.  With features such as the Moroccan lamb burger (Ontario lamb with Moroccan spices, harissa sauce, feta, marinated artichokes, roasted red pepper and sautéed onion); Indian lentil burger (fresh vegetables, lentils and chickpeas simmered in Indian spices, jalapeno Havarti, mint and cilantro sauce and sautéed onions);  Ausie kangaroo burger (traditional Australian spices, pineapple jam, fried egg, spicy pickled beet and aged white cheddar); and Middle Eastern camel burger (Zaataar and chili spiced, cilantro sauce, brie, baby spinach, mango and dried fruit salsa and onions), the senses are satiated on a global scale without the requirement of a passport (unless of course you're collecting stamps on the Hall of Wild Card).
While the burgers may be the featured attractions, the sides certainly deserve their place in the lime light as well with phenomenal sharing platters like the Wild Pickle & Things Poutine (fresh cut PEI potato and sweet potato fries piled high with deep friend pickes, onion rings, sautéed onions, Korean chicken, kimchi, jalapeno peppers, Canadian blue cheese, Thai sweet chili sauce and sundried tomato pesto); the Wild Extreme Bean Poutine (made with house made kettle chips and generously topped with deep fried Extreme Beans, sautéed onions, sautéed mushrooms, grilled artichoke, jalapenos, Canadian cheddar, Boursin, sundried tomato pesto and cilantro sauce) or the duck fat garlic fries.
In the event you still have room for dessert, a serving of the funnel cake fries is in order to cap off the most delectably wild dining experience.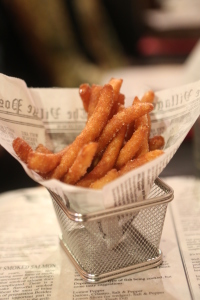 Even more incredible than the food is the passion that Chef Suman and the team at Wild Burger share for this locally owned, sustainable gastro-burger concept. The chef took the time to explain where his ingredients come from (a combination of excellent, local and sustainable food) along with his philosophy of "think global, eat local".  All this showcased in the truly Canadian atmosphere of the locale that features a full slice of maple tree topping the bar, barn wood accents, and licence plates from each of the provinces adorning the walls.
I am simply wild about this place to say the least and am certainly game for more. Buon Appetito!
Photography by Vanessa Galle Photography & Design Inc.
For more information about Wild Burger visit: www.wildburger.ca