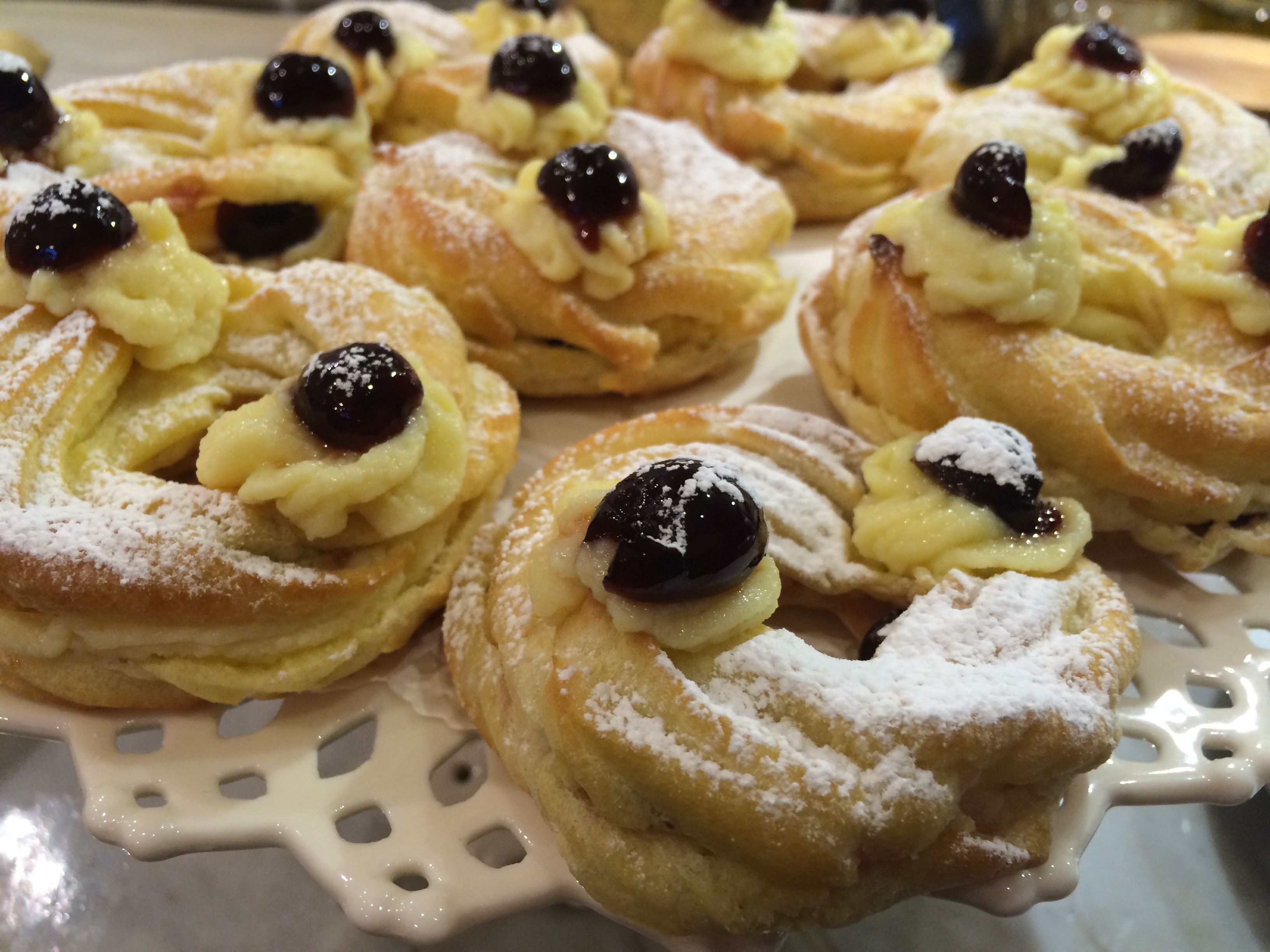 The feast day of St. Joseph celebrated on March 19th is a very significant holiday for those of Italian heritage.   It is on this day in fact that Italians celebrate father's day, honoring Joseph, the terrestrial father of Jesus Christ.  As with any holiday, this one is commemorated with a variety of different foods, particularly in Sicily where he is the patron saint.  The festive fare includes: ricotta filled sfinge ( a sweet fried dough); pastries with dried fig fillings; fish; stuffed artichokes, pasta with breadcrumbs; intricately shaped bread known as pane di San Giuseppe; and a fava bean soup known as maccu to name a few.
One of the most popular pastries made to honor this feast, both in Italy and abroad, are Zeppole di San Giuseppe.  They are glorious confections made from choux pastry and filled with either ricotta or custard, dusted in powdered sugar and topped with amarena cherries.  I lovingly prepare these heavenly treats each year in honor of this special occasion.  Happy San Giuseppe and Buon Appetito!
Traditionally they are fried however my version is lightened up by baking the pastry shell.
For the Pastry
1   cup water
1⁄2   cup unsalted butter
1⁄2   tsp salt
1   tsp   vanilla extract
1 1/3 cup all purpose flour
4 eggs
1 jar amarena cherries, cut in half (if you cannot find the amarena cherries you can substitute with bing cherries or good quality cherry jam)
Powdered sugar for dusting
 For the Pastry Cream
4   eggs
4  tsps    sugar
 4  tsps      all-purpose flour
2  cups    milk
Directions
Preheat the oven 425 F.
Line baking sheets with parchment paper or Silpats
For the choux pastry, combine the water, butter, salt and vanilla extract in a medium pot and cook over medium heat until boiling (approx. 4 minutes).
Remove from heat and gradually stir in the flour until well blended.
Return the pot to heat and continue cooking while stirring vigorously for 2 min.
Remove from heat once again then add the eggs in one at a time, mixing well between additions.
Fit a pastry bag with a large star tip then fill bag and pipe out circular shapes (as small or as large as desired)
Bake on middle rack for 15-20 minutes, until puffed up and golden brown.
Let cool completely on a wire rack then slice in half to prepare for the filling.
For the filling, combine the eggs, flour, sugar and milk into a medium saucepan and cook over medium heat for 20 minutes, stirring constantly.
Remove from the heat, transfer to a bowl and cover.  Then allow to cool for 2 hours.  Once the cream has cooled place it in a pastry bag and begin the assembly of the zeppole.
Brush the two halves of the pastry shell with some of the syrup from the amarena cherries or jam (this step is optional but I like the extra hit of cherry flavor in my zeppole).
Pipe the custard over the bottom half of the shell then top with as many of the halved cherries as desired.
Place the top half of the pastry over the filling then pipe additional dots of custard to hold the cherry garnishes on top.
Lightly dust the finished zeppole with powdered sugar before serving.
Serve immediately to ensure the light and crisp texture of the pastry.
Video produced by Vanessa Galle Photography & Design Inc.