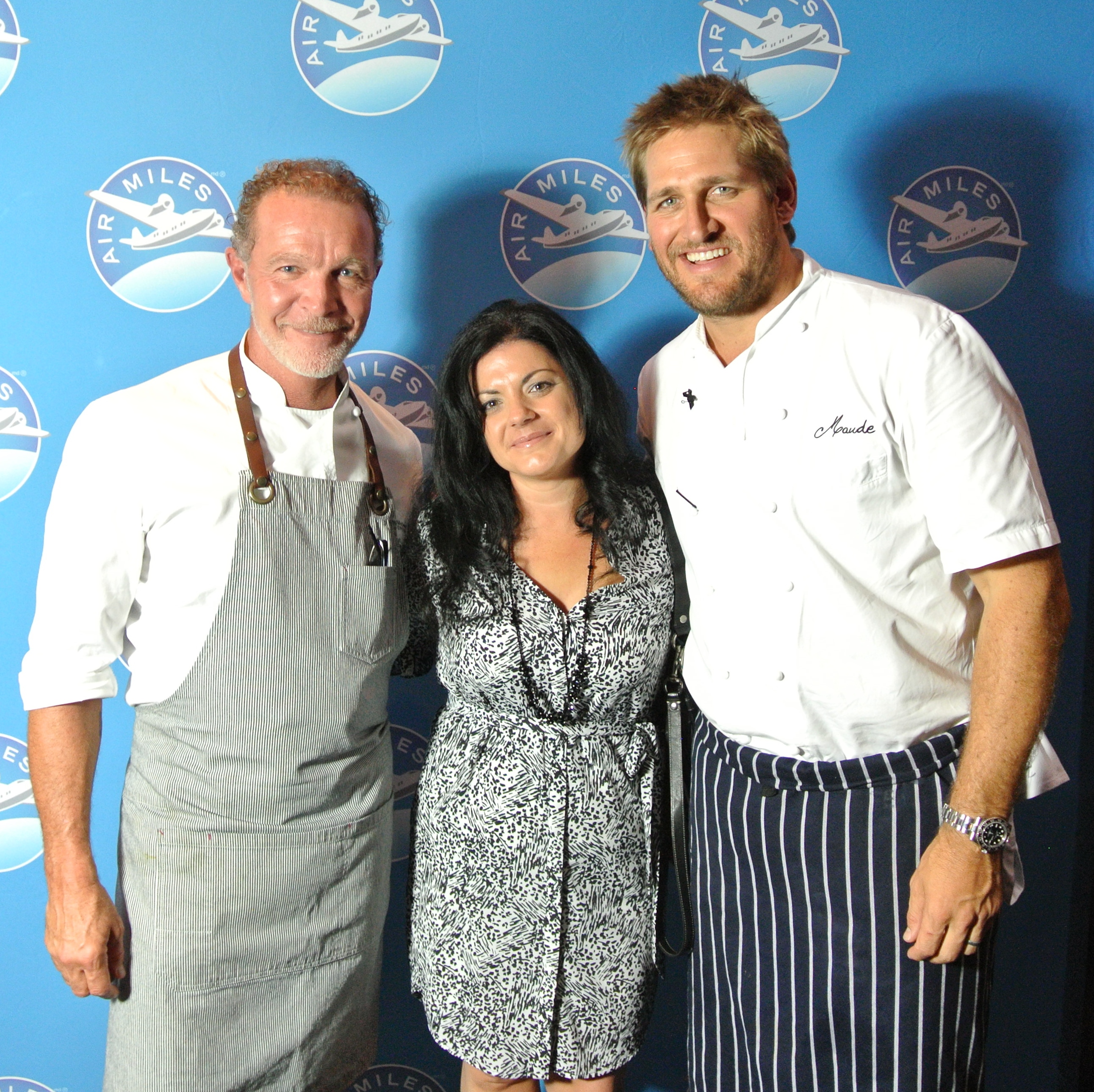 Never has the expression "let your dreams take flight" rang more true that during my recent, very rewarding experience of dinner hosted by Chef Curtis Stone and Chef Mark McEwan. This once in a lifetime event, held at Bymark by Air Miles Canada made my foodie dreams soar to new heights.
I was one of 130 people to attend this exclusive engagement where we not only had the opportunity to be greeted by these incredibly talented chefs but to be wined and dined by them as well. We kicked off the evening, raising a glass in cheer with a cocktail handcrafted before us, and served by Curtis Stone. His passionfruit martini with buttermilk foam paired incredibly by exquisite appetizers of: pickled oyster with cucumber, dill and caviar; side striped shrimp ceviche, lime crema, crisp potato and clay pepper; P.E.I. steak tartare crostini with fried bone marrow; compressed watermelon with feta, aged balsamic pearls, mint and tomato filet on a spoon; and fois gras profiterole with lightly spiced peach chutney and Maldon sea salt. Between sipping on my martini and indulging in the amuse bouche I got my picture taken with two of my culinary talents and even managed to my apron (and almost myself) inked by Curtis Stone.
After mingling with the masters we were escorted to a private dining room where we indulged in mouthwatering mains accompanied by Stoneleigh wines. Our incredibly palate pleasing menu began with a sea scallop crudo with macerated green strawberries, heirloom tomatoes, Serrano ham, muscat vinegar and smoke sea salt along with the Stoneleigh Sauvignon Blanc, 2014. Another spectacular seafood course of citrus crusted pickerel followed with arugula almond pesto, roasted cauliflower, crumbled pancetta, fingerlings and brown butter vinaigrette paired with Stoneleigh Chardonnay, 2014. The final course featured a succulent lamb loin and sous vide grilled shoulder overtop of sweet corn risotto, caramelized artichokes, pickled chanterelles and bbq jus and a glass of Stoneleigh Pinot Noir, 2013.
The ultimate piece de resistance to conclude this divine dining experience a dessert that was almost too pretty to eat. Buttermilk panna cotta with concord grape sorbet, peanut butter creameux, toasted oat streusel and brown butter brioche. All of this a true foodie dream come true thanks to gracious nature of these two chefs and the team that grants dreams at Air Miles events. Buon Appetito!