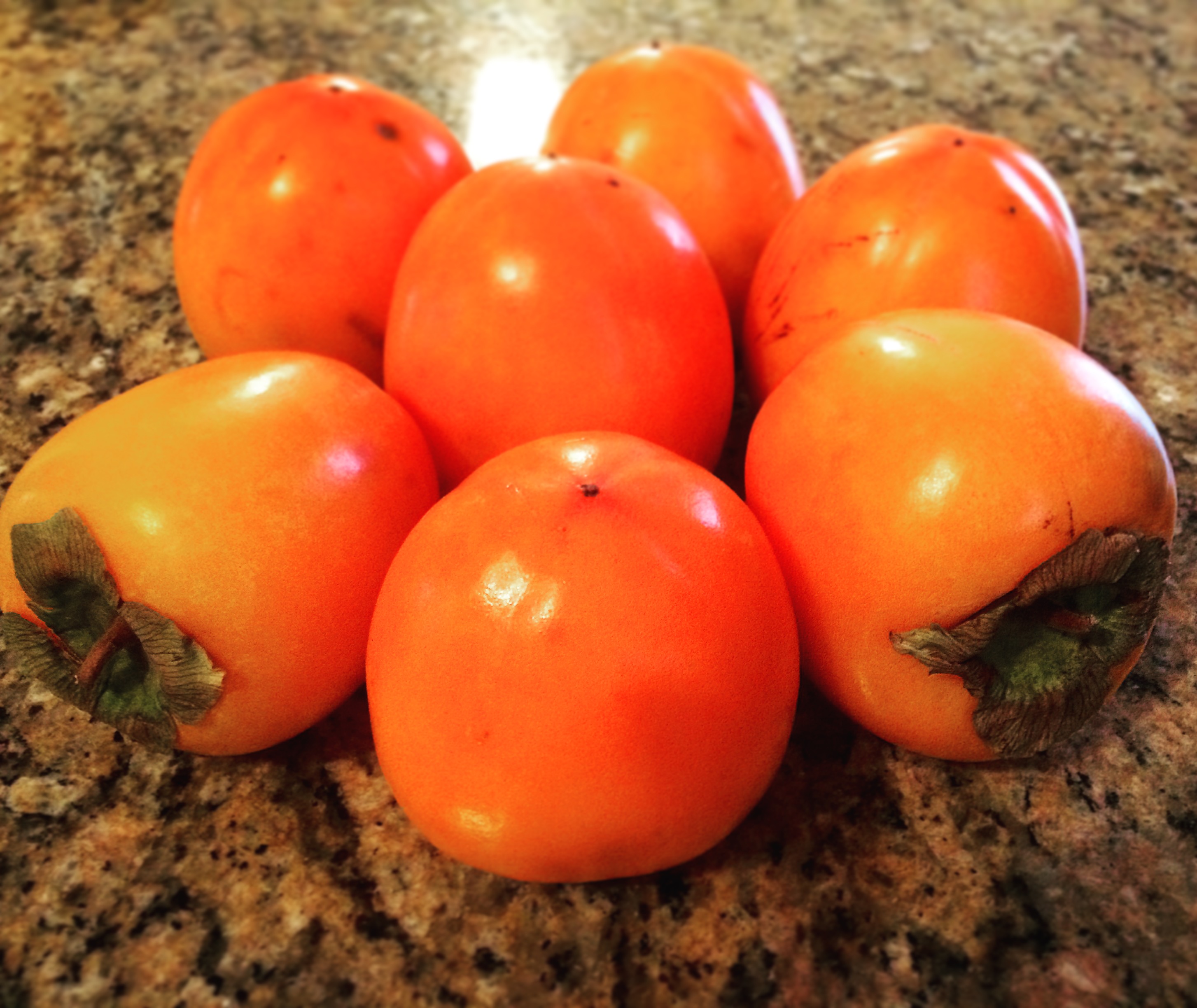 For those who might be unfamiliar with this seasonal fruit, persimons, are bright orange fleshed fruit that hail from Spain and make their appearance right before the holidays. As with many fruits and vegetables they come in varying forms.  I have been enjoying the Hachiya variety since I was a child and was recently introduced to the Persimon® from Ribera del Xúquer.  Unlike the Hachiya which must be consumed when it turns soft and ripens, this second variety is firm to the touch and ready to eat.  This makes it great for healthy go-to snacking (persimons are sources of Vitamin A and Vitamin C, as well as potassium, magnesium and fiber) and for use in sweet and savory dishes.
This past weekend I discovered the versatility of the Spanish fruit by creating a four-course plating of persimons.  To begin I sliced and roasted the fruit then layered it  with Serano ham over mascarpone on a puff pastry tart.  A salty sweet starter that would pair nicely with a sparkling glass of prosecco.  The main course was a succulent, seared pork chop topped with a slightly spicy persimon chutney that was served alongside a colorful salad of persimons with blue cheese, toasted walnuts and yellow peppers in a citrus vinaigrette.
The sweet finish, a parfait of persimons stewed with orange zest and vanilla layered with crushed amaretti and maple whipped mascarpone.
Any or all of these dishes would be great for entertaining, however don't hesitate to give them a try for the Persimon® from Ribera del Xúquer is available in limited supply for a short period (mid-October to January). Buon Appetito!
Pork Chops with Persimon® Chutney
Chutney
 1 tbsp (15 ml) olive oil
 1/4 cup (60 ml) shallots, finely diced
 3 tbsp (45 ml) pine nuts
 2 cups (500 ml) Persimon®, peeled and diced
 2 tbsp (30 ml) lemon juice
1/2 cup (125 ml) water
 1 tsp (5 ml) ginger, minced
 1/4 cup (60 ml) sugar
 1 tsp (5 ml) ground coriander
 1/2 tsp (2 ml) paprika
1/4 tsp ( 1ml) red chili flakes
 1/2 tsp (2 ml) salt
4 bone-in loin pork chops, cut 1-inch (2.5 cm) thick
 salt and pepper to taste
 1 tsp (5 ml) olive oil
 1 tbsp (15 ml) fresh cilantro, chopped
In a small saucepan, add the olive oil and sauté the shallot on medium low heat until soft and translucent. Add the pine nuts and stir till lightly toasted, 4 minutes. Add the remaining ingredients and simmer on low for 15 minutes.
Sprinkle the chops generously with salt and pepper on both sides. Heat a large skillet to medium high and add 1 tsp (5 ml) olive oil. Put in the pork chops and sear for 5 minutes. Turn over and brown well on the second side for a total of 10 minutes. Add the Persimon® chutney to the skillet and sprinkle with cilantro. Place a lid on the skillet and simmer on low for 5 minutes. Transfer the pork chops to a serving plate and top with compote. Makes 4 servings.
To learn more visit: http://persimonsays.com/