Welcome, defined as a kindly greeting or reception, as to one whose arrival gives pleasure; and to greet the arrival of (a person, guests, etc.) with pleasure or kindly courtesy. The best way that I know how to honor someone's presence is through food.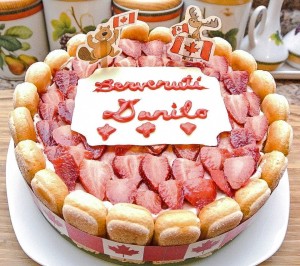 It is always a pleasure for me to find myself at the hearth preparing something from the heart. It is particularly enjoyable when that gift of food denotes the arrival of loved ones from afar. I began the tradition of a red and white welcome a few years back when a beloved cousin of mine from Italy came to visit for the first time. As one of my avid readers and followers on social media he was well aware of my passion for all things culinary (so much so that some of my sought after Italian baking ingredients were unpacked from his suitcase). I wanted to give him a warm welcome (despite his winter visit) and decided that I would prepare a cake in his honor but I wanted to have some fun with it and decided that it would bear the color and markings of the Canadian flag. His benvenuto became an Italian-Canadian fusion, red and white strawberry tiramisu.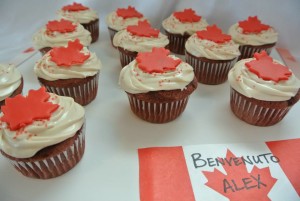 Several months later, I had the joy of hosting yet another Italian cousin which called for another bi-colored benvenuto, red velvet cupcakes with cream cheese frosting and maple leaves cut out of fondant, finished off with red sprinkles for good measure.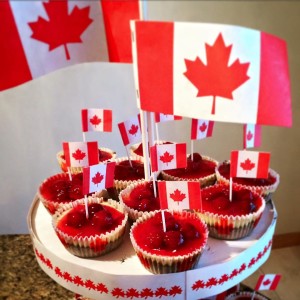 Fast forward two years later and another much anticipated arrival, this time for a dessert devotee like me. For this reception I chose to make one of her favorite desserts, cheesecake. I made mini cherry cheesecakes in Canadian themed cupcake liners adding an extra bit of patriotism to these pastries.
It is a true joy for me to embrace visitors by way of their tummies and express both my creativity and patriotic spirit through sweet treats. Welcome to Canada and Buon Appetito!