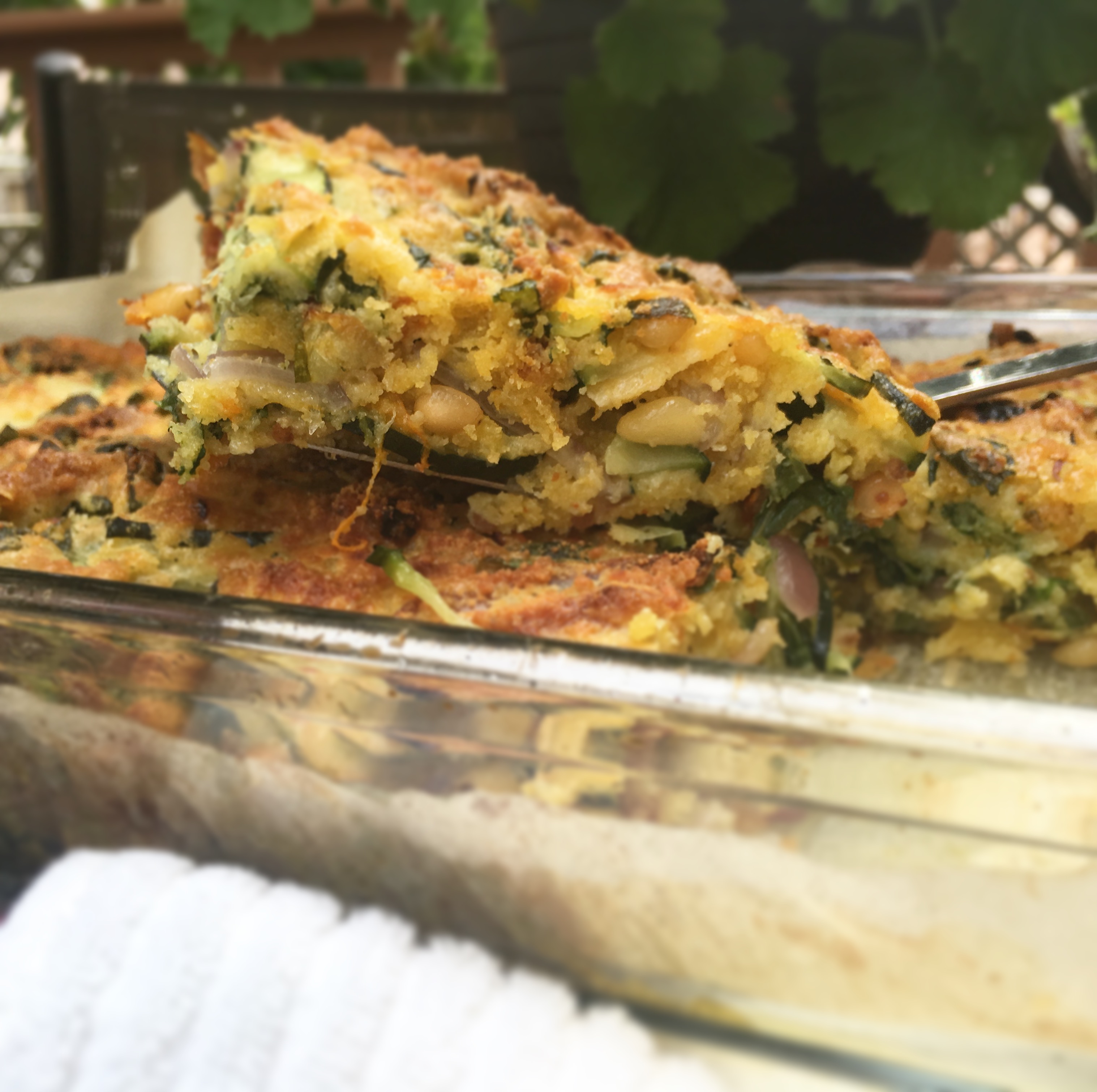 Scarpaccia: The Dish with Sole
Given the choice to live in a shoe or eat one, I'd take the latter particularly in the case of an Italian regional specialty known as scarpaccia.
Scarpaccia is a savoury zucchini tart (think zucchini bread but better) originating from the Tuscan coastal areas of Viareggio and Camaiore.  Its name roughly translates to "old shoe", the reason being twofold; first it bakes up as thin as the sole of a shoe and second, much like a bad shoe that has been worn by many, this tart can be made with a variety of ingredients.  Scarpaccia was typically considered a spring time specialty that sailors made with their garden vegetables which included zucchinis and their blossoms.  Due to its slight sweetness, it was either served warm or at room temperature, at the end of a meal, or a snack food to be enjoyed with white wine or prosecco. The dish was made by folding zucchini into a simple batter of flour, eggs, olive oil and sugar or honey, then spreading the mixture into a baking sheet and cooking until golden and crisp.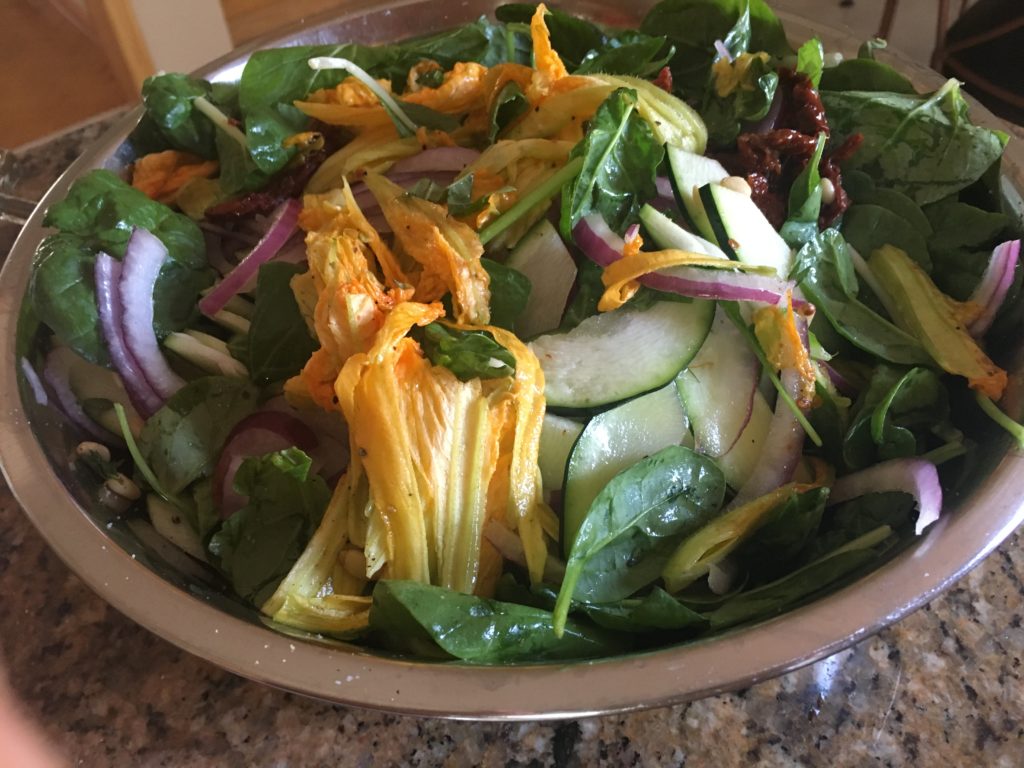 The recipe has evolved to incorporate seasonal vegetables and herbs along with variations on the type of flour used allowing for its enjoyment year-round.  The one constant is the fact that this is an incredibly delicious peasant dish that can be prepared and enjoyed in no time.  Buon Appetito!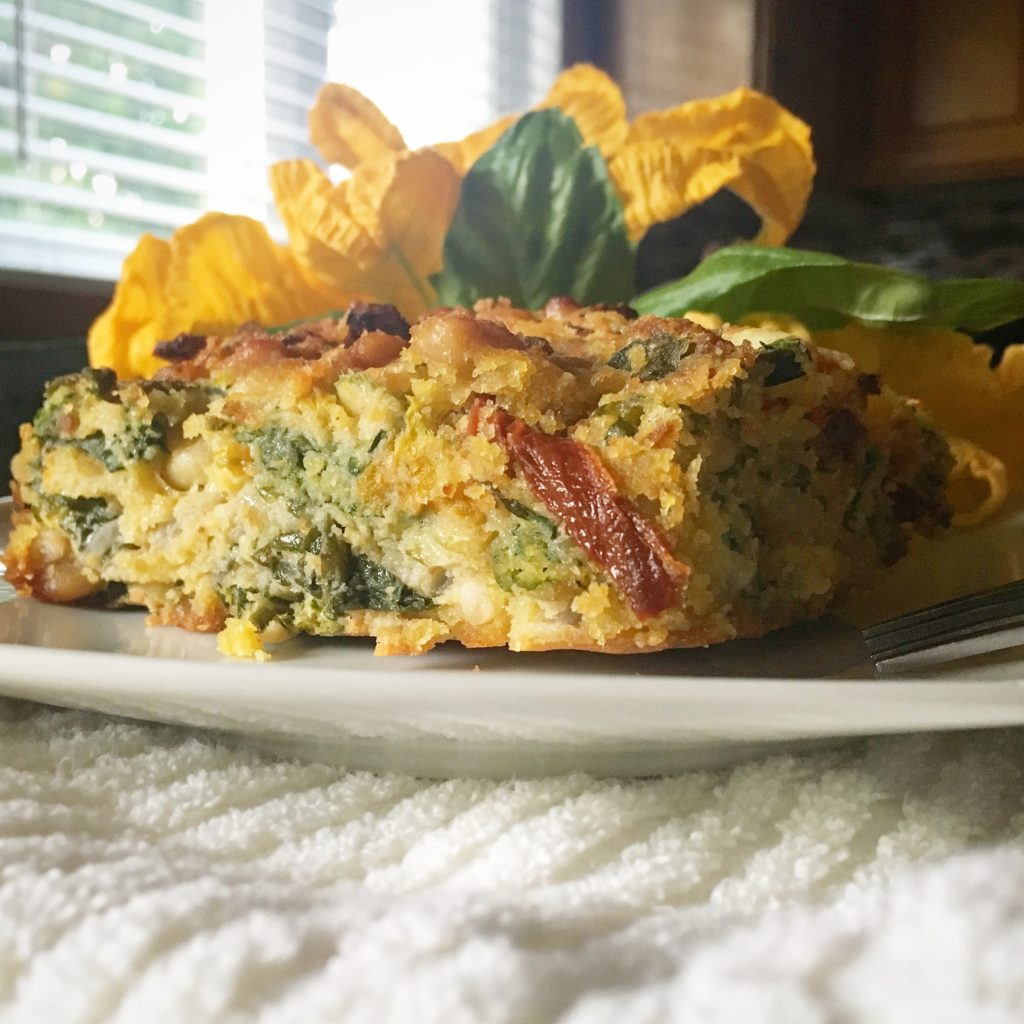 Scarpaccia (adapted from www.afamilyfeast.com)
Ingredients:
3 cups of zucchini thinly sliced
12 zucchini blossoms roughly shredded (if available)
1 large red onion thinly sliced
2 cups baby spinach
1 cup chopped sundried tomatoes
1 cup pine nuts
1 cup basil leaves
1 tablespoon fresh thyme
1 tablespoon fresh oregano
1 teaspoon salt
1½ cups flour
1 ½ cups corn meal
1 teaspoon baking powder
2 eggs
¼ organic honey
1 cup extra virgin olive oil
¼ cup water
¼ cup Parmesan cheese and ¼ cup Romano cheese combined
Preparation
Preheat oven to 375 degrees and line a 9 x 12 baking dish with parchment paper.   I made my scarpaccia a little on the thicker side but to get a thinner, almost pancake type tart, use a 12X16 inch baking sheet.
In a large bowl combine the sliced zucchini, blossoms, onion and spinach.  Once all the vegetables are combined add in the sundried tomatoes, pine nuts, herbs and salt and toss to season.
In a separate bowl mix the flour, corn meal and baking powder then add the mixture to the vegetable bowl.
Beat the eggs, olive oil, honey and water and mix into the other ingredients to create a batter.
Pour the batter into the baking dish and sprinkle with the cheese mixture.  Bake for 45-50 minutes until golden.
Cut and serve warm or at room temperature as an appetizer or as a main course accompanied by a salad.