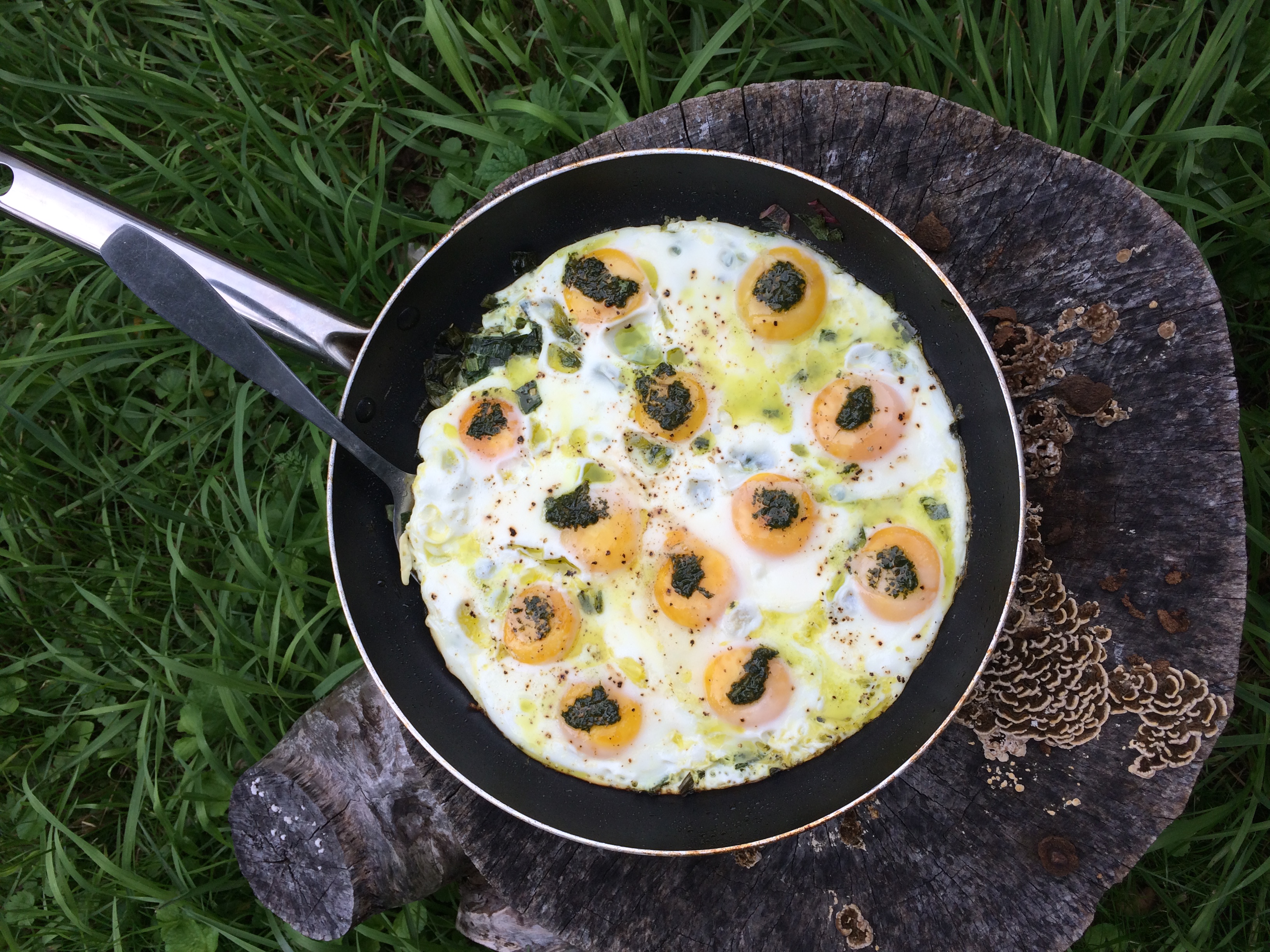 Skillet Scallions and Eggs
*Photos courtesy of Frank Mazzuca
Warren Buffet once said, "don't put all your eggs in one basket" and he was right; you shouldn't put them all in a basket but rather you should put them in a skillet and cook them up Calabrese style for a simple and delicious dish.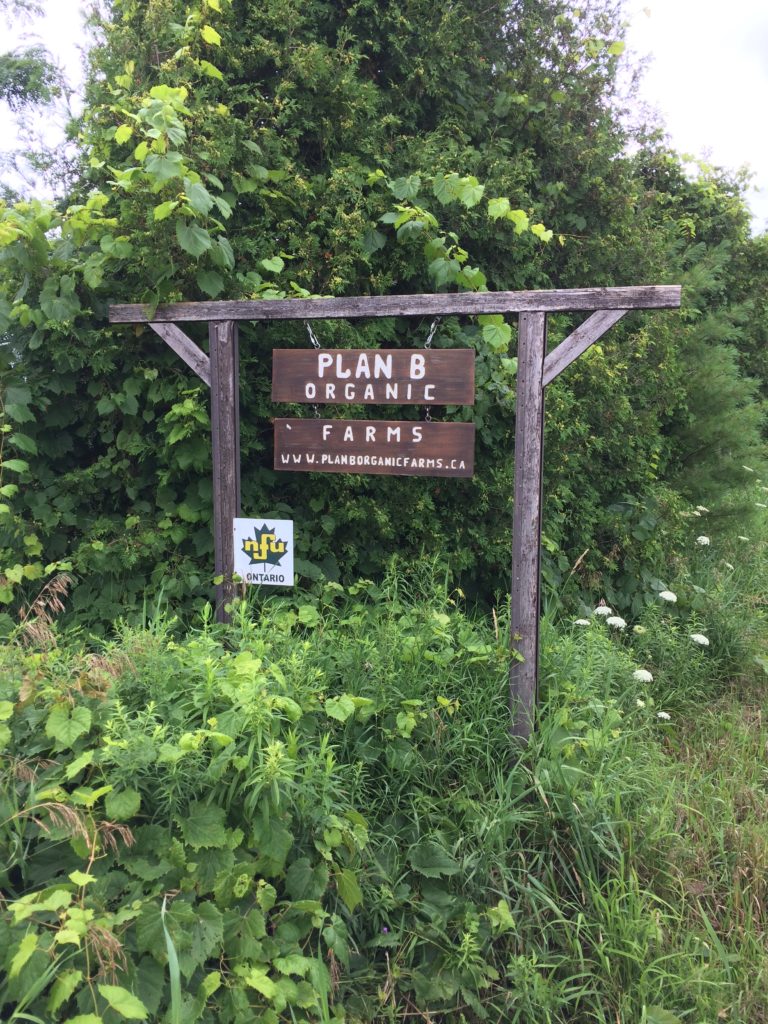 Earlier this week I spent some time with friends volunteering at Plan B Organic Farms.  After assisting in the fields, I was invited back into the farmhouse kitchen to help prepare a feast from the fields, taking inspiration from a basket full of fresh ingredients (guess you could call it Chopped the Farmhouse edition).  Nestled into the baskets were eggs and scallions, two ingredients that for me beg to come together for a familiar and classic meal.  To be perfectly honest I'm not sure of the origins of this dish or its official name (I chose to call it Skillet Scallions and Eggs), all I know is that I've eaten this dish of eggs fried over green onions, every summer, for as long as I can remember.
I suppose you could consider it a spin-off on eggs in purgatory, made without the tomato component.  This would actually lend itself quite well to the idea that the dish was inspired by our Neapolitan neighbors and their Ova 'mpriatorio, a dish made by the pizzaioli (pizza makers), cooking for themselves (a pan of tomato-based pizza sauce with eggs cracked into it, and sometimes topped with dry pepper flakes, Parmesan cheese, and/or mozzarella cheese).  This dish of course likely the result of Arab and Middle Eastern influence that came from the conquerors who at one time or other ruled the south of Italy; as it closely resembles shakshuka (a dish of eggs poached in a sauce of tomatoes, chili peppers, and onions, often spiced with cumin).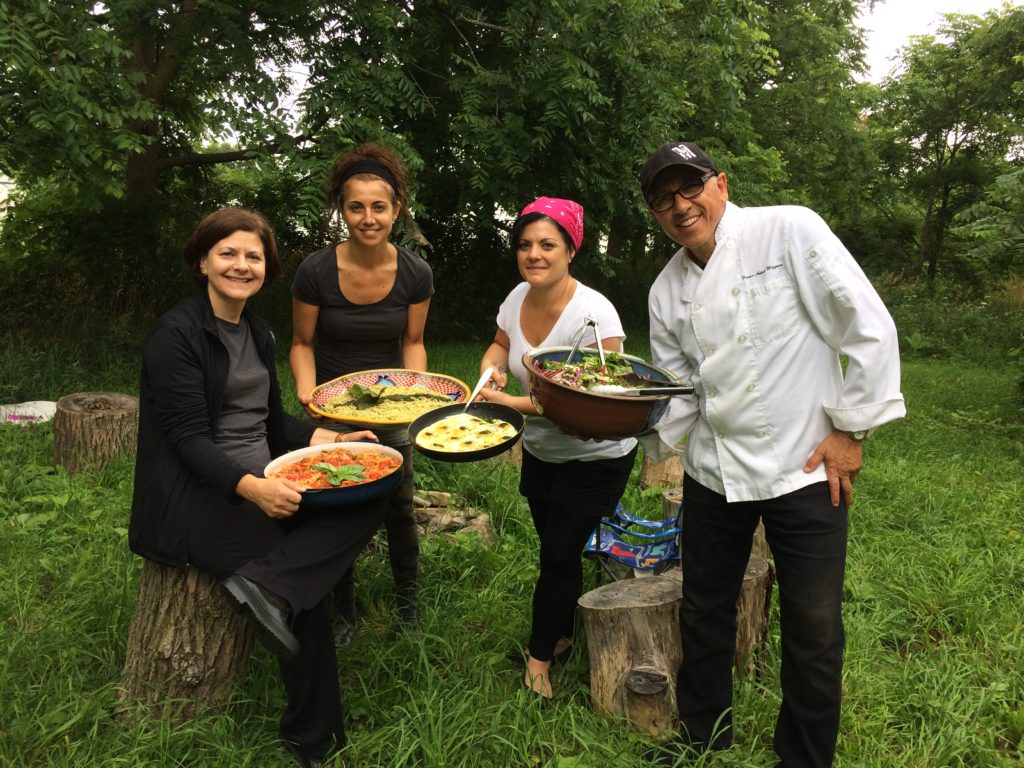 Rather than debate its origins I simply enjoy it and I was egg-sited to prepare it as part of our farm-to-table lunch.  It was an honor for me to bring a small piece of my culinary culture to a special group of people.  Buon Appetito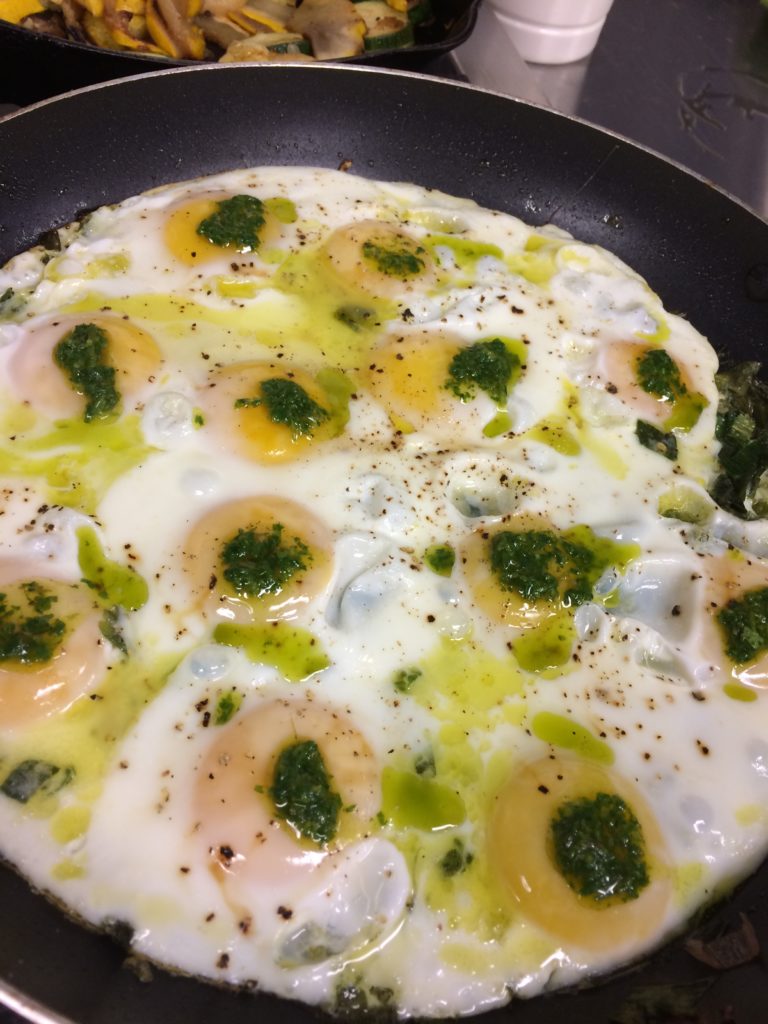 Skillet Scallions and Eggs
Ingredients:
10-15 scallions (use more if they are small scallions)
12 eggs
Salt and pepper to taste
Chili flakes or hot sauce (optional)
1-2 tbls grated Parmigiano (optional)
Method:
Wash and roughly chop scallions.  In a large skillet over medium heat, add to 2 tablespoons of olive oil to sauté the chopped scallions.  Add salt and pepper to taste and chili if desired.  Once the scallions have cooked down and softened (approximately 10 minutes) crack the eggs directly over the scallions. Season the eggs with salt and pepper to taste then cover the pan and cook for an additional 3-5 minutes until the yolks have set.  Sprinkle with grated Parmigiano and serve.
When I prepared the eggs at the farm I chose to use some of the basil pesto that we had made to dollop over each egg for added color and freshness.