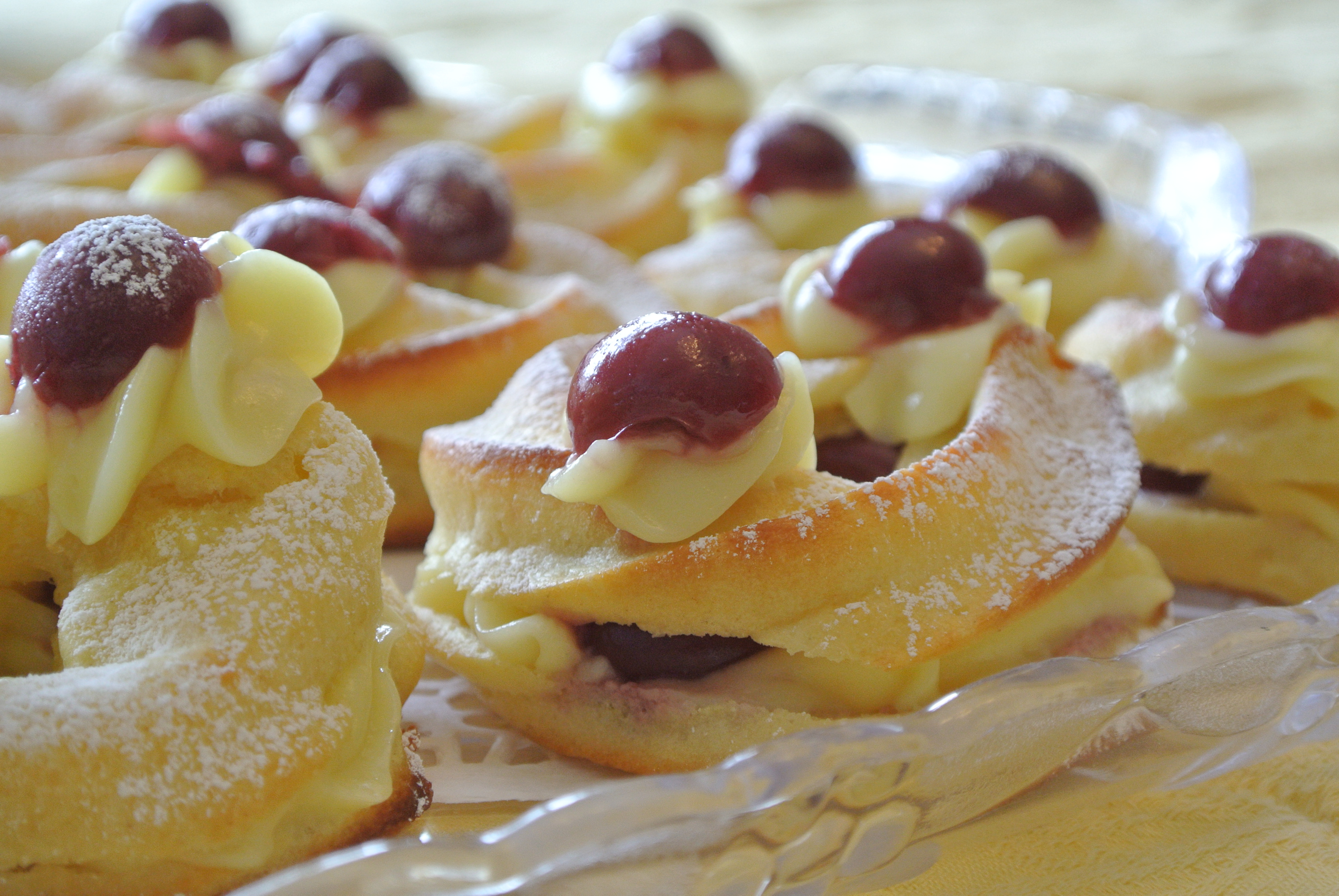 Zeppole: Fritters to Honor Fathers
Buon Onomastico, Happy Name Day, a common augurio if you happen to bear the name of a celebrated saint, and if that name is Giuseppe, it is one of the most recognized and exalted in Italy.  Not only those named Joseph are honored, but all fathers as well, as March 19th is observed as the Festa del Papa.  There are many ways to commemorate the occasion, the greatest of which, enjoying a heavenly treat known as a zeppola or St. Joseph's Day cake.
The delightful golden wreaths, also known as sfinge, crispelli, or bigne' di S. Giuseppe, are typically light-weight, deep fried rings, usually topped with powdered sugar and may be filled with custard, jelly, pastry cream or a butter and honey mixture.  Depending on the region in which they are produced, their consistency ranges from light and puffy, to bread or pasta-like.  Their popularity has extended beyond their regions of origin, Rome, Naples and Sicily to a following in many Italian communities abroad.
The tradition of zeppole dates back to 500AC and the Latin celebration of Baccanali on March 17th where ancient Romans honored the gods of wine (Bacchus) and wheat (Silinus) were by consuming copious amount of wine and wheat-flour fritters. Somewhere along the course of history, the celebration of the divinities crossed over with the patronage of St. Joseph on March 19th and was bestowed with a zeppola.  A derivative of the Baccanali fried dough, the modern-day zeppola is said to have been created in the 19th century by a convent of monks and perfected by Neopolitan baker Pasquale Pintauro.  The well-known pastry chef had the tremendously successful idea of frying rings of choux pastry, piping them with pastry cream, dusting them in powdered sugar and crowning them with amarena cherries.  The phenomenal aroma of this process was sent wafting through the city streets as Pintauro would churn them out from a friggitore (frying stall) on the sidewalk just outside his shop.  The pastries grew in popularity and soon became synonymous with the festival of the beloved saint. In Naples they are often referred to as zeppole del pasticcerie to distinguish them from savory fritters also made during celebratory periods in southern Italy.
While it was a native of Napoli who made them famous, it is often argued that Sicilians were the original creators of the famed pasti , that they refer to as sfinzi.  During a period of severe drought in the Middle Ages, the people of Sicily prayed to St. Joseph for rain and in return promised him a great feast.  When St. Joseph complied with their request, he got a feast named in his honor.  Among the dishes laid out on St. Joseph's table were treats made of fried dough that were rolled in sugar or drizzled with honey.  The addition of the creamy filling came later.
No matter their specific birthplace, they are a specialty enjoyed across the Italian peninsula and beyond on March 19th when pasticcerie and friggitorie produce them in astonishing quantity.  The tradition of eating the sweet, delicate pasta bigne flavored with cream and cherries is one that must be observed.  Auguri di San Giuseppe and Buon Appetito!
For more information and even poetry about zeppole, visit the official website at:
www.zeppola.it